Here is my setup to make brushing glazes by-the-jar
To make a low SG version of G2934BL I have already weighed out a 340g batch (it contains 5g each of Veegum and CMC gum to gel the slurry and slow the drying). I use 440g of water initially (adjusting that according to experience in brushing behaviour). After shake-mixing all the powder in the plastic bag I pour it into the water on low speed and finish with 20 seconds on high speed. This produces a low specific gravity brushing glaze, it just fills this 500ml jar. In subsequent batches, I adjust the Veegum for more or less gel and the CMC for slower or faster drying. Later I also assess whether the CMC gum is being degraded by microbial attack - often evident if the slurry thins and loses its gel. Since each glaze recipe responds differently and changes differently over time, good notes are essential. We are working on dozens of these at any given time, each is code-numbered in our group account at Insight-live.com. This is so worthwhile doing that I make quality custom labels for each jar!
Related Pictures
Two methods to make your own low SG brushing glaze.
Tap picture for full size and resolution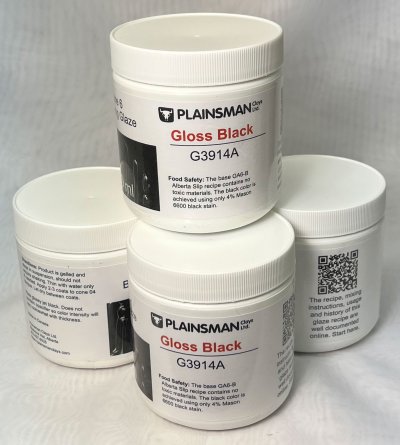 Dipping glaze applies and dries in seconds. Brushing glazes dry slowly and dry hard. Brushing glazes simply have gum in the recipe, dipping glazes typically do not. This is the Alberta Slip cone 6 base, made jet black with 4% black ceramic stain (our code G3914A). We normally mix this as a dipping glaze but I have made a 500ml jar of low SG brushing version using both of the following methods. These methods will work for almost any glaze recipe (for those having exceptionally high clay content less Veegum is needed). 1) Shake together, in a plastic bag, 340g of mixed glaze powder with 5g of Veegum and 5g of CMC gum. Add that to 440g of water in a kitchen blender and mix on high speed until it gels (the gums resist mixing so the highest speed for at least 30 seconds is needed to prevent lumps). 2) Take 680g of dipping glaze (assuming it is about 50:50 water:powder you get 340g of dry), put that in the blender with another 80g of water and proceed as in method 1. Less total water is being used because the dipping glaze might not be exactly 50:50 water:powder. During mixing, if it gels too much add the extra 20g of water. This is so exciting that I make fancy labels, they are just ink-jetted onto regular paper, cut 62mm wide (2 7/16") and held securely on with 2 7/8" transparent packing tape.
Learn to mix any of your glazes for these three application methods
Tap picture for full size and resolution
Potters are used to making dipping glazes that they weigh out and mix from recipes. Hobbyists commonly use bottled commercial brushing glazes. Did you know that a dipping glaze can be turned into a brushing glaze by the addition of Veegum (or Veegum CER) and water? Do you know what a base-coat dipping glaze is? Here is a quick overview: Dipping glazes need to go on to bisque ware evenly, be thixotropic enough to hold on at thickness and drain and dry quickly. But they don't need to dry hard. Brushing glazes need a cohesive slurry that dries slowly and hardens well on drying. They also must adhere to the body really well so that multiple layers can be applied (individual layers go on thin). Base-coat dipping glazes are in between, they need to dry fast enough and gel well enough to make application by dipping possible (although less practical) and they need to adhere well enough to tolerate another layer without letter go of the body.
Control gel by adding Veegum as the glaze is mixing
Tap picture for full size and resolution
This is G1214Z1 brushing glaze (it has 5% titanium added). For a 340g powder batch (to get a pint) my target is 5g CMC gum and 5g Veegum. CMC controls drying speed and Veegum the amount of gelling. I already mixed the CMC with the powder and shook the whole batch in a plastic bag. Then I added it all to 440g of water in the blender jar and mixed it really well, being sure no agglomerates remained (that was stage 1). Stage 2 is adding the VeeGum slowly, while blender mixing on high speed, this enables tuning the degree of gel. Because this recipe has little clay, it took all 5g of Veegum without gelling too much (too much means the entire mass is not moving freely in the mixer jar). This recipe could have taken a little more CMC to slow down drying a bit (this amount enabled applying three coats to a bisqued piece in only a couple of minutes but it did not brush on quite as nicely as it could have). Sure enough, it gelled more overnight so the next time I used 4 grams of Veegum (each recipe has its own optimal amount). Both of these gums are very difficult to mix into water without agglomerates forming, the high water content enabled the stage 1 slurry to be mobile enough in the mixer jar that the blade has access to all particle surfaces. And it enables mixing in enough stage 2 VeeGum to achieve a consistency that will never settle out.
Here's how we make a brushing engobe
Tap picture for full size and resolution
This brushing engobe is thick and gooey (because it contains CMC gum), so it is practically impossible to sieve. While our propeller mixer was not able to break up the tiny agglomerates of New Zealand kaolin 30 seconds of bender mixing made it as smooth as silk. To make this liter of brushing engobe we use 800g of powder and 10g of CMC gum in 800g of water. It does not require Veegum (like glazes) because it already contains plenty of clay. The CMC gum greatly improves the brushing properties so additions of stain make it useful for colored underglazes also. For best performance we apply them to leather hard ware.
Links