Stains added to a base glaze can change its melt fluidity. Adjust the base.
At the top is a melt-flow GBMF test ball of a cone 6 satin matte glaze, G2934.
Left bottom: 8% 6213 Mason Hemlock green stain added. The color is good but it is not melting as much and the surface is more matte. A solution is to adjust the base: employ a 90:10 or 80:20 matte:glossy blend to give it better fluidity. Right bottom: 8% 6385 Mason Pansy Purple stain added. The percentage of stain appears to be a little low and its surface is a little too matte. Again, blend a some glossy clear in the the matte base to shine it up a little.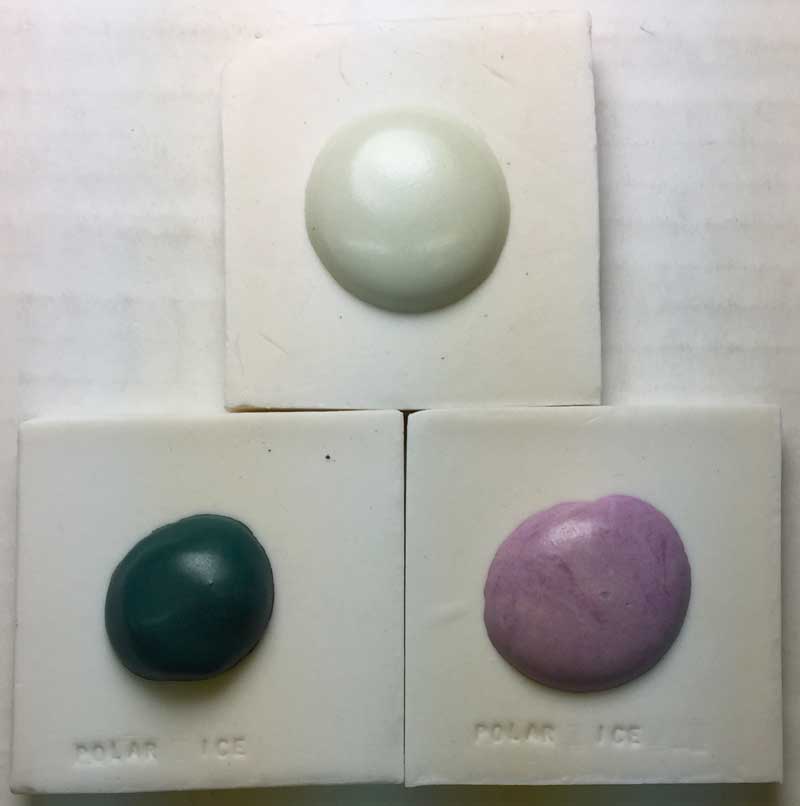 Links
Tests
Glaze Melt Fluidity - Ball Test
Glossary
Brushing Glaze
Hobbyists and increasing numbers of potters use commercial paint-on glazes. It's convenient, there are lots of visual effects. But there are also issues compared to making your own.
Glossary
Ceramic Stain
Ceramic stains are manufactured powders. They are used as an alternative to employing metal oxide powders and have many advantages.
---


Copyright 2008, 2015, 2017 https://digitalfire.com, All Rights Reserved