Tried and True recipes. Really?
Books and web pages with flashy pictures are the centrepiece of an addiction-ecosystem to recipes that often just don't work. Maybe these are "tried" by a lot of people. But are they "true"? Most are so-called "reactive glazes", outside normal practice - to produce visual interest they run, variegate, crystallize, pool, break, tint, go metallic, etc. But this happens at a cost. And inside special procedures and firing schedules that need explaining. It is not obvious these are understood by the recipe authors or sharers. And these recipes are dated and contain troublesome and unavailable materials. We use frits now to source boron. Stains are superior to raw colorants, even in glazes like this. Many of these will craze badly. And many will not suspend in the bucket. And will run during firing. Reactive glazes have other common issues: Blistering, leaching, cutlery marking, fuming. Trying colors in differing amounts in different base recipes is a good idea. But the project is most beneficial when it shows color response in terms of quality recipes of contrasting chemistries. The point of all of this: Understand a few glazes and develop them, rather than throwing spaghetti against the wall hoping something sticks. Commercial reactive glazes are an alternative also.
Related Pictures
A cure for long-time Gerstley Borate sufferers
Tap picture for full size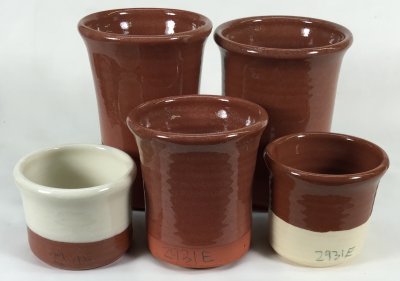 These are various different terra cotta clays fired to cone 04 with a recipe I developed that sources the same chemistry as the popular G2931 Worthington clear (50:30:20 GB:Kaolin:Silica) but from a different set of materials. The key change was that instead of getting the B2O3 from Gerstley Borate I sourced it first from Ulexite (G2931B) and then from a mix of frits (G2931K). All pieces were fired with a drop-and-hold firing schedule C03DRH. Fit was good on many terra cottas I tried (pieces even surviving boiling:icewater stressing). Where it did not fit I had thermal expansion adjustability because more than one frit was sourcing the boron. Frits are so much better for sourcing B2O3 than Gerstley Borate (the latter is notorious for turning glaze slurries into jelly!). Of course, a little glaze chemistry is needed to figure out how to convert a recipe from Gerstley Borate bondage to frit freedom, but there is lots of information here on how to do that.
Glaze recipes trafficked online waiting for a victim to try them!
Tap picture for full size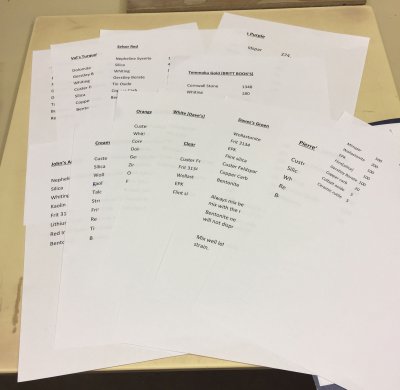 You found some recipes. Their photos looked great, you bought $500 of materials to try them, but none worked! Why? Consider these recipes. Many have 50+% feldspar/Cornwall/nepheline (with little dolomite or talc to counteract their high thermal expansion, they will craze). Many are high in Gerstley Borate (it will turn the slurry into a bucket of jelly, cause crawling). Others waste high percentages of expensive tin, lithium and cobalt in crappy base recipes. Metal carbonates in some encourage blistering. Some melt too much and run onto the kiln shelf. Some contain almost no clay (they will settle like a rock in the bucket). A better way? Find, or develop, fritted, stable base transparent glossy and matte base recipes that fit your body, have good slurry properties, resist leaching and cutlery marking. Identify the mechanisms (colorants, opacifiers and variegators) in a recipe you want to try and transplant these into your own base (or mix of bases). And use stains for color (instead of metal oxides).
The first of 15 "Fool-Proof Recipes" wrecked my kiln shelf!
Tap picture for full size
This is recommended in the booklet "15 Tried and True Cone 6 Glaze Recipes". This melt flow tester compares it with a typical cone 6 glossy, G2926B. This recipe is 90% Frit 3110 and 10% kaolin and their booklet recommends adding stains to it. But anyone knowing a little about this frit knows it would run off this flow tester even before bisque temperatures. It is crazy to recommend this. Even as a crackle. For cone 6 it needs to be diluted much more, not just with kaolin but also silica. I knew this would run but I underestimated its melt fluidity. I put a large tile below the tester to catch overrun, yet the melt ran off that and a big blob melted through the kiln wash and so far into the zircon shelf I could not chip it off! I cannot imagine how many people have tried this on vertical surfaces and had the same thing happen. The lesson: Use common sense when looking at recipes, then you don't even need to waste time testing them. Even if their authors did not!
Links