G1214M - Original Cone 6 Base Glossy Glaze
Modified: 2019-07-05 20:13:04
A recipe developed by Tony Hansen in the 1980s. Its was popular because of the simplicity of the recipe and how well it worked with chrome-tin stains.
Notes
This is also known as the 20x5 recipe. It was developed during the early 1980s to demonstrate principles of glaze chemistry in creating a glaze base sympathetic to the development of chrome-tin pinks and maroons. Articles a videos about this were used a selling tools for Digitalfire Insight software.

This recipe was developed over the years and had many versions. We now recommend G2926B as a base instead.
Related Information
5x20 glaze used as a base for an overglaze
Tap picture for full size and resolution
The blue second layer here is 5x20 cone 6 clear with 2% cobalt oxide and 5% rutile. The base black glaze is 5x20 with 4% Mason 6666 stain.
Stains that work better in some glazes and not others
Tap picture for full size and resolution
This demonstrates how the host glaze affects the color development of certain stains. Blue is stable in pretty well all glazes. But chrome tin pink (top row) is very particular that the glaze have the right chemistry (1214M is obviously best, it has the highest CaO and lowest B2O3). The 6100 brown works much better in the N and O base glazes (they have higher Al2O3). Stain companies have guidance on chemistry particulars and you can view the chemistry of your recipe in your account at insight-live.com.
Cone 6 black with a second layer of oatmeal glaze
Tap picture for full size and resolution
The underglaze is G1214M cone 6 black (adds 5% Mason 6666 black stain). Overglaze left: GR6-H Ravenscrag Oatmeal. Overglaze right: GA6-F Alberta Slip oatmeal. Both produce a very pleasant silky matte texture (the right being the best). Both layers are fairly thin. In production it would be best to spray the second layer, keeping it as thin as possible. It is also necessary to adjust the ratio of raw to calcined Alberta or Ravenscrag Slips to establish a balance between drying hardness but not too much drying shrinkage (and resultant cracking).
Ravenscrag Cone 6 GR6-H Oatmeal over 5x20 cone 6 black
Tap picture for full size and resolution
The black recipe was made using G1214M with 5% Mason 6666 stain. The oatmeal overlayer is 50% the thickness of the black. The more fluid under-black comes through leaving islands and vertical rivulets of the stiffer oatmeal. Good control of the glazing process is needed to get consistent results using this approach.
Ravenscrag oatmeal layered over black at cone 6
Tap picture for full size and resolution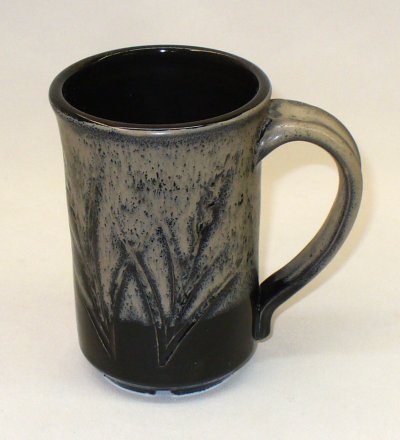 This is GR6-H Ravenscrag oatmeal over G1214M black on porcelain at cone 6 oxidation to create an oil-spot effect. Both were dipped quickly. You can find more detail at ravenscrag.com.
G1214M, W, N, O and S with Mason stains
Tap picture for full size and resolution
This shows clearly how well the M version works with a chrome-tin stain compared to the others. However the 6100 brown stain works best in the N recipe (which have MgO). Notice also that the M has a higher thermal expansion than the others.
If your glaze can handle more silica and melt just as well then add it!
Tap picture for full size and resolution
The cone 6 G1214M glaze on the left melts well. Can it benefit from a silica addition? Yes. The right adds 20% yet still melts as well, covers better, is more glossy, more resistant to leaching, harder and has a lower thermal expansion.
Links
XML to Paste Into Desktop Insight
<recipes>XML not functional: We are working on this problem.</recipes>
By Tony Hansen
Follow me on

Got a Question?
Buy me a coffee and we can talk
---


https://digitalfire.com, All Rights Reserved
Privacy Policy