An incredibly white engobe on terra cotta that produces durable and decoratable low fire ware
I found seven secrets with recipe, process, glaze and firing to make durable terra cotta.
1. A lot of Zircopax, in this case 20% (for whiteness, opacity).
2. The whitest burning materials: New Zealand Halloysite as the kaolin and nepheline syenite as the feldspar.
3. 3% Veegum to gel the slurry (enabling low specific gravity for thin and even coating).
4. The recipe, L3685Z2, has 55% kaolin, that will certainly produce drying cracks. But 1% CMC gum stops that and makes it brushable. It even works on on bisque, I pour-applied it to the insides of these two slip-cast pieces, it drained to perfectly even coverage (in a very thin layer).
5. A terra cotta casting/throwing body to fit the engobe to (has the same fired shrinkage at a target temperature, e.g. cone 04): Initially I am using L4170B.
6. A clear glaze that fits and is transparent: Notice how much whiter the left one is, G3879. At the same thickness as the G1916Q on the right, it is more transparent, better transmitting the white of the engobe.
7. The right firing curve: The 04DSDH drop-and-hold schedule for defect free surfaces.
Related Pictures
Fitting an engobe: It is about the data!
Tap picture for full size and resolution
Physical data. Data about the working, drying and firing properties that can measured. These test bars show how stable this unusual terra cotta body, L4170B, is across a wide temperature range (from cone 8 down to 06)! Using the SBAB test procedure, I measured the shrinkage and porosity of each bar (and recorded the data in my Insight-live group account, it displays it like the black and red chart shown). I also made test bars of a super-white engobe, L3685Z3, and compiled the same data. That enabled two approaches to fitting engobe-to-body. First, isolate a temperature at which both have the same fired shrinkage, and are therefore compatible. Unfortunately there isn't one, the white engobe has much lower fired shrinkage at all practical temperatures! Option 2 is to add frit to the white engobe to make it as vitreous as the body. I started with a 5% addition of Ferro Frit 3110. At my target temperature, cone 02, that increased the shrinkage from 2.1% to 5.5% (this red body is 4.3%). So 5% frit is too much. So, the next move is clear, I will try 3% frit. It will only be necessary to test it at the one temperature. Because both engobe and body and not volatile, I am confident in just testing at cone 02.
Is it impossible to get a good clear over-glaze for cone 6 brush decorated stoneware?
Tap picture for full size and resolution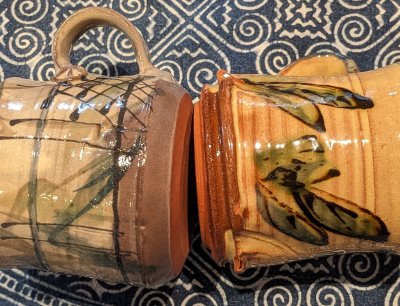 The mug on the right is terra cotta slipware firing at cone 04 using underglazes and a leaded transparent over-glaze (lead glazes are still commonly used in many parts of the world and considered safe). Mug on the left: This potter wants to use the same technique on cone 6 stoneware. Like pretty well all cone 6 recipes, this transparent depends on a boron frit to melt it. The result is micro-bubble clouding and boron blue when only slightly too thick. Also surface defects, washing out of colors and bleeding of brushwork. Actually, these commercial underglazes are an issue, by cone six they melt and diffuse into the clear overglaze. So is it possible to glaze-fire cone 6 stoneware and achieve results like the one on the right? At this time I do not know how! The path could be stained non-melting underglazes, separate body and glaze firings (the latter being much lower) and a transparent brushing glaze whose thickness and laydown can be carefully controlled.
Links