A gunmetal glaze I have wanted for decades!
I finally have a perfect functional, durable gunmetal black! It has an incredible silky surface. It does not cutlery mark. It does not craze on anything. It is easy to clean. This is G2934Y with 6% Mason 6600 black stain fired using the PLC6DS schedule. I had to tune it a bit, adding about 15% glossy G2926B, because it was a little too matte on initial firings. But now it is perfect. These are heavy mugs made using the M340 casting recipe (and the casting-jiggering process). The speckled mug was made by casting a thin layer of the speckled version of the slip first, then filling the mold with the regular slip. I used a 40-minute cast to get walls nice and thick!
Related Pictures
Cooling rate drastically affects the appearance of this glaze
Tap picture for full size and resolution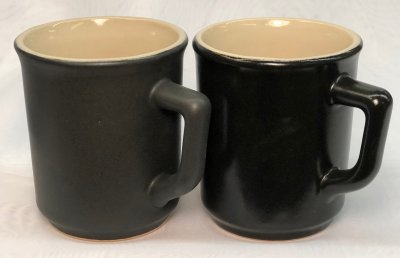 This is the G2934Y satin matte glaze recipe with Mason 6600 black stain (6%). The piece on the left was fired using the C6DHSC firing schedule (drop-and-hold at 2100F then 150F/hr to 1400F). The one on the right was fired using the PLC6DS schedule (drop-and-hold at 2100F then free-fall from there). The slow cool gives the glaze on the left time to crystallize, creating a stony matte. My kilns are generally lightly-loaded, so free-fall firings drop pretty rapidly, producing the effect on the right. This phenomena is a characteristic of high MgO glazes (ones having significant dolomite, talc, Ferro frit 3249). To get a surface between these extremes we make this glaze using a 20:80 blend of G2934 base (which fires even more matte on slow-cool) and G2926B glossy. In our typical fast-cool this mix produces the degree-of-matteness I like.
Links