Using a frit instead of feldspar in a cone 10R glaze. Why do that?
Using my account at Insight-live.com I calculated a frit-based recipe having an "evolved" chemistry from the original G1947U feldspar-based one. Only after seeing the fired results did I fully realize I made a discovery as well as an improvement. My original approach was just theoretical: Shift KNaO-sourcing from feldspar to frit to get a better melt (just because the frit is a premelted source of KNaO). As calculations took shape it became clear that I could increase KNaO (it is a super-flux for cone 10 brilliant surfaces) because of the multiple options to counterbalance its high thermal expansion. Those options would theoretically supercharge melting more, that gave me confidence the melt could even dissolve additional SiO2 (which would improve durability). When the kiln opened I got the surprise with the original G1947U: It never looked white before! But when seeing it this thick in comparison to the improved version, it looks really cloudy. Why? Likely the melt is not completely dissolving the particles of quartz! The "lead glaze surface brilliance" of the new G3910 blew me away at first, but now that I realize it is also melting all the silica I see how much better it potentially is. One issue: The transparency of G3910 brings with it the amber color of the body:glaze interface.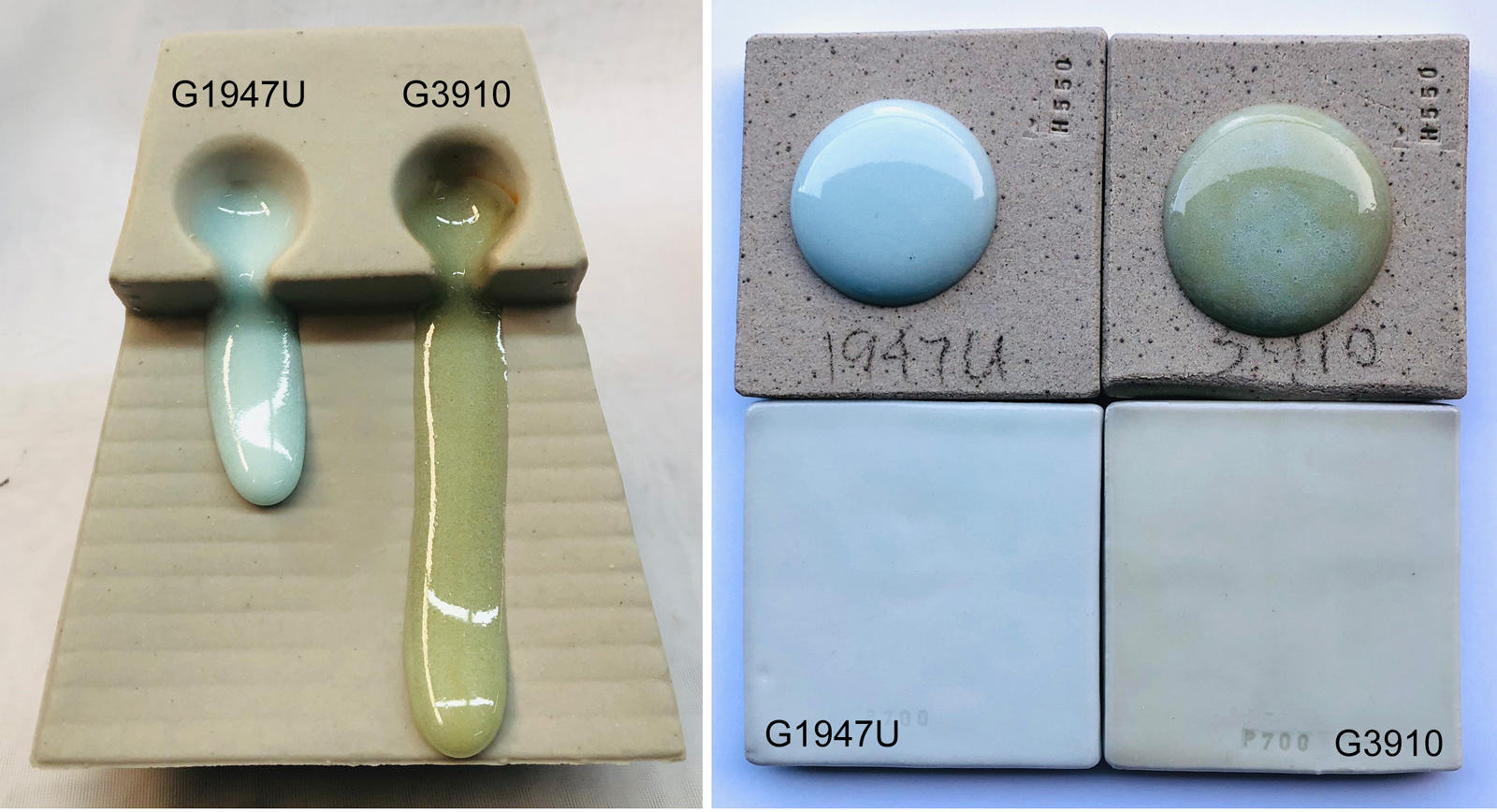 Related Pictures
How I calculated a feldspar-to-frit replacement in a cone 10R clear glaze
A screen shot of side-by-side panels in my account at Insight-live.com. On the left is the original G1947U recipe. On the right I have substituted frit 3110 as a higher-concentration-source of KNaO. This enabled actually increasing KNaO to get a better gloss and melt. I have introduced calcined kaolin (to ratio with the raw kaolin to control slurry and drying properties). I added frit 3249 to introduce low-expansion MgO to counterbalance the higher levels of KNaO. That frit, like the 3110, will not only melt things better simply because it itself was pre-melted, but it also brings along a little boron. That supercharges melting and enables an enhancement: The addition of more SiO2. The low thermal expansions of MgO, SiO2 and B2O3 counterbalance the increase that will occur as a result of the higher KNaO (0.15-0.26). Sound boring? When you see the unexpected results you might think differently (see the linked post below). I never considered using frits at cone 10R before, this success led to an improvement in my main silky matte glaze also.

Links