Printing a prototype propeller for my Lightnin lab mixer
An example of how handy the ability to print in 3D can be. The worn-out stainless propeller costs $300 to replace. But the size and pitch of the blades is not right anyway. So I draw them using Fusion 360 and print them in PLA plastic, enabling experimenting with different sizes and pitches. While I could have one printed in stainless at shapeways.com I do not need to because these plastic ones are surprisingly durable. How about getting a tight fit on the shaft? No problem. I measured this shaft with a callipers and printed that size. It was a little tight so I printed slightly larger and it fits very tightly. One issue: If you mix slurries with hot water, it will travel up the shaft and the blades will bend.
Related Pictures
A must-have: Laboratory variable speed propeller mixer
Tap picture for full size and resolution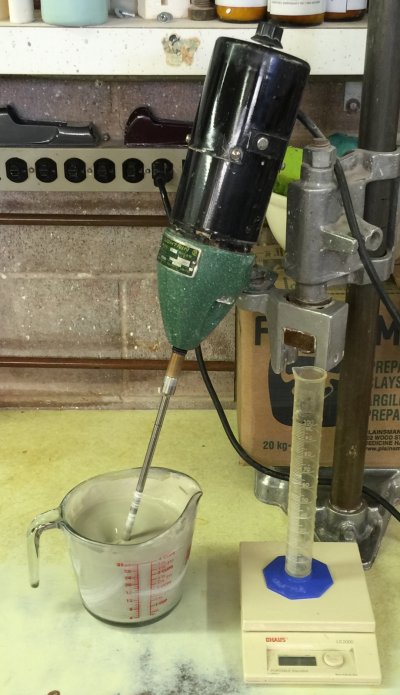 If you are at all serious about testing glazes and clay bodies, you need one of these. There are other methods, but nothing else comes close to this. It is the most valuable and frequently used tool in any ceramic bodies and glazes testing lab or classroom. These are expensive new, this Lightnin 1/20 hp variable speed cost more than $1000 many years ago, now it could be $4000! But you can get them used on ebay.com, it uses a 7.9mm dia (5/16") shaft. I adapted a mount (to give it vertical adjustment) from a hardware store. Propellers are also expensive, but you can design and 3D print them yourself or have them printed at a place like shapeways.com.
Links