Stilts not always needed when firing artware pieces with glazed bottoms
The bases of many artware pieces can actually be glazed and then fired on the kiln shelf without using stilts. How? A thin layer of silica sand and a super thin layer of clear glaze on the bottom - just thick enough for the melt to soak in a little and seal the body against water penetration (of course the side walls are the regular three coats). How thick? Just experiment. In this example, I watered down some Spectrum 700 clear and applied one quick coat. It does not seem like enough but it produces a glassy surface that picks up very few grains of silica sand during firing. In the worst case, when applied too thickly, some grains of sand will stick, but even then they can be rubbed off and the piece is still ok.
Related Pictures
The high porosity of this clay enables sealing against water leakage
Tap picture for full size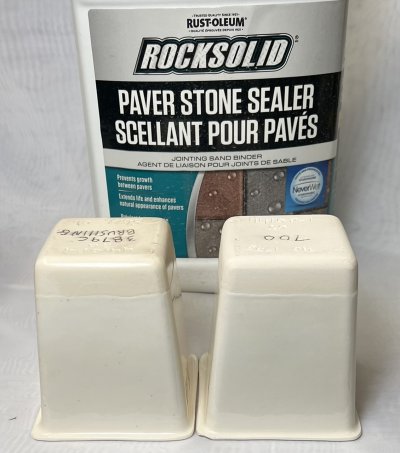 This body has high porosity, almost 25%. It is L4410P, a dolomite-based low-fire whiteware, Plainsman Clays makes this as a product named "Snow". But this high porosity has some advantages, one of them is that it soaks up silicone sealer well. The slip-cast piece on the left was sealed (you can see the surface sheen) and it is impermeable to water penetration (the glaze is not crazed so water cannot penetrate there either). The piece on the right soaks up water readily (on the lower unglazed portion). Sealing this specific body is doubly important because the dolomite particles within can rehydrate over time, especially in damp climates, causing pieces to crack. Even the foot rings of functional pieces should be sealed, not just to prevent hydration but also waterlogging.
How to stop low fire clays from waterlogging
Tap picture for full size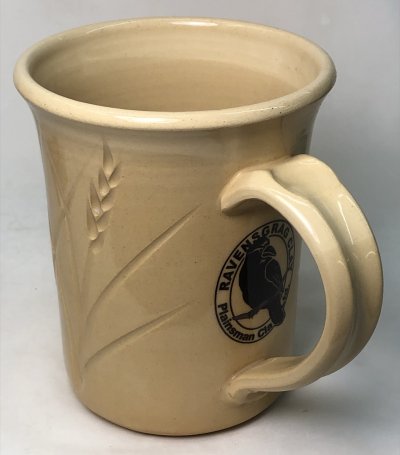 Being fired at cone 04, this talc body is quite porous. Water is entering through the unglazed base. During an overnight immersion it penetrated upward to about 1 cm from the rim (and even travelled two-thirds of the way up the handle). So, is this clay and temperature practical for functional ware? Yes. The base can be glazed or siliconed, completely stopping water entry. Heating this in the microwave for an extended period did not fracture it. And even though the mug got incredibly hot the G3879 glaze did not craze - that gives reasonable assurance it will hold up over time. Low-fire bodies have plenty of advantages and they are certainly practical for functional use. Additionally, handmade items deserve common sense care during use (e.g. not leaving pieces in water for extended periods, even hand washing).
Glaze the bottoms of stoneware mugs for firing at cone 6
Tap picture for full size
This mug is made from a test clay body firing to about 3% porosity. While plenty strong it is capable of absorbing some water. But a thin layer of transparent glaze on the base solves that issue. I applied it by adding water to a brushing glaze version of G2926B transparent and carefully painting it on. A thin layer of silica sand on the kiln shelf completely solved the problem of sticking. And there are no sand grains stuck on the bottom of the piece either.
Links
Glossary
Artware
Potters know artware as pottery firing at low temperatures with brightly coloured glazes and decorated using decals, underglazes, lustres, etc.
Typecodes
Clay sealers
Many ceramics are either porous by nature or by necessity. For example, stonewares need to be non-vitreous enough that they do not warp or blister on firing. Red earthenwares must be porous in order to have the red color (they go brown when fired higher). White talc or dolomite low-fire clay bodies always have high porosity. Bricks must have minimal firing shrinkage, which guarantees substantial porosity. Even porcelains can blister and it is common to cut back on feldspar to give them more margin for overfiring - that brings porosity. If water penetration must be prevented all of these need to be sealed, these are some of the methods.
Got a Question?
Buy me a coffee and we can talk
---


https://digitalfire.com, All Rights Reserved
Privacy Policy