M390 Cone 6 red with added kyanite, grog
Samples fired to cone 6. Lower left: Plainsman M390. Upper left: M390 plus 12.5% 48 mesh kyanite (no visible effect on fired color or character). Upper right: M390 plus 12.5% Christie STKO 22S 40 mesh grog (strangely it fires a darker color and appears more vitreous and there is no soluble salts circle). Both grogs were wedged into the clay and did not stiffen it or affect plasticity much (in fact, both were easier to pull up during throwing). The percentage water content went from the 21% to 19% in both.
Related Pictures
Plainsman M390 plus 12.5% Christie STKO 22S grog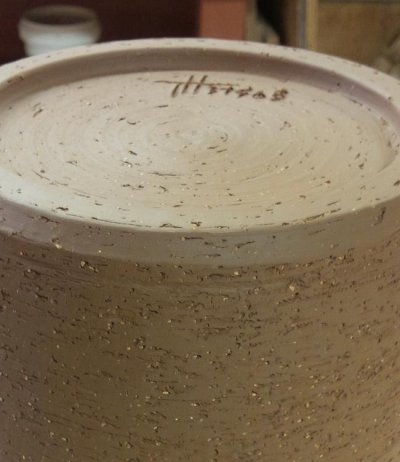 This is the surface after trimming. M390 is normally smooth. It is plastic enough to be able to tolerate this grog without apparent loss in workability (still throwing well). And it does not feel overly abrasive on the wheel (unless your hand goes down onto the wheelhead). How is that possible? Although the particles of grog are large, they are not touching each other and readily press down into the clay.
Links