Pure nepheline syenite mug glazed and fired to cone 02
It is near stoneware strength. How was it possible to make this? Actually, it is 90% nepheline syenite and 10% bentonite. The latter imparts enough plasticity that it can be thrown easily on a potter's wheel. By about cone 1 it begins to warp. This is fired to cone 02 with standard Spectrum low fire glazes. No crazing is evident and the coverage is normal. The next stage will be to use Veegum to get a 95:5 mix, then we will bisque to cone 01 for translucency and then glaze fire at cone 04. This really demonstrates the amazing ceramic properties of this material. We aged this for several weeks before throwing and it was stable and unchanged in softness or plasticity.
Related Pictures
Custer Feldspar vs Nepheline Syenite at cone 8 oxidation
Tap picture for full size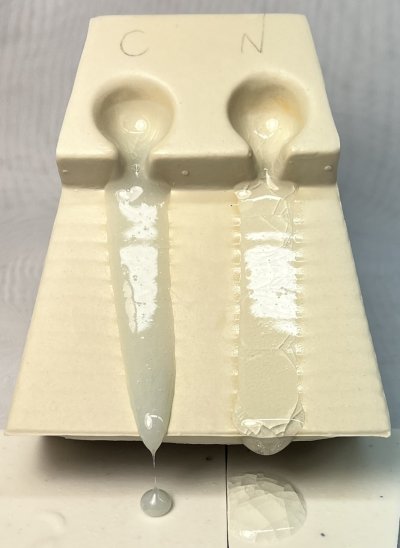 Although Nepheline Syenite and Custer Feldspar are used as effective fluxes in glazes at cone 8, curiously, neither of them melt well by themselves. Thus, both of these melt fluidity tests add 20% Ferro Frit 3134 to get them flowing. This is a 2021 shipment of the feldspar and a 2022 shipment of the nepheline.
Covia nepheline syenite demonstrates the incredible fluxing power of Veegum
Tap picture for full size
The left bars are 5% Veegum and 95% nepheline syenite. By cone 02 (bar #4) it is self-glazing and glass-like with a total shrinkage (plastic to fired) of 15% (less than some porcelains). At cone 03 (bar #5) the porosity is 3% (a stoneware). The right bars are 10% raw bentonite and 90% nepheline (thus the darker color). The top bar (#1) went to cone 3 and has 20% total shrinkage and zero porosity. The bar below it, #3, has 3% porosity. That means that the vitrification process is 6 cones (115°F) ahead in the Veegum-plasticized material compared to the bentonite-plasticized version. Yet the percentage of Veegum is only half as much! This is clear evidence of how powerful of a flux Veegum is.
Links