This cone 6 black-burning stoneware is safe. Why?
Black burning bodies are popular with many potters. This one is stained by adding 10% raw umber to a buff-burning stoneware. Umbers are powerful natural clay colorants, they have high iron and also contain manganese oxide. This mug fired perfectly. For both aesthetic and safety reasons. A white engobe, L3954B, was applied during leather hard stage, on the inside and partway down the outside. After bisque, transparent G2926B glaze was applied inside and GA6-B outside (over the engobe it fires amber but over the black clay it produces a deep brown). What about safety? Notice the clay has not bloated, the glaze has no bubble clouds or blisters, that means no manganese fumes were being generated. This happened because the top temperature on the firing was closely guarded to not exceed cone 6. And the body is a cone 10 stoneware, not cone 6, there is insufficient feldspar to trigger release of the MnO from the umber (and its subsequent decomposition to metallic state).
Related Pictures
Can you make a black-burning stoneware using black iron oxide?
Tap picture for full size and resolution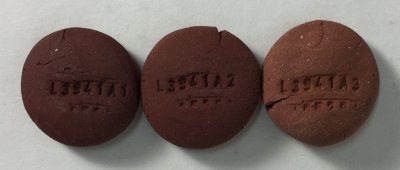 Iron oxide has been added to a buff burning stoneware clay and samples fired at cone 6. They contain black iron oxide (10%, 5% and 2.5%). Even at 2.5% the raw pugged body is very black and messy to work with. Did they fire black? Or even dark grey? No. We have also tried 20% (mix of black and yellow iron) and the fired color is still dark red. Some form of manganese is needed to get an affordable black burning clay.
Links