Sieve
Sieves are important in ceramics for removing particulates and agglomerates from glaze, engobe and body slurries.
Details
Sieves are usually made from bronze or stainless steel wires. They are available in varying degrees of fineness and sizes are quoted according to the size of the opening or in wires per inch. Sieves used by potters usually have plastic or wooden frames whereas those used in labs are made from stainless steel or brass. Common sieves are available to
325 mesh
(wires per inch). Wires become too fine to see somewhere beyond 100 mesh. A 40-60 mesh
sieve
is normally used to screen
earthenware
and
stoneware
glazes and engobes (80-200 mesh for
porcelain
) to make sure they have no coarse particles or agglomerates that could mar the fired surface. Screens are also used in the production of raw materials and prepared bodies, glazes and engobes. They often have rectangular openings that follow material flow. Powders can be screened using vibrating equipment, but this is not normally practical beyond 80 mesh. Slurries pass through sieves better when they have a higher water content and are not gelled. Standard US sieves have the following openings (some slightly different from Tyler sieves):

35 mesh: 500 microns
50 mesh: 297
80 mesh: 177
100 mesh: 149
140 mesh: 105
200 mesh: 74
325 mesh: 44

Related Information
325 mesh
A 325 screen has 325 wires-per-inch (the finer of the two screen closeups shown here). Those are grains of salt on it (45 micron openings, a typical human hair is 60 microns wide). A 40 mesh screen is much coarser, it has 425 micron openings (that is a particle of quartz trapped in an opening). A minus 45 mesh powder will be too fluffy to drop through a 325 screen. But particles smaller than 45 microns in a slurry will pass. To get a slurry through a screen this fine one needs to take special measures. I needs to have a high water content so it is fluid. Using a soft brush definitely helps. And a source of vibration. And it is necessary to clean the screen often to remove trapped oversize material. 325 mesh screen fabric is fragile and a sieve like this needs to be treated with care. These cost hundreds of dollars.
Here is what happens if you do not sieve your glazes when needed
This is a cone 6 transparent base glaze. It contains frit, silica, kaolin, wollastonite. Almost all glazes have materials that are slightly soluble and over time these can form scale on the sides of the bucket or even precipitate particles into the slurry. The defects here are those scales. Before dipping a production piece in any glaze that has been in storage it is a good idea to assess it first to see if it needs to be sieved.
What can happen when a glaze slurry is not sieved before use
This glaze has just been applied to a bisqued tile. It contains wollastonite, which can agglomerate in storage. It was propeller-mixed at high speed, but that was not enough to break down the white lumps (agglomerates). But they can be broken down by sieving the slurry through 80 mesh or finer. Many other materials behave in a similar manner (e.g. barium carbonate, iron oxide, cobalt oxide, clays, tin oxide, zircon, titanium dioxide).
This is what labs use to measure particle size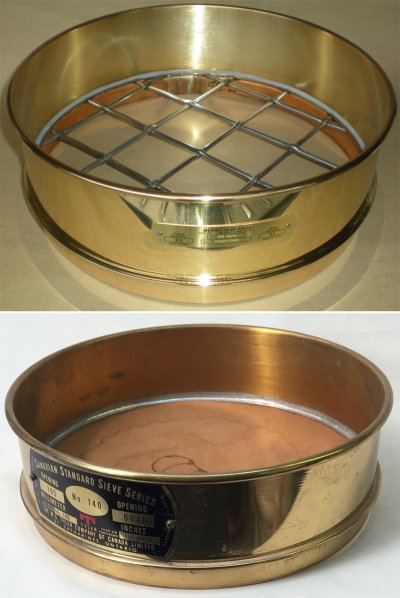 To measure particle size in a slurry or powder you need sieves. This is the most popular type used in labs. They are made from brass by a company named Tyler. The range of screen sizes for testing particle size is very wide (obvious here: the top screen has an opening of 56 mm, the bottom one 0.1 mm - the wires are almost too small to see). You can buy these on ebay for a lot less than new ones, search for "tyler sieve". The finer sieves (especially 200) are fragile and easily ripped. It is good to have a 50, 100 and 150.
A root-of-two series of test sieves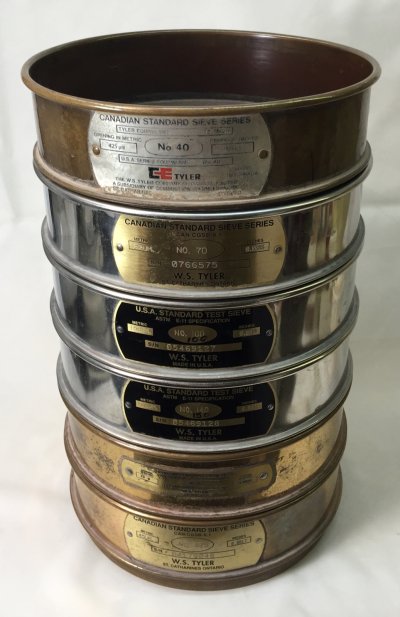 The coarsest screen is at the top, the finest on the bottom. The opening for each is shown on the label. They are chosen such that each successive screen going down has an opening that is about half the area of the one above it. Using this series you can produce a practical measurement of the distribution of particle sizes in ceramic materials and bodies used in traditional ceramics (structural products industries, like brick, measure coarser particles than this, starting at perhaps 10 mesh and ending at 70). The 325 screen on the bottom is only used sometimes, it is difficult to finer-that-325 particles to pass through it because it blinds. It is not possible to shake powder through sieves that are this fine, samples must be washed through. We use the SIEV test to log results.
Going to screen a glaze? Use the brush, not the spatula
Do you need to rescreen a glaze slurry. Using a brush like this you will be able to get it through the screen much faster. This is because the rubber edge forces particles into the screen openings, plugging them. The brush is gentler, the oversize material just rolls around on top. If you are screening a glaze for the first time, however, the spatula is better if there are agglomerated particles that need to be broken up (e.g. wollastonite, cornwall stone). When rescreening, any oversize particles (e.g. precipitates) should be discarded.
G2925B glaze can precipitate crystals like this over time
Potters often store glazes for long periods so tiny spherical precipitate particles can form. These were found in a months-old bucket (about 2 gallons). These can appear over time, depending on factors like temperature, electrolytes in your water or solubility in the materials (likely, the frit is slightly soluble). The glaze slurry should be screened periodically (or immediately if you note the particles when glazing a piece). This is an 80 mesh sieve. Note the brush, using one of these gets the glaze through the screen much quicker than using a rubber spatula. The loss of material on the screen is tiny and inconsequential to the glaze.
How small can clay crystals be?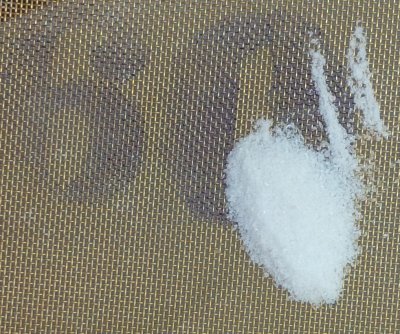 These are table salt crystals on a 60 mesh sieve. It has an opening of 250 micro meters (or microns). Half of the crystals passed this sieve, half are retained. Notice on the right, several crystals are in the openings, about to fall through. Imagine that an particle (or crystal) of bentonite or ball clay can be sub-micron in diameter, they can actually be 2500 times smaller on a side than these salt crystals! One-tenth-micron ultimate particles would thus fit 2500x2500 on the flat side of a salt crystal. And, since the clay crystal is much thinner than wide, perhaps ten could stack to the same dimension. That means theoretically 2500x2500x25000 (or 1 with eleven zeros) could pack into a grain of salt!
Links