Sieve
Sieves are important in ceramics for removing particulates and agglomerates from glaze, engobe and body slurries.
Key phrases linking here: tyler sieve, 80 mesh, sieving, sieve - Learn more
Details
Sieves (or screens) are usually made from bronze or stainless steel wires. They are available in varying degrees of fineness. Sizes are quoted according to the dimension of the opening (most often square) or in wires per inch. Sieves used by potters usually have plastic or wooden frames whereas those used in labs are made from stainless steel or brass. Common sieves are available to
325 mesh
(wires per inch). Wires become too fine to see with the naked eye somewhere beyond 100 mesh. A 40-60 mesh
sieve
is normally used to screen
earthenware
and
stoneware
glazes and
engobes
(80-200 mesh for
porcelain
) to make sure they have no coarse particles or
agglomerates
that could mar the fired surface. Screens are also used in the production of raw materials and prepared bodies, glazes and engobes. They often have rectangular openings that follow material flow. Powders can be screened using vibrating equipment, but this is not normally practical beyond
80 mesh
. Slurries pass through sieves better when they have a higher water content and are not gelled. Standard US sieves have the following openings (some slightly different from Tyler sieves). As points of reference, the diameter of a human hair is about 75 microns, a small crystal of table salt 40 microns.

35 mesh: 500 microns
50 mesh: 297
80 mesh: 177
100 mesh: 149
140 mesh: 105
200 mesh: 74
325 mesh: 44

Related Information
This is what labs use to measure particle size
Tap picture for full size and resolution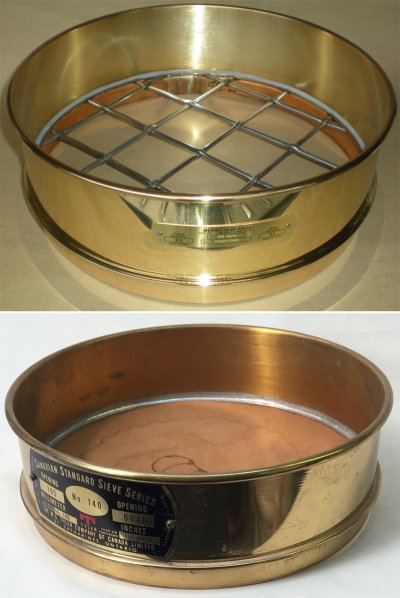 To measure particle size in a slurry or powder you need sieves. This is the most popular type used in labs. They are made from brass by a company named Tyler. The range of screen sizes for testing particle size is very wide (obvious here: the top screen has an opening of 56 mm, the bottom one 0.1 mm - the wires are almost too small to see). You can often buy these used on Ebay for a lot less than new ones, search for "tyler sieve". The finer sieves (especially 200) are fragile and more easily ripped. It is good to have a 50, 100 and 150.
A root-of-two series of test sieves
Tap picture for full size and resolution
The coarsest screen is at the top, the finest on the bottom. The top one has an opening of 425 microns (thus 425 micron and finer particles will pass through it, +425 micron particles will not). Its opening area is 180,000 square microns (425x425). Going downward, the openings have areas half that of the one above (thus, for the second, the opening area is 300x300=90,000 microns). Structural products industries, like brick, measure coarser particles than this, using 10-70 mesh. Using this series one can produce a standard measurement of the distribution of particle sizes in a material powder. The finer sieves (from 100-325) are only practical for wet processing (where the powder is water washed through the stack). In Insight-live the SIEV test (water washed) uses this series of sieves.
Make your own sieve shaker
Tap picture for full size and resolution
Being more independent is now cool again. Actually, it is being forced upon us by necessity because of supply chain issues and skyrocketing prices of convenience glazes, bodies, engobes, etc. Independence involves using sieves. True, it is no problem for a potter or lab tech to manually coax a glaze slurry through a small 80# sieve. But real independence is about sieving in volume - clay bodies and casting slips. About making your own porcelains and sieving out agglomerates. The ultimate in independence: Sieving particulates from your own native clay slurries. And doing it at 100, 140 and even 200 mesh. That requires a sieve shaker. This one cost us less than $100 to make. Of course, a Tyler sieve (or similar) is needed, these can be purchased on Ebay or Amazon. And a vibration motor, some metal and hardware and a friend with metal fabrication tools.
A KimLab sieve bought from Amazon, is it as good as a Tyler?
Tap picture for full size and resolution
This cost about $40 and arrived in about a week. It appears to be well made. The first major issue is going to be the diameter, 7.75 inches (this does not match Tyler, they measure 8 inches). Another issue is that it is not as tall, creating a greater chance of spillover. The bottom flange is not as wide, that could be a problem if the sieve needs to stay firmly locked in place in a shaker.
Going to screen a glaze? Use the brush, not the spatula
Tap picture for full size and resolution
Do you need to rescreen a glaze slurry. Using a brush like this you will be able to get it through the screen much faster. This is because the rubber edge forces particles into the screen openings, plugging them. The brush is gentler, the oversize material just rolls around on top. If you are screening a glaze for the first time, however, the spatula is better if there are agglomerated particles that need to be broken up (e.g. wollastonite, cornwall stone). When rescreening, any oversize particles (e.g. precipitates) should be discarded.
A wollastonite containing glaze slurry was not sieved before use
Tap picture for full size and resolution
This glaze has just been applied to a bisqued tile. It contains wollastonite, which can agglomerate in storage. It was propeller-mixed at high speed, but that was not enough to break down the white lumps (agglomerates). But they can be broken down by sieving the slurry through 80 mesh or finer. Many other materials behave in a similar manner (e.g. barium carbonate, iron oxide, cobalt oxide, clays, tin oxide, zircon, titanium dioxide).
G2926B glaze can precipitate crystals like this
Tap picture for full size and resolution
These crystals were found in a months-old bucket (about 2 gallons). These can appear even quicker, depending on factors like temperature, electrolytes in your water or solubility in the materials (evens frits can be slightly soluble). The glaze slurry should be screened periodically (or immediately if you note the particles when glazing a piece). This is an 80 mesh sieve. Note the brush, using one of these gets the glaze through the screen much quicker than using a rubber spatula. The loss of material on the screen is tiny and inconsequential to the glaze. But it is crucial because these particles do not melt at cone 6, they will certainly mar the fired glaze surface if undetected.
Here is what happens if you do not sieve your glazes when needed
Tap picture for full size and resolution
This is a cone 6 transparent base glaze. It contains frit, silica, kaolin, wollastonite. Almost all glazes have materials that are slightly soluble and over time these can form scale on the sides of the bucket or even precipitate particles into the slurry. The defects here are those scales. Before dipping a production piece in any glaze that has been in storage it is a good idea to assess it first to see if it needs to be sieved.
Inbound Photo Links
| | |
| --- | --- |
| 325 mesh | How small can clay crystals be? |
Links
By Tony Hansen
Follow me on

Got a Question?
Buy me a coffee and we can talk
---


https://digitalfire.com, All Rights Reserved
Privacy Policy