Adobe brick clay - What is it actually?
Adobe brick clay is simply the local clay that is used to make the adobe bricks. Almost always red burning but not always terracotta or earthenware. These clays are almost always suitable for pottery (with more processing). Here is an adobe brick clay from Sinaloa, Mexico. Locals have been making adobe bricks from this for 500 years. Adobe clays are generally just terra cotta bodies. But this one is not. These bars are fired from cone 2 to 7 (bottom to top) or 1125-1225C. They would be firing them to less than 800C, far lower. This clay actually qualifies as a stoneware but they use it as an earthenware. This is not as bad as it sounds. At 800C almost all clays are highly porous and pretty soft - that is actually an advantage for the method of construction used (e.g. watery mortar, easy cutting, good adherence of plaster, insulating value). These same bricks are used to build the kilns and they service well since temperatures never get high enough that they warp or crack.
Related Pictures
Non-vitrified bodies are best in many situations
Tap picture for full size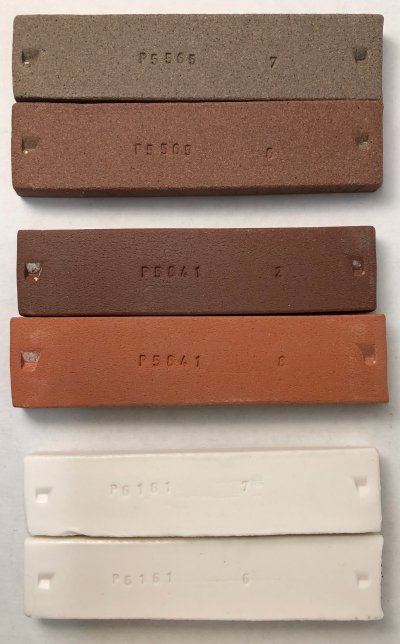 The top two bars are the same stoneware fired to cone 6 (lower) and 7 (upper), having 4% and 2% porosity. The lower one is not vitrified, that is required for warm red (going higher turns it brown). Is the upper one more vitrified? No, it's overfired and often bloats at this temperature. This clay begins melting aground 1% porosity.
The middle two bars are a terra cotta at cone 04 (lower) and 2 (upper). Is the top one vitrified? Although still having 2% porosity it is over-fired because it warps badly, bloats if fired only slightly higher and it's LOI gases flood glazes with microbubbles and blisters. Is the bottom bar vitrified? No. And users don't want it to vitrify, that's what makes terracotta so stable and easy to use.
The bottom two bars are Polar Ice at cone 6 (lower) and 7 (upper). Both have zero porosity - strangely it fires whiter at cone 7 (at the cost of more warping without improvement in translucency). However cone 5 is actually better than both of these, translucency as almost as good, porosity is still zero and warping is minimal. In fact, if translucency is not needed cone 4 is even better (porosity is still well below 0.5%).
Make pottery in Mexico. What should you take?
Tap picture for full size
These bars show a clay from St. Ignacio, Sinaloa, fired at cones 2, 4, 5, 6 and 8. Although it appears this would make a nice red and even metallic stoneware, all have very high porosity. LOI is high, impurity particles gas and cause glaze blisters and pinholes at stoneware temperatures. Better to do what Mexican potters do, focus on low temperatures where glazes fire with fewer defects.
Here are some suggestions:
-Plaster is available everywhere there so make yourself a plaster table.
-They know how to make burner systems, get their help to make a simple kiln.
Bring the following (for materials bring the SDS to show to security or customs officials):
-Tools needed to characterize their clays.
-A propeller mixer to make slurries and grind clay (or purchase a kitchen blender to do blender mixing).
-A 30 mesh Tyler sieve, that will remove pebbles and organics from a slurry (40 or 50 mesh will remove more).
-Some bentonite, 1-2% additions can greatly improve plasticity of short clays.
-100 grams of barium carbonate (in case of soluble salts in their clay).
-100g of Veegum and CMC gum to mix brushing glazes.
-Supplies to make variations of G1916Q base clear glaze and L3685Z3 white engobe. Bring Zircopax to opacify and stains to color the glaze.
-If you need to build a kiln: Sodium silicate to make kiln mortar.
-Tissue transfers, brushes, underglaze colors for decorating white engobed ware.
-Cone 06, 04 cones and supplies to make L4543 clay to make shelves, posts.
The act of interacting with locals to find all the other supplies and expertise you need will force you to learn Spanish better. After you develop a good procedure to make higher quality ware than they can, donate it all to a local potter.
Got a Question?
Buy me a coffee and we can talk
---

https://digitalfire.com
, All Rights Reserved
Privacy Policy