I am the creator of Digitalfire Insight, the Digitalfire Reference Database and Insight-live.com. ... moreMy posts are like no others, they help you understand your glazes and clay bodies, take control. A master timeline can be seen at Digitalfire.com or visit and like my pages to get a notification each time I post.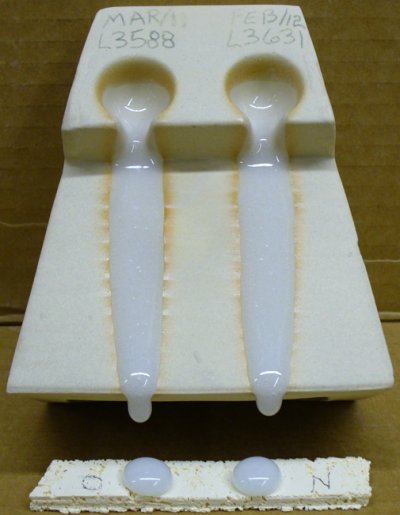 Comparing the melt fluidity of two shipments of Custer Feldspar
A
GLFL test
for
melt-flow
to compare Custer Feldspar from Feb/2012 (right) with Mar/2011 (fired at cone 6). Custer Feldspar does not melt like this by itself at cone 10. It was mixed 80:20 Feldspar:Ferro
Frit
3134. This test demonstrates that the material has been very consistent between these two shipments.
Context: Custer Feldspar, Melt Fluidity
Monday 22nd October 2018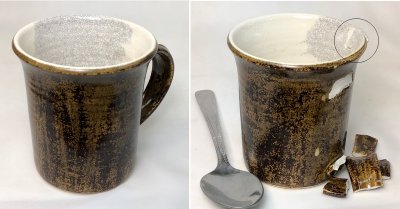 If the functional ware you make crazes you absolutely must fix it
These are commercial bottled glazes, a transparent and a decorative. On a porcelain at cone 6. They are not compatible with the body (its thermal expansion is too low or they are too high). This not only creates a germ zoo but severely weakens the piece. I tapped this lightly with a spoon about 1-2 ... more
Context: Crazing
Wednesday 17th October 2018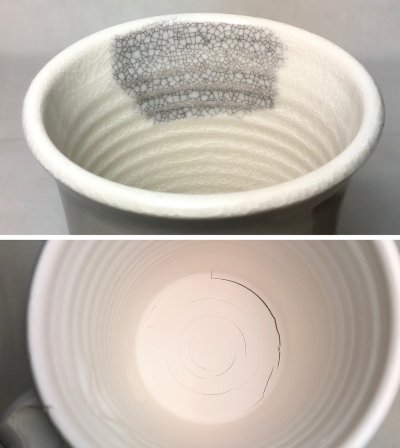 Two reasons why porcelain recipes need silica
This is 70% kaolin and 30% feldspar. The fired body looks very porcelaneous but right out of the kiln the crazing is like this. The thermal expansion of the kaolin:feldspar mix is too low, no ordinary glaze will fit it. The other issue is with the flat particle shape of kaolin. The throwing process ... more
Context: Formulating a Porcelain, Porcelain
Wednesday 10th October 2018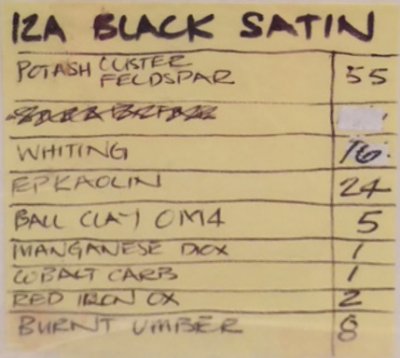 Another reason that Insight-live.com exists
First, I need to record this as a recipe in my account at insight-live.com so it can be printed at any total, documented with pictures of it on different clays, firing schedules and how they affect it, general notes. And be accessible from anywhere with any device. Then I need to start working on ... more
Context: Digitalfire Insight
Friday 21st September 2018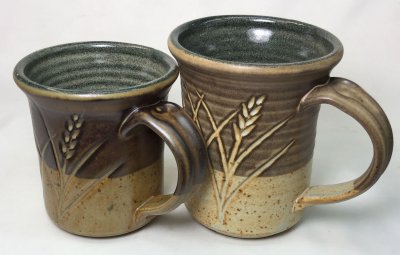 Two G2571A Bamboo color versions at cone 10R
These mugs are Plainsman H450. Both have a black engobe (L3954J) applied to the insides and half way down the outside during leather hard stage (the insides are glazed with Ravenscrag silky matte and G1947U over the black engobe). The bamboo glazes can thus be seen over the black (upper half) and ... more
Context: Ceramic Rutile, GR10-J1 - Ravenscrag Cone 10R Bamboo Matte, G2571A - Cone 10 Silky Dolomite Matte Base Glaze, L3954H - Cone 10R Base White Engobe
Friday 21st September 2018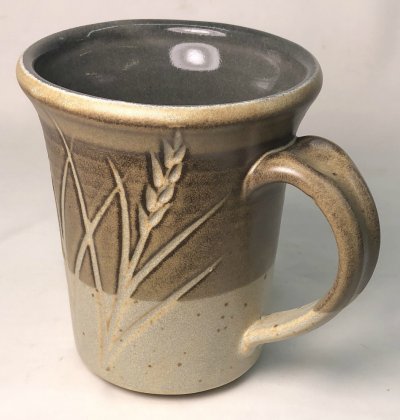 Three visual glaze mechanisms make this piece unique
Mechanisms" are specifics about the glaze application or preparation process, the materials, the chemistry or firing schedule that produce a specific visual effect. This is fired at cone 10R. It is made from a buff stoneware, Plainsman H550, and has L3954J black engobe on the inside and part way ... more
Context: Mechanism
Friday 21st September 2018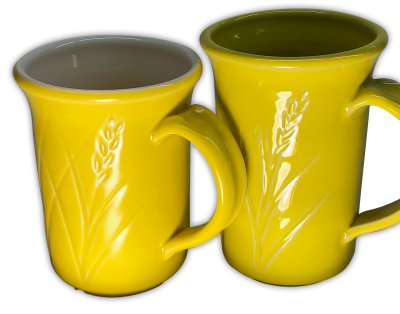 The matte version covers better, looks better
This is G2934 matte (cone 6) and G2931K glossy base recipe having the same Cerdec yellow encapsulated stain been added (about 10%). You really need to see these side-by-side to appreciate how much richer the silky matte version looks (and feels). AMACO has popularized the bright glossy transparent ... more
Friday 21st September 2018
A mug cracks before your eyes because of glaze compression
A highly
vitreous
, thin walled mug is glazed inside-only. The glaze has a
thermal expansion
that is too low and it is under compression, pressing outward. A tap with a spoon is enough to trigger a sudden crack. It opens under the pressure. Had it been glazed on the outside also it would likely survive, but this test still indicates that it would be better to raise the expansion a little.
Context: Glaze Compression
Friday 21st September 2018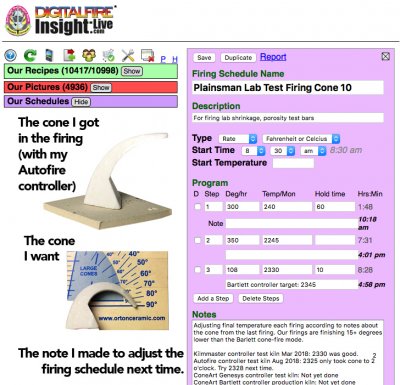 Program your firings manually, calibrate the final temperature
Here is an example of our lab firing schedule for cone 10 oxidation (which the cone-fire mode does not do correctly). We need it to actually go to cone 10, the only way to do that is verify with a cone (self supporting cones are the only accurate way). Then make a note in the record for that schedule in your account at
insight-live
.com.
Context: Controller, Cones, Firing Schedule
Thursday 30th August 2018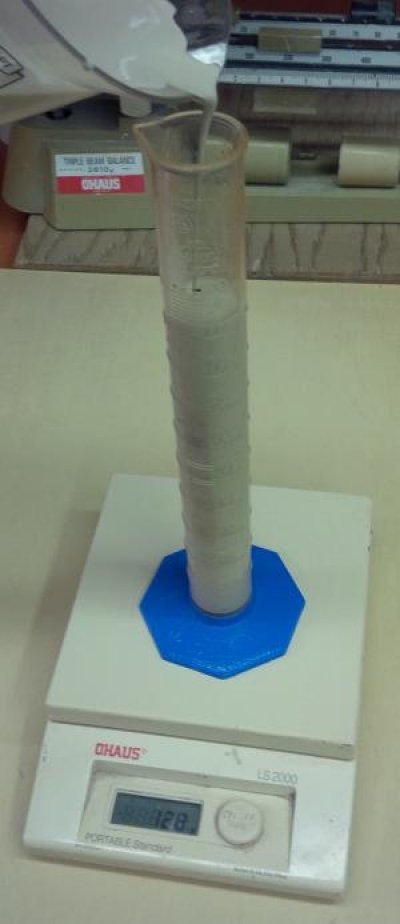 Measuring glaze slurry specific gravity
This is the easiest way to measure the specific gravity of a glaze if it is not in a container deep enough to float a hydrometer (or if it is too thick to float it properly). Just counterbalance the empty graduated cylinder to zero, fill it to the 100cc mark and the scale reads the specific gravity ... more
Context: Understanding the Deflocculation Process in Slip Casting, Specific gravity of a glaze using a scale and measuring cup, Deflocculation, Specific gravity, Rheology, Thixotropy
Wednesday 29th August 2018
Contact Us:
Use the contact pages within or outside your account at Insight-Live.com
---
Login to your online account
Chemistry plus physics. The on-line successor to desktop Insight. Get an account for as little as $15. It does so much more.
Still available for Mac, PC, Linux
Interactive glaze chemistry calculations (legacy, no longer supported)
---
What people have said about digitalfire
• Your web site is wonderful. You guys are my knight-in-shinning-armor to slay that dragon. Learned more about glaze chemistry on your web page than in a graduate program at RISD.
• Just wanted to thank you for the timeline. I check for new posts every day and think it is a brilliant way for you to keep me thinking about clay and glaze chemistry.
• You are so good for me. Find a stumbling stone and in a moment the path is easier.
• Thanks for sharing so much great information!
• This is the greatest site on the planet!
• I have thoroughly enjoyed the articles on your web site.
• Honestly I do not see how you have time to experiment, test, etc. and disseminate the massive amount of knowledge you have.
Click here
to see all 191
What people have said about Insight-Live
• Love the post (about leaching in glazes). I am the bad guy on Facebook ceramic because I always bring up this subject. So sad.
• Your site is great! It is so good to have your site as I venture into making my food-safe glazes. I live in São Paulo, Brazil, so the raw materials here naturally can be very different from the ones in most of the books and websites, as we don't have much of that available here. So your site is the only that I have found so far that is really helpful if you want to start from scratch, so thank you! Its like my dream as a potter to make beautiful, lasting and safe ware so your website and insight-live are invaluable sources of information for me. I am so glad to be able to work with this! I really admire your work and tell my students about your website. Here in Brazil, studio ceramics is not a very developed area. Many people don not even know/care about being precise and knowledgable about safety with glazes. So your website is like an oasis in the tropical desert.
• I have longed admired your website, and everything you've contributed to better understanding ceramic technology.
• WOW, WOW, WHAT GREAT INFO! thankyou! I am going to pass your site on to someone i know who is more keen on the science of glazes, than the potting, unlike me... she will love your test works and pics Wow! Thanks again.
• THIS IS FRIGGIN' AMAZING! YAY! NOW I NEED GLAZE MATERIALS! WOOT! I'm blown away by your site. I'm totally going to geek out on this I can tell. Item #1 on my agenda is to stop being at everyone else's mercy for glazes.
• Thank you very much for creating these examples and explanations. I am getting a much better understanding for why Frits are so much better. Now that I am digging into InSight-Live and manipulating the chemistry, this documentation is the main place where I can find the facts and suggestions that help clear up my questions. Thank you for creating such a very practical and wonderful upgrade . The interface is so nice and even forgiving. Thank You Very Much,
• Your site, I think, is the best source of information on ceramics that I have found. I have always wanted to know how things work rather than just doing it because someone said so. Your site gives reasons why and how to apply what you have learned, and I have learned a lot from you and want to thank you! I love the Digitalfire site. Thanks so much for sharing your knowledge.
Click here
to see all 102