I am the creator of Digitalfire Insight, the Digitalfire Reference Database and Insight-live.com. ... moreMy posts are like no others, they help you understand your glazes and clay bodies, take control. A master timeline can be seen at Digitalfire.com or visit and like my pages to get a notification each time I post.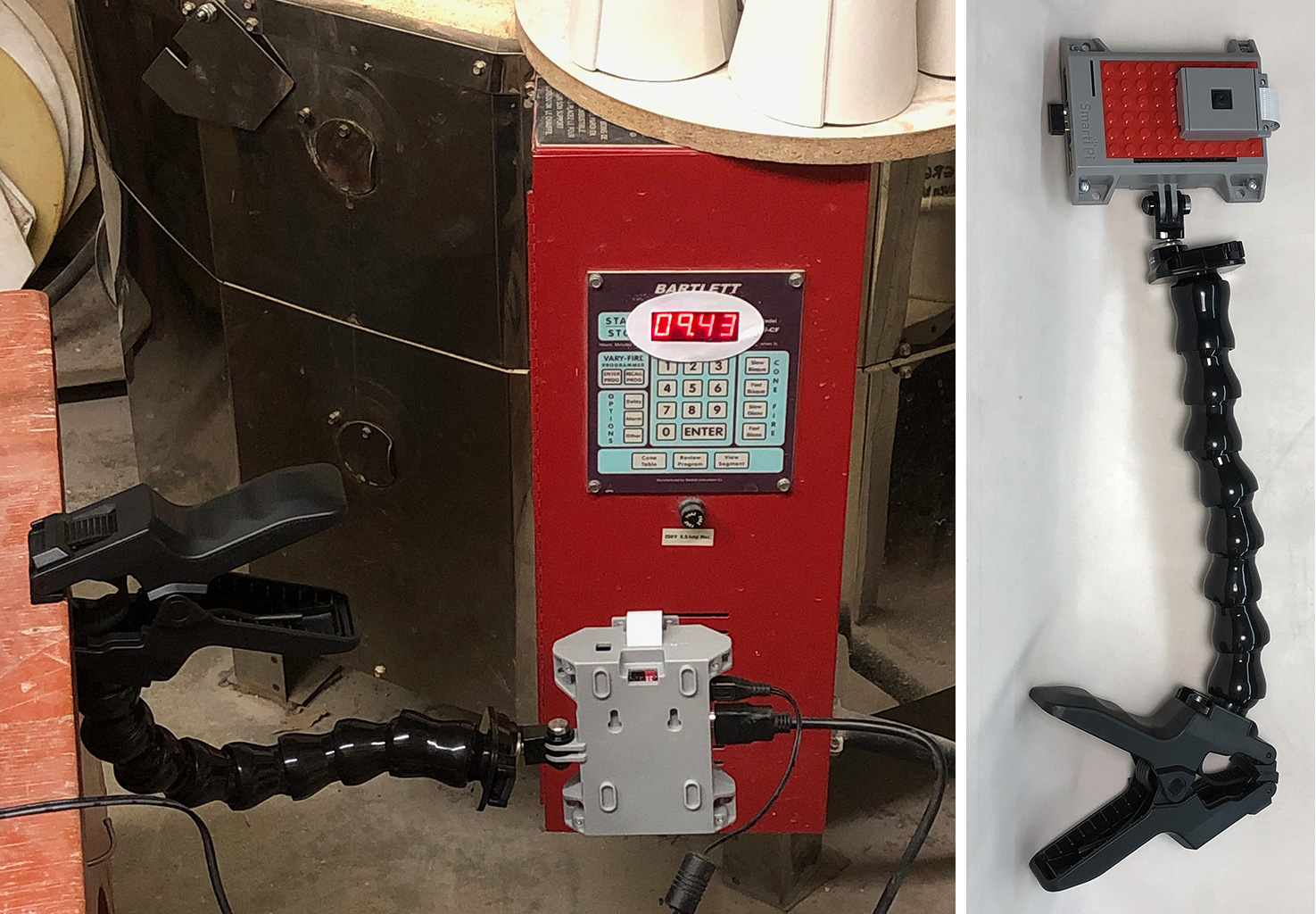 Kiln Firing Curve Recorder - Coming Soon
This is a Raspberry Pi computer with camera. It costs about $100 (with the Lego case and gooseneck mount). It has Wifi, Bluetooth and HDMI. The software we have written turns it into a web server with the ability to read the temperature on the controller of an electric kiln (doing so once per minute ... more
Friday 16th November 2018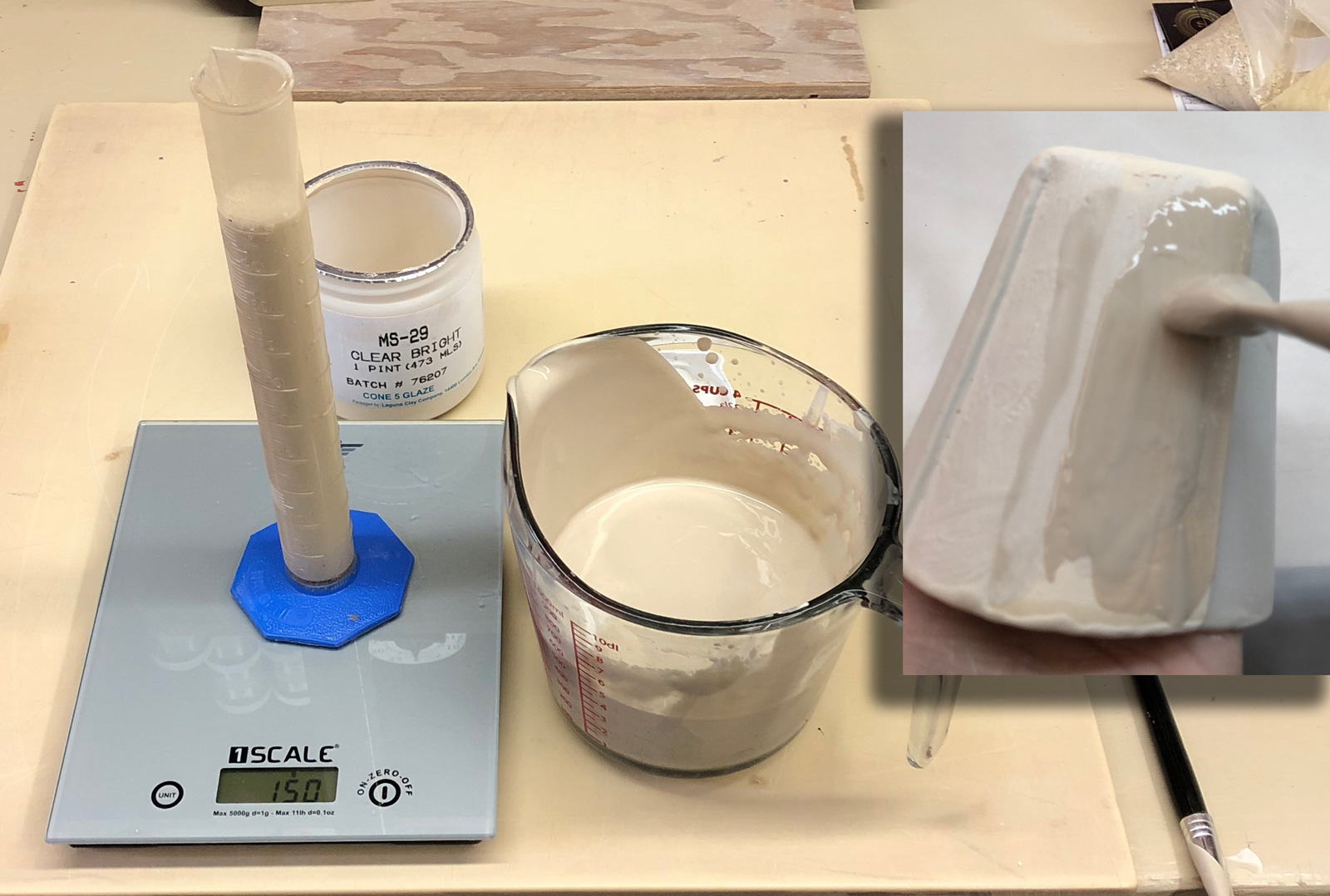 Using commercial glazes? You still need to know about specific gravity.
The glaze in this jar was 'goop', impossible to paint on. I did not know whether I needed to add water or try to deflocculate it (although the former is more likely and in keeping with what Laguna says on its website). I measured the specific gravity, it was 1.7, so clearly it needed water. It took ... more
Context: Brushing Glazes, Specific gravity
Friday 16th November 2018
A must-have: Laboratory variable speed propeller mixer
If you are at all serious about testing glazes and clay bodies, you need one of these. There are other methods, but nothing else comes close to this. It is the most valuable and frequently used tool in any ceramic bodies and glazes testing lab. These are expensive new, this Lightnin 1/20 hp variable ... more
Context: Understanding the Deflocculation Process in Slip Casting, Testing your own native clays is easier that you might think, Home-made propeller mixer with mount and switch, Printing a prototype propeller for my Lightnin lab mixer, Engobe, Propeller Mixer, Blunging, mixing
Saturday 3rd November 2018
What is that glossy square around the decal?
An example of a digital decal that has been fired at 1500F onto a matte cone 6 glaze. Notice the glossy, square around the graphic. This is where the decal paper was cut prior to transfer. This glossy layer appears by design, the decal paper has a thin layer of glaze and your inkjet design is ... more
Context: Decal
Tuesday 30th October 2018
6% rutile is too much in this cone 6 oxidation glaze
Rutile variegates glaze surfaces. But it also opacifies at higher percentages. The blue effect is a product of crystallization that occurs during cooling, it is thus dependent on a slower cooling cycle, especially above 1400F. This is GA6-C Alberta Slip glaze with 4, 5 and 6% rutile. At 6% the ... more
Context: Ceramic Rutile, Rutile, Cone 6 rutile floating blue effect lost. Then regained., Cone 6 Drop-and-Soak Firing Schedule, Rutile Glaze
Monday 29th October 2018
Comparing the melt fluidity of two shipments of Custer Feldspar
A
GLFL test
for
melt-flow
to compare Custer Feldspar from Feb/2012 (right) with Mar/2011 (fired at cone 6). Custer Feldspar does not melt like this by itself at cone 10. It was mixed 80:20 Feldspar:Ferro
Frit
3134. This test demonstrates that the material has been very consistent between these two shipments.
Context: Custer Feldspar, Melt Fluidity
Monday 22nd October 2018
If the functional ware you make crazes you absolutely must fix it
These are commercial bottled glazes, a transparent and a decorative. On a porcelain at cone 6. They are not compatible with the body (its thermal expansion is too low or they are too high). This not only creates a germ zoo but severely weakens the piece. I tapped this lightly with a spoon about 1-2 ... more
Context: Crazing
Wednesday 17th October 2018
Two reasons why porcelain recipes need silica
This is 70% kaolin and 30% feldspar. The fired body looks very porcelaneous but right out of the kiln the crazing is like this. The thermal expansion of the kaolin:feldspar mix is too low, no ordinary glaze will fit it. The other issue is with the flat particle shape of kaolin. The throwing process ... more
Context: Formulating a Porcelain, Porcelain
Wednesday 10th October 2018
Another reason that Insight-live.com exists
First, I need to record this as a recipe in my account at insight-live.com so it can be printed at any total, documented with pictures of it on different clays, firing schedules and how they affect it, general notes. And be accessible from anywhere with any device. Then I need to start working on ... more
Context: Digitalfire Insight
Friday 21st September 2018
Two G2571A Bamboo color versions at cone 10R
These mugs are Plainsman H450. Both have a black engobe (L3954J) applied to the insides and half way down the outside during leather hard stage (the insides are glazed with Ravenscrag silky matte and G1947U over the black engobe). The bamboo glazes can thus be seen over the black (upper half) and ... more
Context: Ceramic Rutile, GR10-J1 - Ravenscrag Cone 10R Bamboo Matte, G2571A - Cone 10 Silky Dolomite Matte Base Glaze, L3954H - Cone 10R Base White Engobe
Friday 21st September 2018
Contact Us:
Use the contact pages within or outside your account at Insight-Live.com
---
Login to your online account
Chemistry plus physics. The on-line successor to desktop Insight. Get an account for as little as $15. It does so much more.
Still available for Mac, PC, Linux
Interactive glaze chemistry calculations (legacy, no longer supported)
---
What people have said about digitalfire
• After a lot of testing of various glazes I've decided he's overdue for sainthood.
• Thank you for all your hard work.
• Your web site is amazing, the information I have learnt is so exciting. So thank you for your hard work to put it all together.
• Thank you for Digital Fire!!! Your site and your program are wonderful, thank you for the resource!!
• I am very delight about the services provided by your site. It is really very informative.
• I have visited your website for many years to get ceramic information - your website is excellent ... Thanks again for all the great info on your website - hopefully one day I can repay you for your outstanding resourse.
• I think Glaze chemistry is an extremely under-appreciated and under-estimated field of science.
Click here
to see all 191
What people have said about Insight-Live
• I think you have done a great job in developing the on-line version. It is very easy to use. We meet once a month to discuss any glaze problems, test glazes in teams, and I do a presentation on an aspect of glaze chemistry. One day, I said something technical and one of the member's jaw dropped and she said "Hey, I just realized I understood what you said". It was a proud moment.
• I spent most of yesterday playing with the "new" (to me) version of insight on line. I love it, it is faster and eventually easier to use. And by the way, thank you for creating and maintaining the enormous data base of ceramic materials and making it available for anyone to use. What a wonderful gift to all of us interested in ceramics.
• Your site is a crucially important one, and I'm happy to help you, even in small ways.
• Thank you so much for the fantastic info and knowledge you provide for us potters on your page!
• I have mostly used store bought glazes and fooled around some with stains. I have never approached anything scientifically. Your website seems wonderful. Seems that I could spend a few years with what you have shared. I will start with one of the base recipes and let the fun begin.
• Tony, I looked at Insight Live today more carefully. It is quite an accomplishment! Congrats to you!
• Just read your page and I am awestruck!
Click here
to see all 103