I am the creator of Digitalfire Insight, the Digitalfire Reference Database and Insight-live.com. ... moreMy posts are like no others, they help you understand your glazes and clay bodies, take control. A master timeline can be seen at Digitalfire.com or visit and like my pages to get a notification each time I post.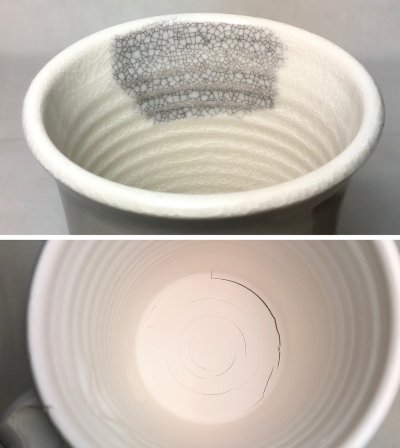 Two reasons why porcelain recipes need silica
This is 70% kaolin and 30% feldspar. The fired body looks very porcelaneous but right out of the kiln the crazing is like this. The thermal expansion of the kaolin:feldspar mix is too low, no ordinary glaze will fit it. The other issue is with the flat particle shape of kaolin. The throwing process ... more
Context: Formulating a Porcelain, Porcelain
Wednesday 10th October 2018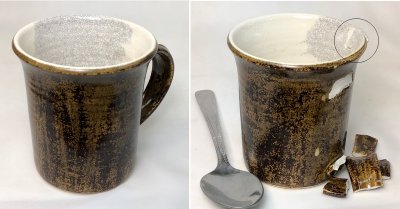 If your functional ware crazes you absolutely must fix it
This glaze and body and not compatible, the body thermal expansion is too low and the glaze it too high. It not only creates a germ zoo but severely weakens the piece. I tapped this lightly with a spoon about 1-2 cm below the rim, doing so repeatedly. Right from the start the piece had no ring, no ... more
Context: Crazing
Tuesday 9th October 2018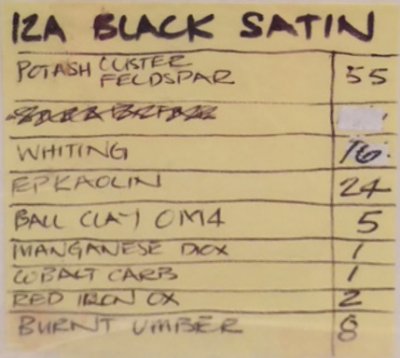 Another reason that Insight-live.com exists
First, I need to record this as a recipe in my account at insight-live.com so it can be printed at any total, documented with pictures of it on different clays, firing schedules and how they affect it, general notes. And be accessible from anywhere with any device. Then I need to start working on ... more
Context: Digitalfire Insight
Friday 21st September 2018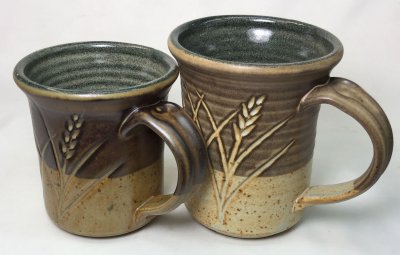 Two G2571A Bamboo color versions at cone 10R
These mugs are Plainsman H450. Both have a black engobe (L3954J) applied to the insides and half way down the outside during leather hard stage (the insides are glazed with Ravenscrag silky matte and G1947U over the black engobe). The bamboo glazes can thus be seen over the black (upper half) and ... more
Context: Ceramic Rutile, GR10-J1 - Ravenscrag Cone 10R Bamboo Matte, G2571A - Cone 10 Silky Dolomite Matte Base Glaze, L3954H - Cone 10R Base White Engobe
Friday 21st September 2018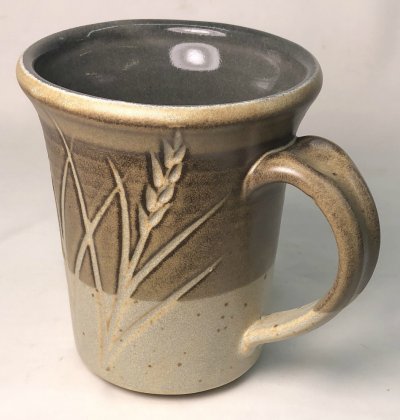 Three visual glaze mechanisms make this piece unique
Mechanisms" are specifics about the glaze application or preparation process, the materials, the chemistry or firing schedule that produce a specific visual effect. This is fired at cone 10R. It is made from a buff stoneware, Plainsman H550, and has L3954J black engobe on the inside and part way ... more
Context: Mechanism
Friday 21st September 2018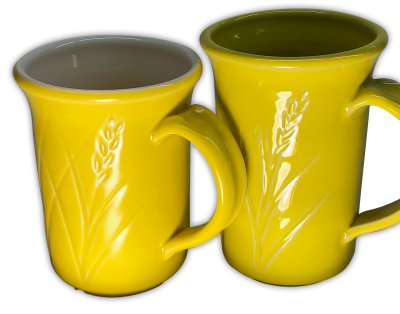 The matte version covers better, looks better
This is G2934 matte (cone 6) and G2931K glossy base recipe having the same Cerdec yellow encapsulated stain been added (about 10%). You really need to see these side-by-side to appreciate how much richer the silky matte version looks (and feels). AMACO has popularized the bright glossy transparent ... more
Friday 21st September 2018
A mug cracks before your eyes because of glaze compression
A highly
vitreous
, thin walled mug is glazed inside-only. The glaze has a
thermal expansion
that is too low and it is under compression, pressing outward. A tap with a spoon is enough to trigger a sudden crack. It opens under the pressure. Had it been glazed on the outside also it would likely survive, but this test still indicates that it would be better to raise the expansion a little.
Context: Glaze Compression
Friday 21st September 2018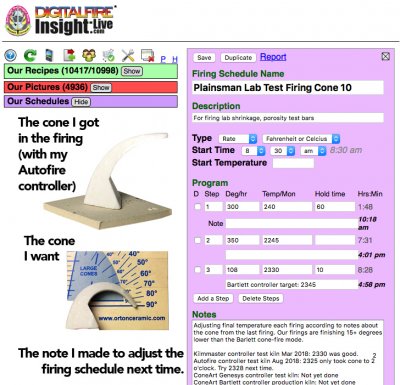 Program your firings manually, calibrate the final temperature
Here is an example of our lab firing schedule for cone 10 oxidation (which the cone-fire mode does not do correctly). We need it to actually go to cone 10, the only way to do that is verify with a cone (self supporting cones are the only accurate way). Then make a note in the record for that schedule in your account at
insight-live
.com.
Context: Controller, Cones, Firing Schedule
Thursday 30th August 2018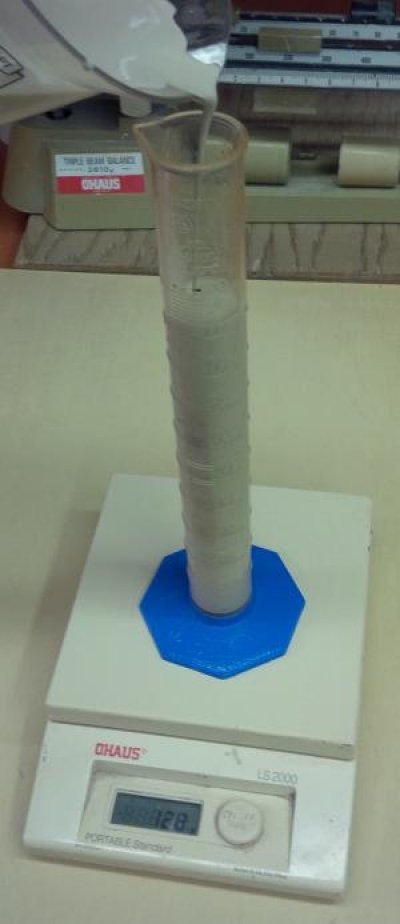 Measuring glaze slurry specific gravity
This is the easiest way to measure the specific gravity of a glaze if it is not in a container deep enough to float a hydrometer (or if it is too thick to float it properly). Just counterbalance the empty graduated cylinder to zero, fill it to the 100cc mark and the scale reads the specific gravity ... more
Context: Understanding the Deflocculation Process in Slip Casting, Specific gravity of a glaze using a scale and measuring cup, Deflocculation, Specific gravity, Rheology, Thixotropy
Wednesday 29th August 2018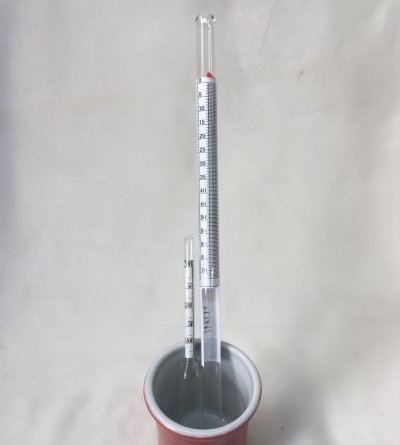 Measure glaze specific gravity with these? Forget it!
Glazes need to be gelled, have thixotropy. That means these things won't bob up and down to find the right place. The one on the right is completely useless, the scale is too wide. Most glazes need to be between 1.4 and 1.5 specific gravity (40-50 on this scale). That is like reading seconds on the ... more
Context: Specific gravity, Deflocculation
Wednesday 29th August 2018
Contact Us:
Use the contact pages within or outside your account at Insight-Live.com
---
Login to your online account
Chemistry plus physics. The on-line successor to desktop Insight. Get an account for as little as $15. It does so much more.
Still available for Mac, PC, Linux
Interactive glaze chemistry calculations (legacy, no longer supported)
---
What people have said about digitalfire
• Your website has become an excellent resource for students and professionals alike, congratulations.
• THANKS so much for all of the information you share at no cost. It really helps me. I feel a little guilty for not subscribing to Insight, but I am working toward that. You have truly changed the way I think about glaze, and I appreciate you. thanks. future subscriber/fledgling potter
• I have read just about all your articles on Digitalfire and use your software, really appreciate the wealth of knowledge and testing you bring to ceramics.
• As a new potter, your website has been an incredible source of information for me, both in tips, recipes and things to ponder. I know I can speak for a few others when I say please keep posting as the information is highly valued.
• Thanks for the great resource Digitalfire is. I could not make our studio glaze without it.
• First of all I'd like to congratulate you for the incredible source of information and Guidelines in your website. We are changing our fast-firing process (cold to cold in 4.5 hours) to a slow-firing process (cold to cold in 24.0 hours) and all our glaze formulas have lost their acid resistant characteristic, after dipping in 24 hrs at Ph1.3.
• Just wanted to tell you I just found your site and find it extremely useful. Got it bookmarked and will be referring to it frequently. Great job! Thank you!
Click here
to see all 191
What people have said about Insight-Live
• Your website is like a encyclopedia for ceramics, whatever problem I have I first go to your website and refer to it and learn and understand about it. Thank you so much for your patience and time for helping.
• I want to first tell you that your site is amazing. i love the approach, the attitude, and the incredible information. the fact taht you share so much of your information to the public is truly wonderful. I recenly fell in love with ceramics and set up a home studio.
• I am a long time fan. I bought your downloadable book long ago and still refer to it frequently. Has bunches of my notes in it too. It expanded my college training with glaze chem. Appreciate you.
• Had quite quite a few problems learning to enter recipes.
• Thanks so much this info is so great!!
• I spent most of yesterday playing with the "new" (to me) version of insight on line. I love it, it is faster and eventually easier to use. And by the way, thank you for creating and maintaining the enormous data base of ceramic materials and making it available for anyone to use. What a wonderful gift to all of us interested in ceramics.
• Hey Tony, just like to say thanks for your fantastic site as it has been the best reference guide for my helper and I.
Click here
to see all 102