I am the creator of Digitalfire Insight, the Digitalfire Reference Database and Insight-live.com. ... more I have made hundreds of posts like these on my Insight-live Facebook and Plainsman Clays Facebook pages. My posts are like no others, they help you understand your glazes and clay bodies, take control. A master timeline can be seen at Digitalfire.com or visit and like my pages to get a notification each time I post.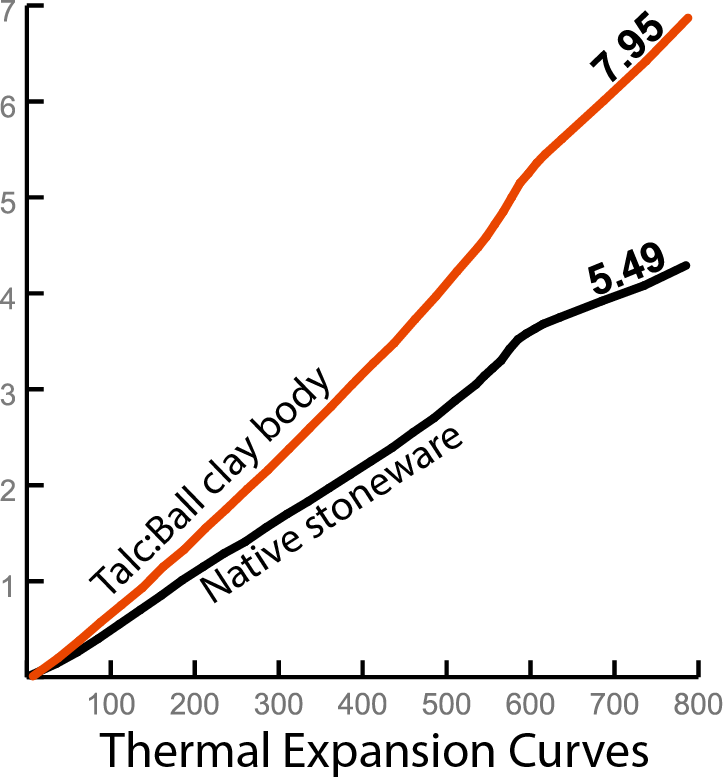 The high thermal expansion of a low-fire talc body
Talc is employed in low fire bodies to raise their thermal expansion (to put the squeeze on glazes to prevent crazing). These dilatometer curves make it very clear just how effective that strategy is! The talc body was fired at cone 04, the stoneware at cone 6. The former is porous and completely
... more
Context: Talc, G1916Q - Low Fire Frit 3195 Glossy Transparent, Low Fire White Talc Casting Body Recipe, Calculated Thermal Expansion, Co-efficient of Thermal Expansion, Shivering
Wednesday 11th October 2017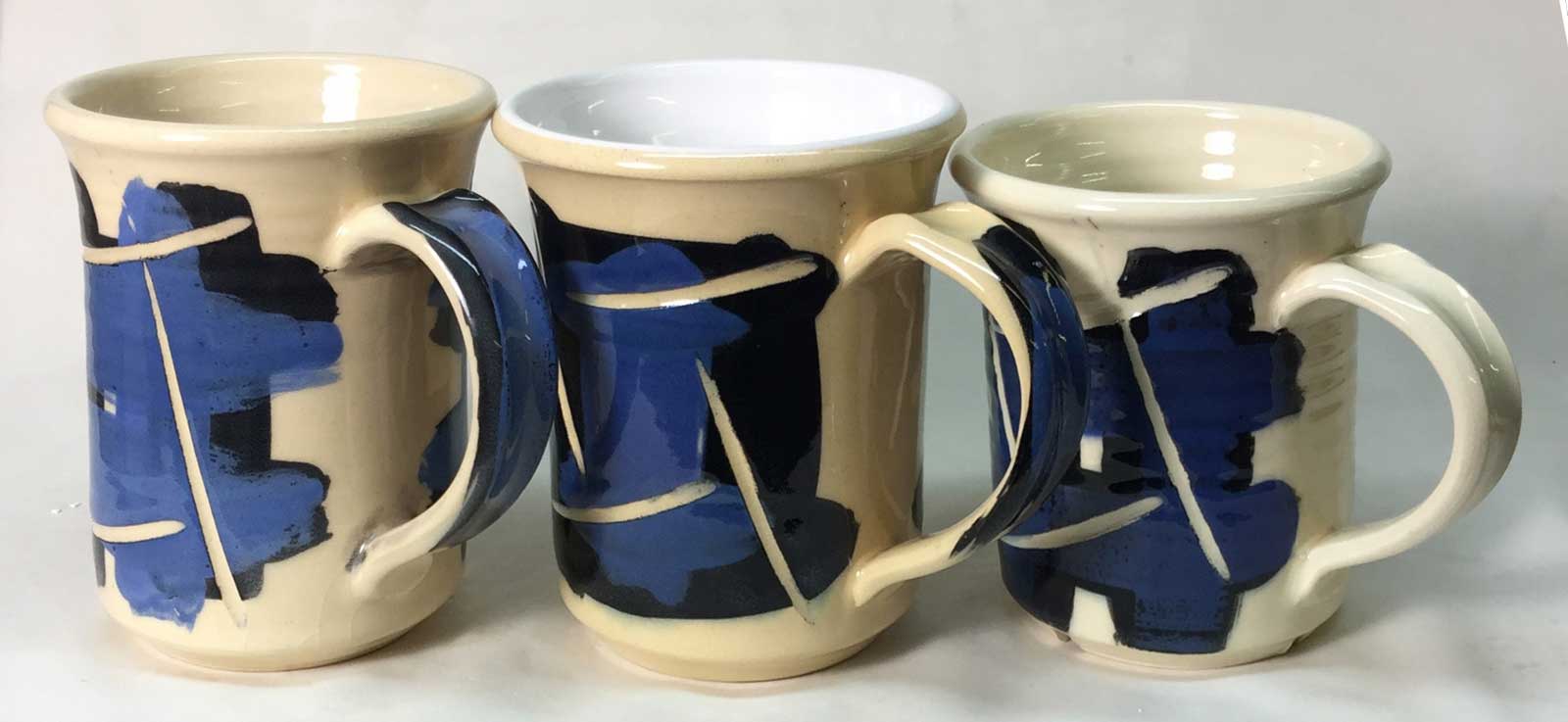 Three low fire bodies need three different clear glazes. Why?
Glaze fit. The left-most clay mug contains no talc (Plainsman Buffstone), the centre one about 25% talc (L212) and the right one is about 45% talc (L213). Talc raises thermal expansion. The centre glaze is G2931K, it is middle-of-the-road thermal expansion (Insight-live reports it as 7.4) and fits
... more
Context: G2931H - Ulexite High Expansion Zero3 Clear Glaze, G2931L - Low Expansion Low-Fire Clear, G2931K - Low Fire Fritted Zero3 Transparent Glaze, Transparent Glazes, Glaze fit, Cone 03 Drop-and-Hold
Sunday 8th October 2017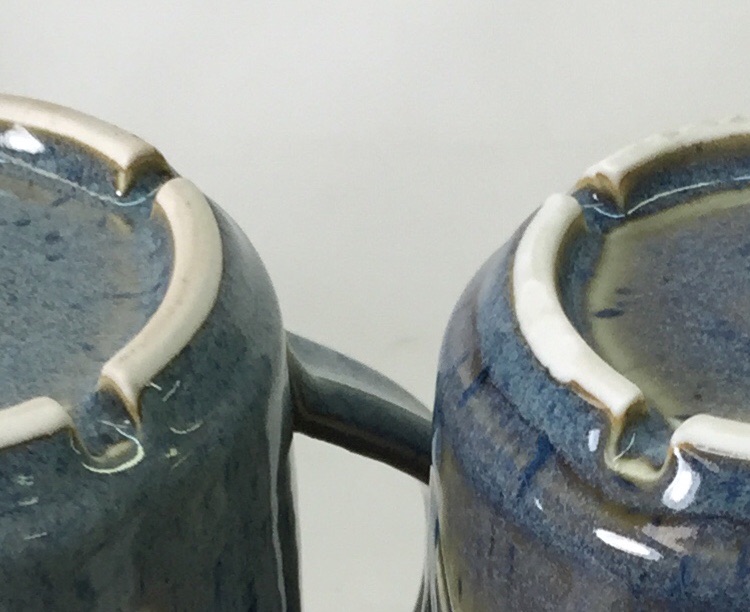 Plucking on a vitreous porcelain at cone 6
The mug on the left is made from a whiteware body (Plainsman M370), the one on the right is a highly vitreous translucent one (Plainsman Polar Ice). Both have been over-fired slightly. The Polar Ice mug has stuck to the shelf somewhat, taking chips out of the base on the outer perimeter of the bare
... more
Context: The foot ring on the left is plucking, the right one is not. Why?, Plucking
Wednesday 4th October 2017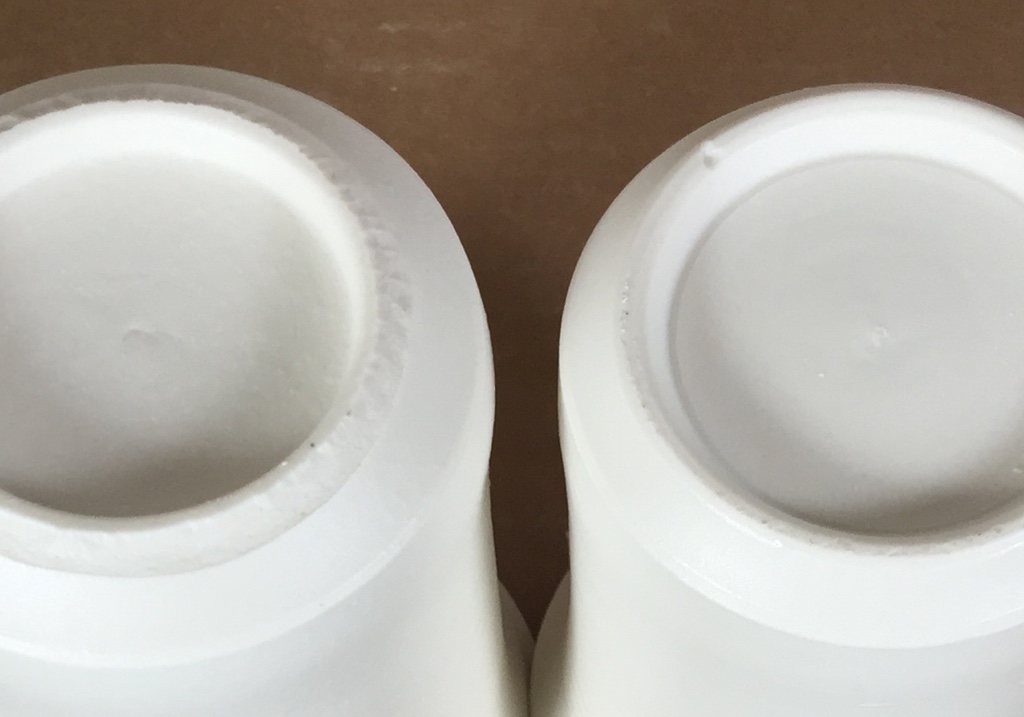 The foot ring on the left is plucking, the right one is not. Why?
These are translucent porcelains, they are vitreous. The firing is to cone 10. The one on the left is a cone 6 body, and, while it survives to cone 10 it does warp. But more important, it is much more vitreous (more melted). The plucking problem makes it quite difficult to get a good foot ring. The
... more
Context: Plucking on a vitreous porcelain at cone 6, Kiln Wash, Porcelain, Vitrification, Plucking
Wednesday 4th October 2017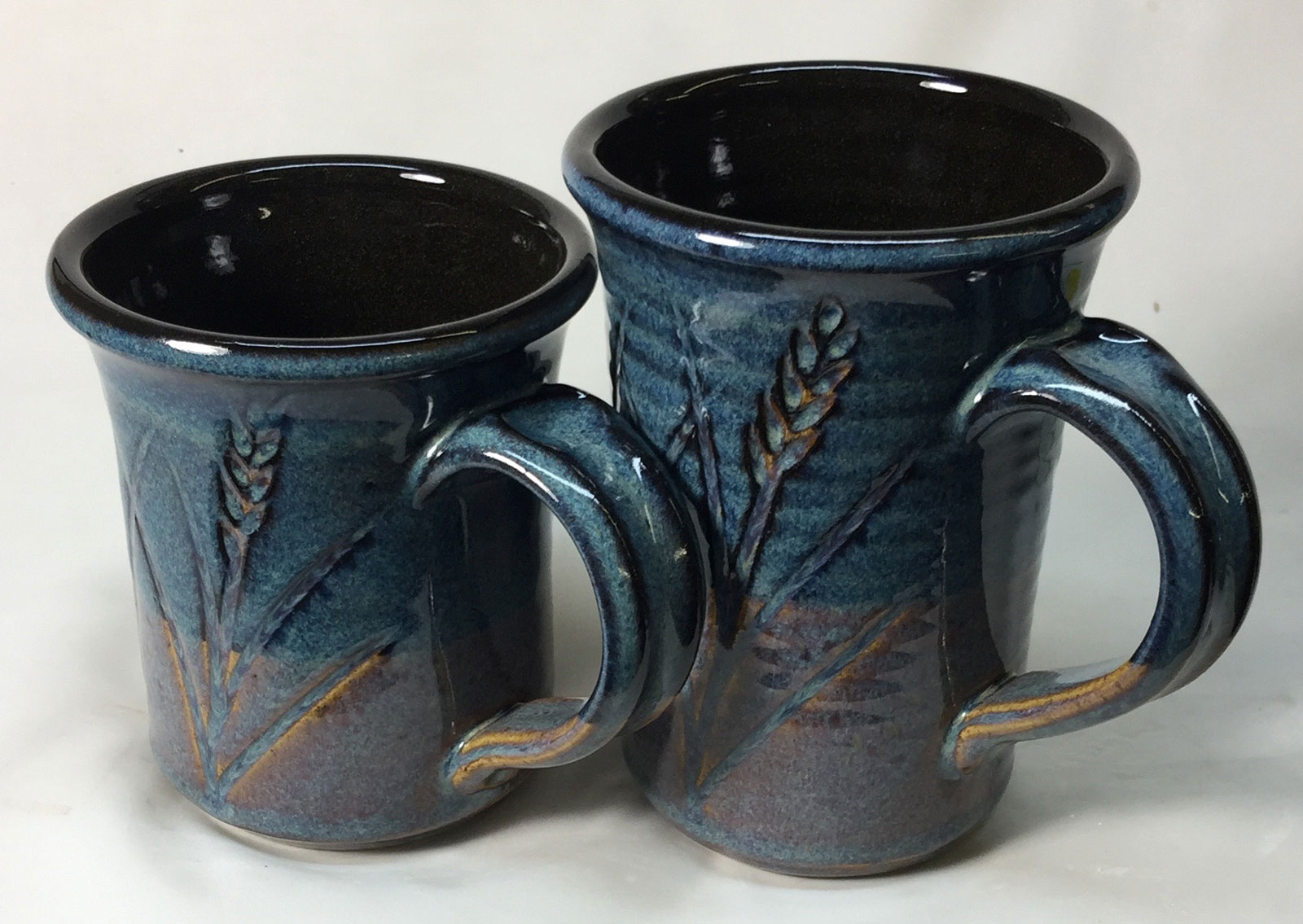 A black engobe transforms the floating blue glaze over it
M340 stoneware fired to cone 6 (drop-and-hold schedule). The L3954B engobe fires deep black (it has 10% Mason 6600 black stain instead of the normal 10% Zircopax). It was applied inside and partway down the outside (a much less messy process than using a black clay body). They were bisque fired and
... more
Context: L3954B - White Cone 6 Engobe for Plainsman M390, M340, Cone 6 Drop-and-Soak Firing Schedule
Monday 2nd October 2017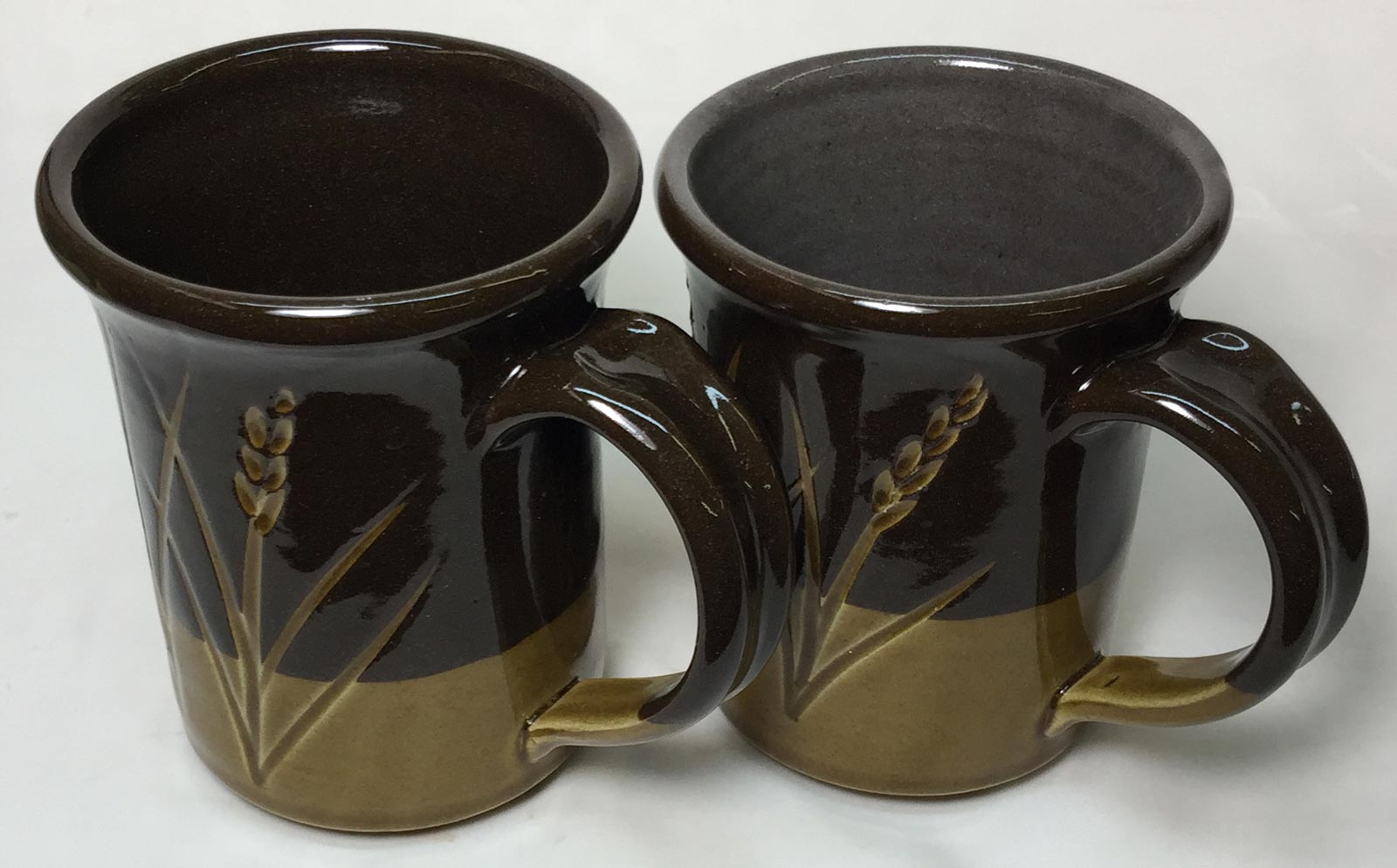 Dark Umber-Stained Engobes on M340 at cone 6
This is the standard Plainsman L3954D white engobe recipe with the 10% Zircopax switched for Burnt Umber. The result is a dark, rich, ultra-gloss brown (almost black). The engobe is applied inside and half-way down the outside. The mug on the left is glazed inside and out with the base GA6A Alberta
... more
Context: L3954B - White Cone 6 Engobe for Plainsman M390, M340, GA6-A - Alberta Slip Cone 6 Amber Base Glaze
Monday 2nd October 2017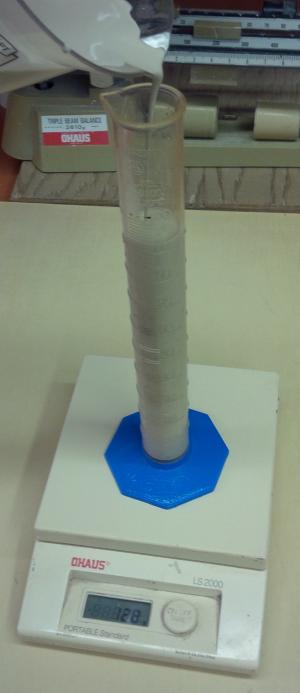 Measuring glaze slurry specific gravity
This is the easiest way to measure the specific gravity of a glaze if it is not in a container deep enough to float a hydrometer (or if it is too thick to float it properly). Just counterbalance the empty graduated cylinder to zero, fill it to the 100cc mark and the scale reads the specific gravity.
... more
Context: Understanding the Deflocculation Process in Slip Casting, Specific gravity of a glaze using a scale and measuring cup, Deflocculation, Specific gravity, Rheology, Thixotropy
Friday 22nd September 2017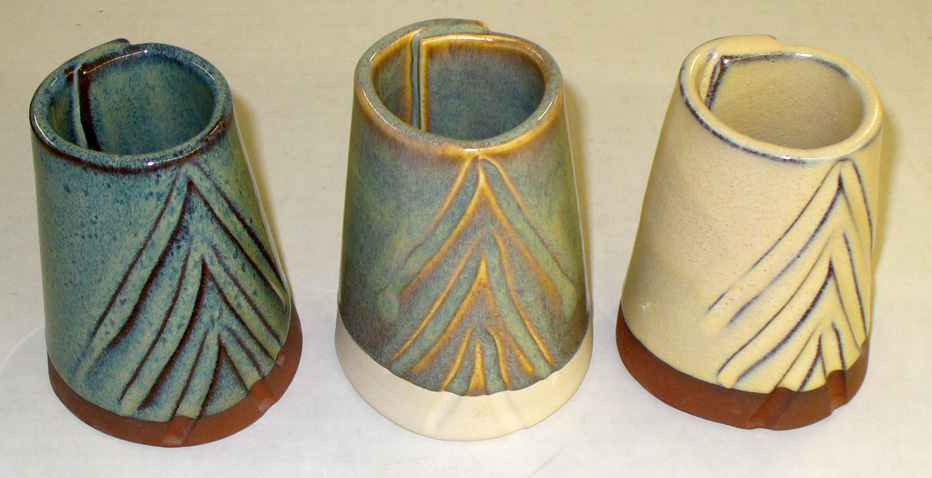 6% rutile is too much in this cone 6 oxidation glaze
Rutile variegates glaze surfaces. But it also opacifies at higher percentages. The blue effect is a product of crystallization that occurs during cooling, it is thus dependent on a slower cooling cycle, especially above 1400C. This is GA6-C Alberta Slip glaze with 4, 5 and 6% rutile. At 6% the
... more
Context: Ceramic Rutile, Rutile, Cone 6 rutile floating blue effect lost. Then regained., Cone 6 Drop-and-Soak Firing Schedule, Rutile Glaze
Thursday 21st September 2017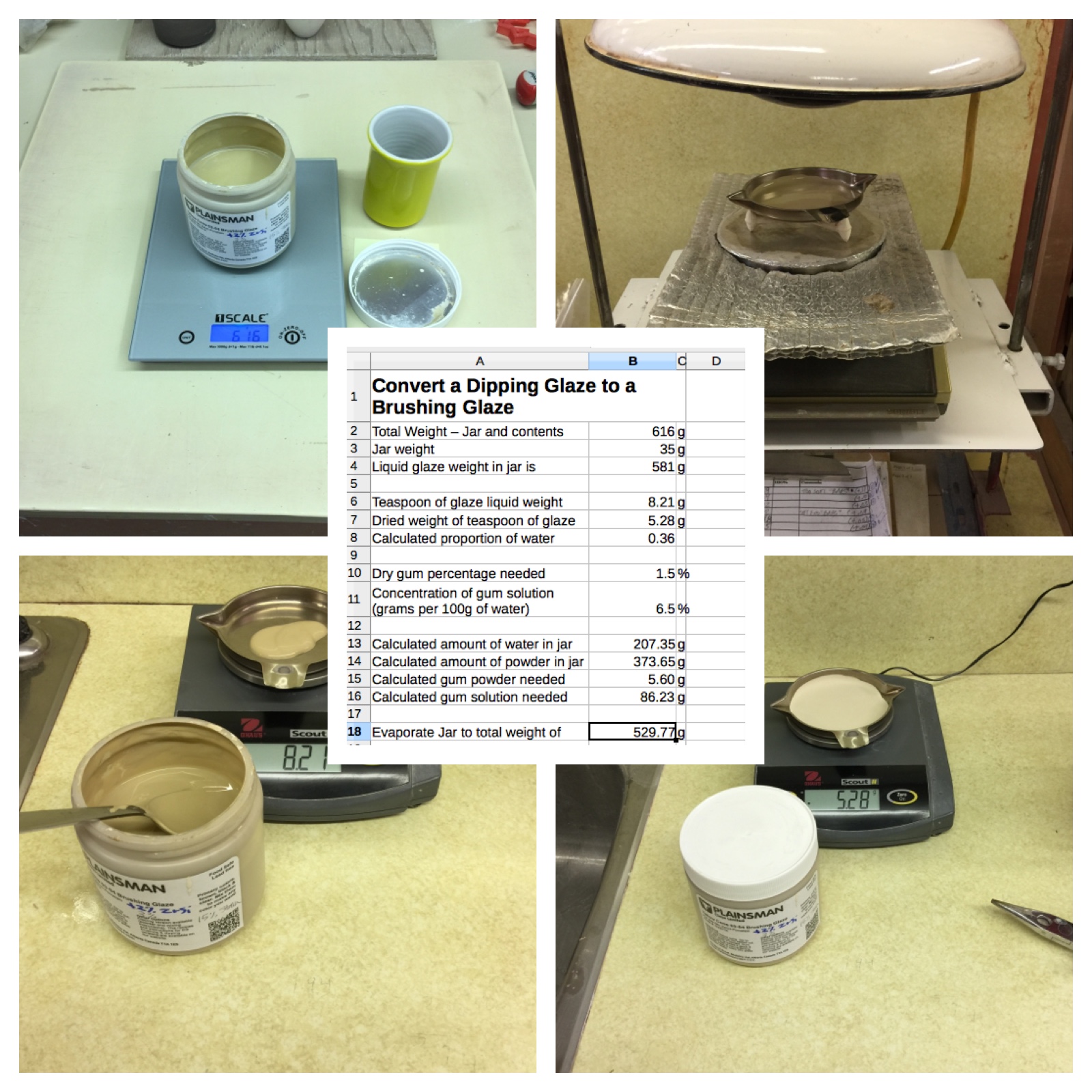 How to convert a dipping glaze to a brusing glaze
I have a jar of clear glaze that I mixed myself (it has 10% yellow stain and 2% zircopax added). The cost of the dry materials: About $6. How can I convert it to a paintable glaze like the commercial ones I buy for $20 a jar? I made a spreadsheet to do it for me. It knows the weight of the plastic
... more
Context: CMC Gum, Where Do I Start?, Brushing Glazes
Wednesday 20th September 2017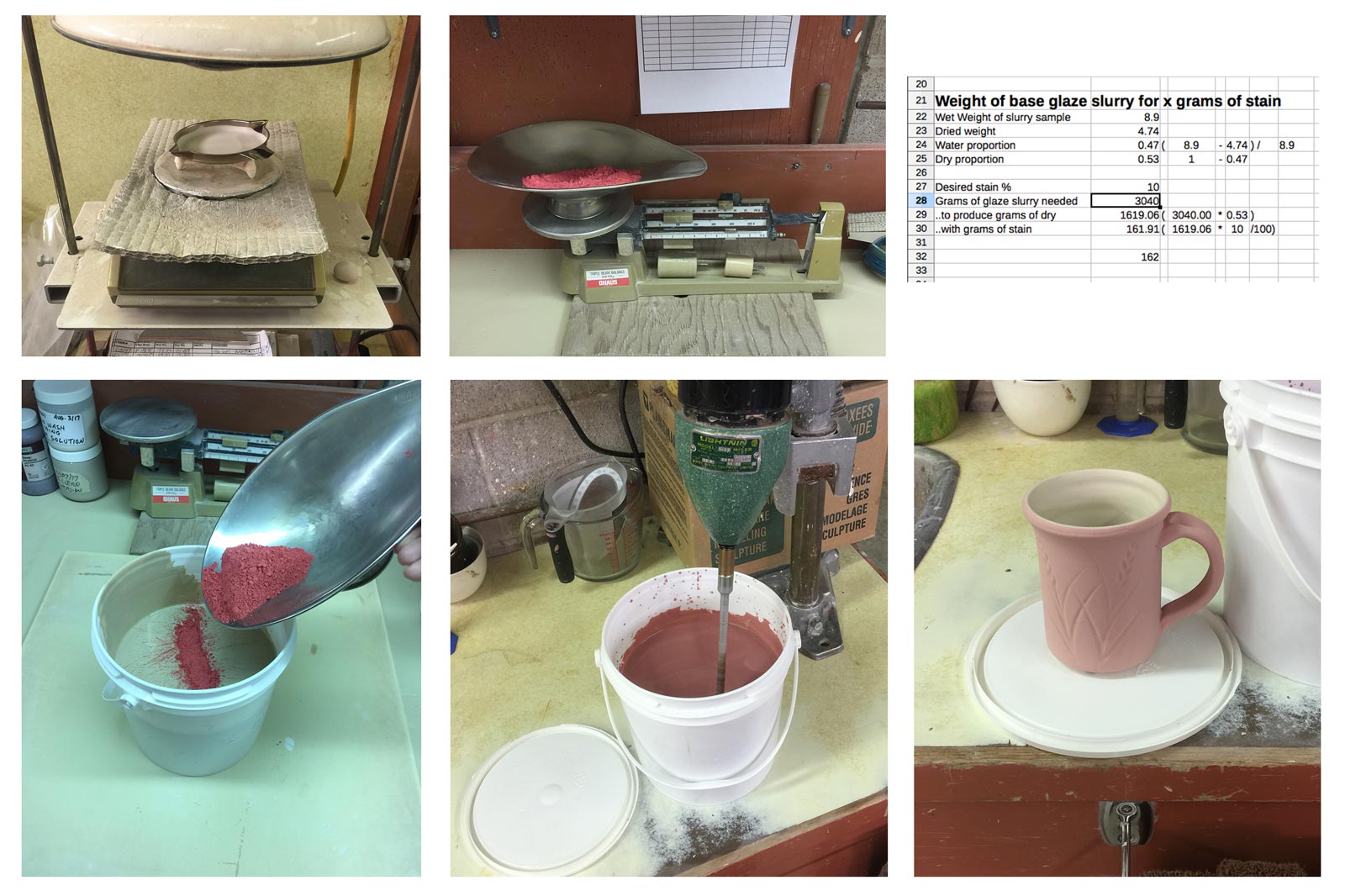 I have 161 grams of stain. I need to mix it into how much clear glaze slurry?
Stain powders are expensive. I want to make as much glaze as I can from every gram of this red stain I have at hand. I have weighed a teaspoon of the liquid slurry, dried it out under a heat lamp and weighed it again (top left). I have filled those two weights, 8.9 and 4.74, into a spreadsheet I
... more
Context: Brushing Glazes
Wednesday 20th September 2017
Login to your online account
Chemistry plus physics. The on-line successor to desktop Insight. Get an account for as little as $15. It does so much more.
Still available for Mac, PC, Linux
Interactive glaze chemistry calculations.
---
How to reach us
From within your account at Insight-Live.com or
What people have said about digitalfire
• Great site you have here, I am the ceramics tech at the University of .. the info. on your site is a great help to my students.
• Thank you for your support, it is wonderful and appreciated.
• Thank you for all the wonderful work you do for the ceramic community.
• This is the greatest site on the planet!
• Your website is phenomenal, I love it to get insight on different oxides. I helps me alot, even though we are pretty specialized.
• I want to also thank you for all you have done for the ceramic and pottery industry.
• Just wanted to share the good news with you. Couldn't be doing it without all the help you have given us over the years!
• if I am unable to find an answer, I can most always depend on this site !!!!! I appreciate your efforts greatly.
• Thank you for the work you do to improve the work of potters trying to do new things.
• I have read just about all your articles on Digitalfire and use your software, really appreciate the wealth of knowledge and testing you bring to ceramics.
Click here
to see all 9