I am the creator of Digitalfire Insight, the Digitalfire Reference Database and Insight-live.com. ... moreMy posts are like no others, they help you understand your glazes and clay bodies, take control. A master timeline can be seen at Digitalfire.com or visit and like my pages to get a notification each time I post.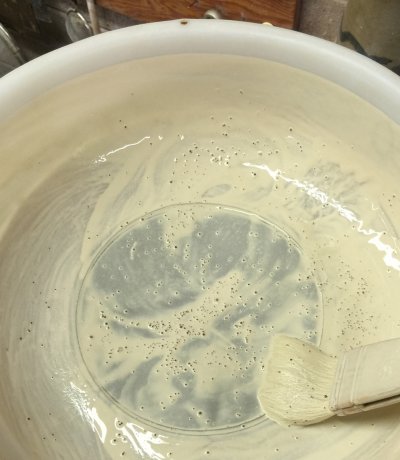 Precipitate can forms in fritted glazes, remember to screen it
Potters often store glazes for long periods so tiny spherical precipitate particles can form. These were found in a months-old bucket of G2926B (M370 clear) cone 6 clear glaze (about 2 gallons). These can appear over time, depending on factors like temperature, electrolytes in your water or ... more
Context: Are frits partially soluble? Yes, many are., Precipitation, Sieve
Saturday 16th June 2018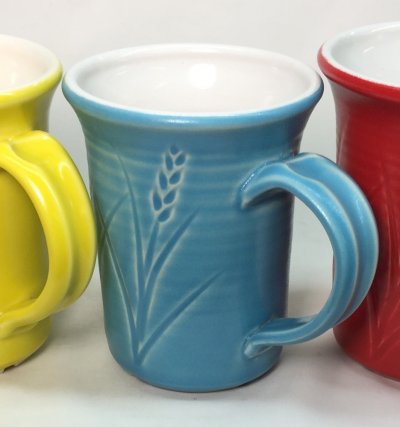 G2926S low expansion cone 6 base glaze is here
G2926B has proven to be my most durable, crystal clear, non-crazing, easy-to-use general purpose cone 6 base glaze (from dozens I developed). However, some porcelains (e.g. Plainsman P300) need an even lower thermal expansion. G2926S adjusts "B" (by adding low-expansion MgO at the expense of ... more
Context: G2926B - Cone 6 Whiteware/Porcelain Transparent Base Glaze, G2926S - Low Expansion version of G2926B
Saturday 16th June 2018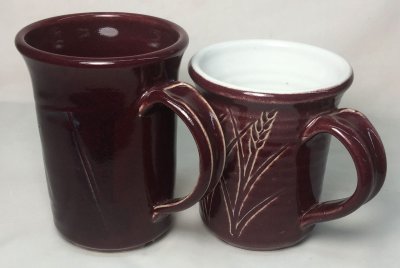 What happens if Ravenscrag Raspberry is applied too thick
These are Plainsman P300 mugs fired at cone 6. When the glaze, GR6-E, goes on too thick (as on the left) it is dark maroon and has a pebbly surface that does highlight contours. This went on too thick because the specific gravity of the slurry was too high, about 1.53 (even a one-second dip put to ... more
Context: GR6-E - Ravenscrag Cone 6 Raspberry Glossy, Specific gravity
Saturday 16th June 2018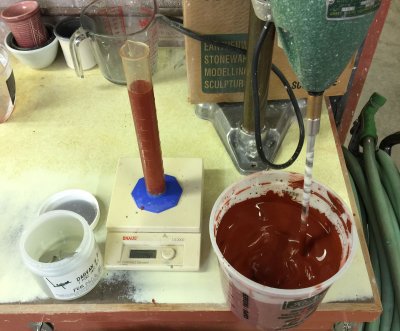 How to keep an iron-red glaze from being a bucket-of-jelly
This is G2890C, a cone 6 iron red glaze. It was so gelled that it was unusable! First I measured specific gravity (with difficulty): 1.48. That's too high, so I added water to reduce it to 1.44. Then I dripped in Darvan 811 (it is recommended for iron-containing slurries). I added it until adding ... more
Context: Iron Red Glaze
Tuesday 12th June 2018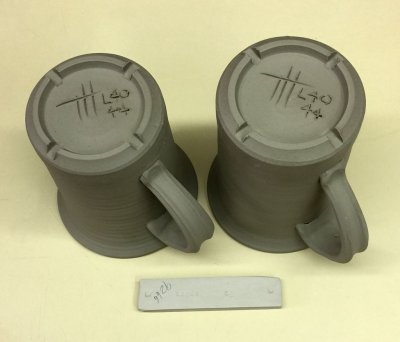 Never test bodies or glazes unlabelled with their Insight-live code number
That is how you know what it is. The recipe. The firing schedule. The notes. The project it was in, information about what came before it and what developed from it. These mugs and that test bar are the same clay, I am doing a preliminary test on a new material from our quarry, it is called "Battle Clay".
Context: Is this your record keeping system?, How many simultaneous testing projects can you manage at once?, Digitalfire Insight-Live, Insight-Live Help for the Recipe Manager
Tuesday 12th June 2018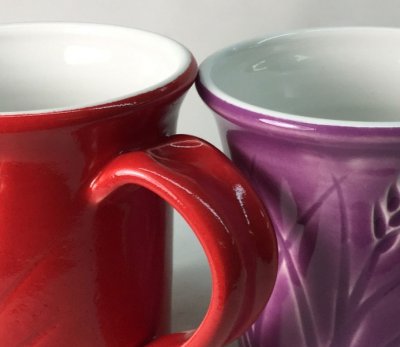 When using stains, customize the percentage, host glaze and firing schedule
These are G2926B clear glazes with stains added and fired at cone 6. The one on the left has 11% Mason 6021 encapsulated red. It is pebbling the surface (even with 2% zircon), it may be at the upper end of its firing range. Possible solutions are faster firing up and down to give the stain less ... more
Context: Encapsulated Stains
Monday 11th June 2018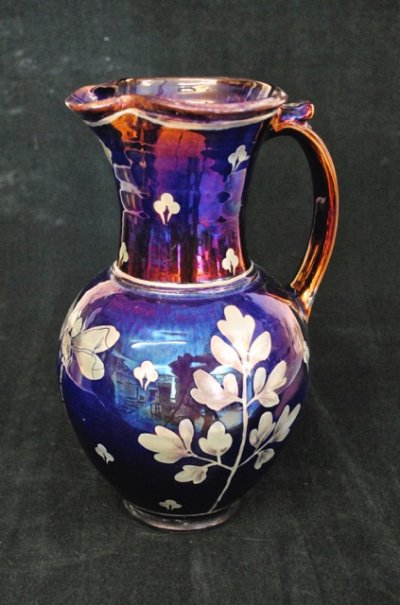 Lustreware pitcher by Jonathan Chiswell Jones
The process he has evolved requires 3 firings. First, the dry porcelain ware is spray-decorated with metal oxides (iron, manganese, copper, chrome and cobalt oxides) and then high bisque fired to cone 9 to bond them on and vitrify the body. Then a cover of lead borosilicate glaze is fired on at cone ... more
Context: Lustre Colors
Monday 11th June 2018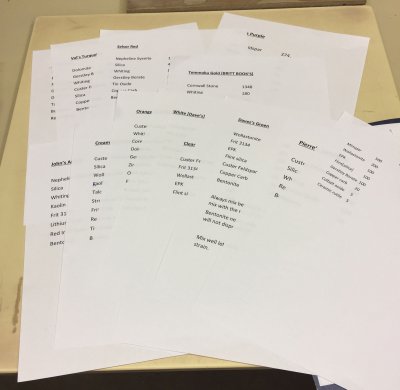 Trafficked online recipes waiting for a victim to try them!
Last week a customer came to buy materials to mix these recipes she found online. Then we had a closer look. Many have 50+% feldspar/Cornwall/nepheline with little dolomite or talc to counteract their high thermal expansion, these are guaranteed to craze. Many are high in Gerstley Borate, it will ... more
Context: Mechanism, Base Glaze
Tuesday 29th May 2018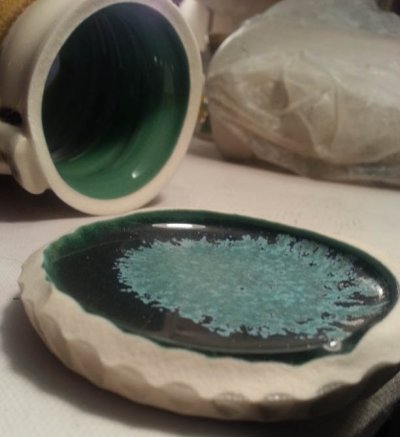 The glaze broke the bottom off the pot!
A example of a highly fluid cone 6 glaze that has pooled in the bottom of a mug (and crystallized). Glazes normally need to be under some compression to avoid crazing (by having a lower-than-the-body thermal expansion), but if they are thick like this the body does not have the strength to resist ... more
Context: Fired Strength, Melt Fluidity, Glaze Compression
Wednesday 23rd May 2018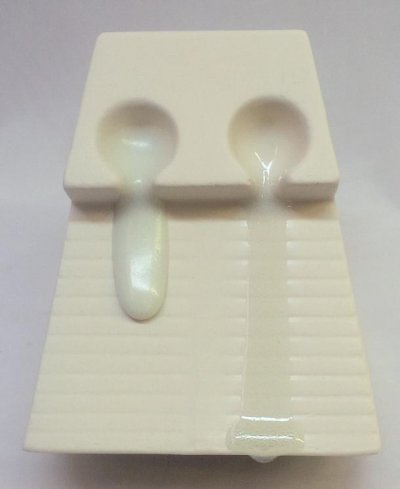 Substituting MgO for BaO in a matte will also make a matte, right? Wrong.
Left: G2934 magnesia cone 6 matte (sold by Plainsman Clays). Right (G2934D): The same glaze, but with 0.4 molar of BaO (from Ferro Frit CC-257) substituted for the 0.4 MgO it had. The MgO is the mechanism of the matte effect. Barium also creates mattes, but only if the chemistry of the host glaze ... more
Context: MgO, Concentrate on One Good Glaze, Ferro Frit CC-257, BaO
Wednesday 23rd May 2018
Contact Us:
Use the contact pages within or outside your account at Insight-Live.com
---
Login to your online account
Chemistry plus physics. The on-line successor to desktop Insight. Get an account for as little as $15. It does so much more.
Still available for Mac, PC, Linux
Interactive glaze chemistry calculations.
---
What people have said about digitalfire
• Thank you so much. This is what a good business looks like; great product, immediate response from the owner no less, and over the top service.
• I have only been involved with ceramics and glazing for about a year now, and I'm hungry for knowledge. The wealth of information you have on your site and in your products has just been great.
• Also, as a side note, this website is an excellent resource and I appreciate the fact that all this info is available on the web! Not only that, but I have found the information to be accurate, dependable and thorough, which is difficult to find anywhere.
• Tony Hanson is like the person that is always waiting to answer my questions. He is very thoughtful and quick with response. I wish he was my neighbor.
• Your site is one of the most unusual sites I have encountered since I began exploring ceramics on the web. I am a student in a 2 year pottery program, and would like nothing better than to understand glazing from the very beginning of my career as a potter...It is pretty overwhelming. To tell you the truth, you almost come off as a Southern Baptist Revival Preacher the way you rant and rave against the "Dragon." It is what got my attention, however, and I appreciate the quality of your work, but it is very overwhelming.
• I'm trying to access a great article on deflocculation. I have formulated so many casting slips over the years with the help of what I learned in that article and on this site.
• Great site btw. Besides getting married its the next best thing I did.
Click here
to see all 191
What people have said about Insight-Live
• Extremely useful resource Digital Fire. By the way your writing style is truly unique and is easily understandable even though of technical nature.
• Great software!
• Tony, I looked at Insight Live today more carefully. It is quite an accomplishment! Congrats to you!
• You are due many complements on your site and software. I usually have your A - Z materials dictionary open in my web browser.
• I have used the digital fire database for years and am beyond grateful for your work.
• It's very impressive work you do. Thanks you for providing it.
• WOW, WOW, WHAT GREAT INFO! thankyou! I am going to pass your site on to someone i know who is more keen on the science of glazes, than the potting, unlike me... she will love your test works and pics Wow! Thanks again.
Click here
to see all 96