I am the creator of Digitalfire Insight, the Digitalfire Reference Database and Insight-live.com. ... moreMy posts are like no others, they help you understand your glazes and clay bodies, take control. A master timeline can be seen at Digitalfire.com or visit and like my pages to get a notification each time I post.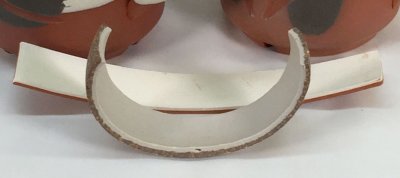 Should you use a porcelain as an engobe on stoneware?
This is how bad the fit can actually be. In the front is a bi-clay EBCT test strip of a grogged cone 10R sculpture clay sandwiched with a porcelain. After drying this bar was relatively straight. But during firing the porcelain has a much higher fired shrinkage and it pulls the bar toward itself. ... more
Context: EBCT Engobe Body Compatibility Test, Engobe
Monday 21st May 2018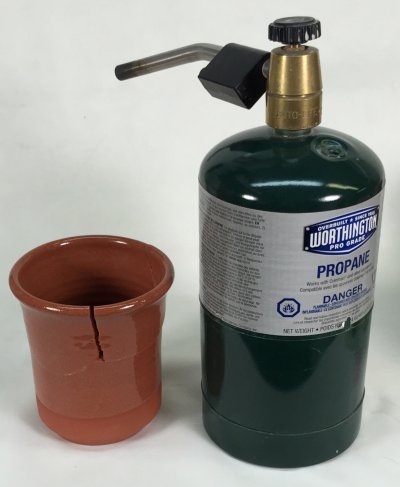 Terra cotta and a surprising thing about thermal shock
This terra cotta cup is glazed with G2931G clear glaze (Ulexite based) and fired at cone 03. It survives 25 seconds under direct flame against the sidewall before a crack occurs. Typical porcelains and stonewares would survive 10 seconds. Super vitreous porcelains 5 seconds. This is an advantage of ... more
Context: Earthenware, Terra cotta, Thermal shock
Monday 21st May 2018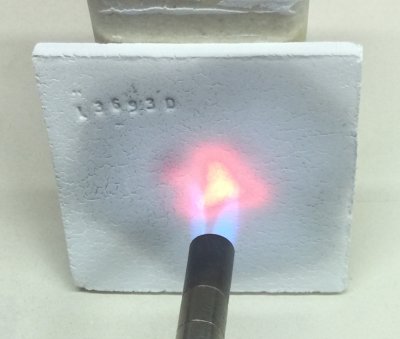 Flame thermal shock failure test
A 3 inch by 3/16 thick tile is flamed and timed until it cracks. The crack usually is audible and sometimes spectacular (the tile flying apart). However if the body is heavily grogged the crack can grow slowly (often from the edge inward). We log the result using the
TSFL test
.
Context: TSFL Thermal Shock Failure
Monday 21st May 2018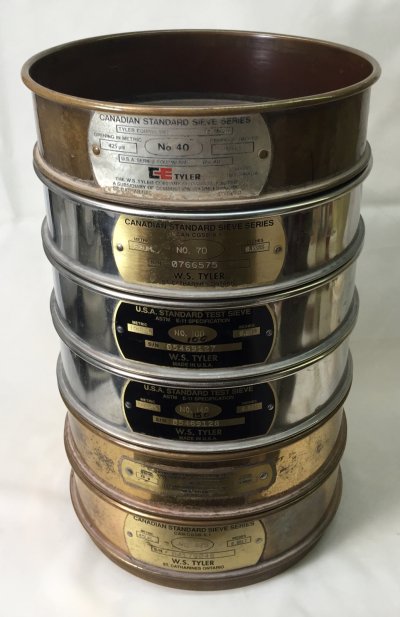 A root-of-two series of test sieves
The coarsest screen is at the top, the finest on the bottom. The opening for each is shown on the label. They are chosen such that each successive screen going down has an opening that is about half the area of the one above it. Using this series you can produce a practical measurement of the ... more
Context: SVWT Sieve Analysis Wet, SIEV Sieve Analysis 35-325 Wet, L20M % < 20 microns, L10M % < 10 microns, Particle Size Distribution of Ceramic Powders, Particle Size Distribution, Sieve
Monday 21st May 2018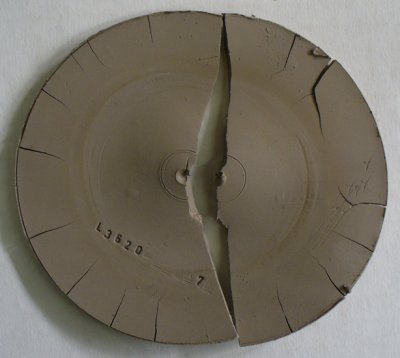 High drying shrinkage of Plainsman A2 ball clay (DFAC disk)
This DFAC test disk shows the incredible drying shrinkage that a ball clay can have. Obviously if too much of this is employed in a body recipe one can expect it to put stress on the body during drying. Nevertheless, the dry strength of this material far exceeds that of a kaolin and when used ... more
Context: Ball Clay, DFAC Drying Factor, Drying Shrinkage, Ball Clay
Monday 21st May 2018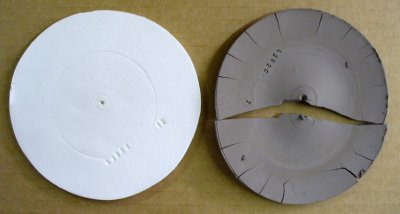 The white one feels smoother, but it is actually far coarser. Why?
Large particle kaolin (left) and small-particle ball clay (right) DFAC tests (for drying performance) demonstrate the dramatic difference in drying shrinkage and performance between these two extremes (these disks are dried with the center portion covered to set up a water content differential to ... more
Context: Ball Clay, Kaolin, DFAC Drying Factor, Ultimate Particles, Primary Clay, Firing Shrinkage, Ball Clay
Monday 21st May 2018

Grog does not always have the intended effect
These DFAC test disks (drying performance) show that minor additions of grog do not reduce the fired shrinkage of this medium fire stoneware much. Nor do they improve its drying performance. In this example, a 10% addition has not reduced shrinkage appreciably nor has it improved drying performance. ... more
Context: Grog, DFAC Drying Factor, Drying Performance, Grog
Monday 21st May 2018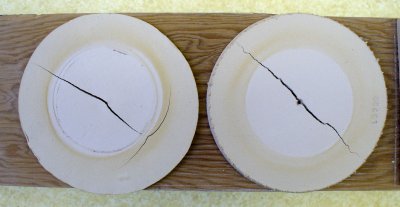 Do grog additions always produce better drying performance?
This DFAC test for drying performance compares a typical white stoneware body (left) and the same body with 10% added 50-80 mesh molochite grog. The character of the crack changes somewhat, but otherwise there appears to be no improvement. While the grog addition reduces drying shrinkage by ... more
Context: Molochite, DFAC Drying Factor, The Black Art of Drying Ceramics Without Cracks, Drying Performance, Drying Shrinkage
Monday 21st May 2018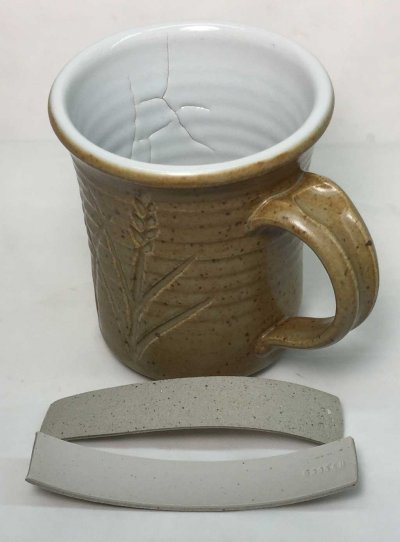 What happens when engobe fired shrinkage is too high for the body
The
EBCT test
bars (
engobe
compatibility) in the foreground demonstrate the issue (they sandwich the
engobe
and body as a bi-clay strip). After firing at cone 10R they have curled toward the engobe side, indicating that it is shrinking more. On the mug the engobe has done likewise, shrinking more than the body and creating a crack pattern.
Context: EBCT Engobe Body Compatibility Test, Engobe
Sunday 20th May 2018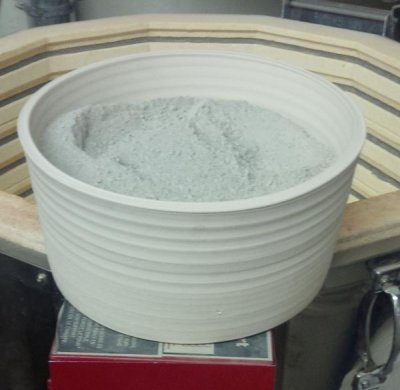 Roasting Ravenscrag Slip instead of calcining
This is the Ravenscrag Slip I used to calcine at it 1850F (about 10lbs in a bisque vessel). I am now roasting it to 1000F instead, this produces a smoother powder, less gritty. I hold it for 2 hours at 1000F to make sure the heat penetrates. It is not actually calcining, since not all crystal water ... more
Context: GR6-A - Ravenscrag Cone 6 Clear Glossy Base, GR10-A - Pure Ravenscrag Slip, Ravenscrag Slip, Sterile white vs. pure Ravenscrag Slip as a liner glaze at cone 10R, Calcine, Calcination
Sunday 20th May 2018
Contact Us:
Use the contact pages within or outside your account at Insight-Live.com
---
Login to your online account
Chemistry plus physics. The on-line successor to desktop Insight. Get an account for as little as $15. It does so much more.
Still available for Mac, PC, Linux
Interactive glaze chemistry calculations.
---
What people have said about digitalfire
• Wow. Thanks. That is so great. I also thank you for making so much material available on your web site. You obviously care deeply about the craft and teaching others.
• You are so good for me. Find a stumbling stone and in a moment the path is easier.
• I am so glad I found your site, I have been looking for a site with this type of good information.
• Thanks for your website! I found it greatly informative and useful in my research work on high temperature ceramic materials.
• I'm trying to access a great article on deflocculation. I have formulated so many casting slips over the years with the help of what I learned in that article and on this site.
• I love the site. I use it all the time at the Clay Business, and I feel like I have not even touched the surface.
• I have found the glaze information on your site really helpful for quite some time now. I like the way that there is an emphasis on problem solving and understanding how things work, rather than just offering recipes that might work.
Click here
to see all 191
What people have said about Insight-Live
• Please know that your work is really benefiting me in my work. I really was helped by your information about drop and soak at cone 6. I've had trouble with an otherwise beautiful glaze which develops blisters. Thanks for your 'Insight!'
• I want to first tell you that your site is amazing. i love the approach, the attitude, and the incredible information. the fact taht you share so much of your information to the public is truly wonderful. I recenly fell in love with ceramics and set up a home studio.
• I just want to say THANK YOU for this incredible database of information. Thank you, thank you, thank you!
• I'm glad I was of some small service. Your whole venture is a marvel. All the best as we go forward.
• Thank you so much for this wonderful resource you have created! I have found all of the information in the Digital Fire database as well as Insight to be incredibly helpful tools in the ceramic world.
• I spent most of yesterday playing with the "new" (to me) version of insight on line. I love it, it is faster and eventually easier to use. And by the way, thank you for creating and maintaining the enormous data base of ceramic materials and making it available for anyone to use. What a wonderful gift to all of us interested in ceramics.
• Anyway I thank you for your efforts in putting together this wealth of ceramic science in this accessible manner.
Click here
to see all 94