At what point is a self-supporting cone bent to the correct degree?
Orton says "90 angular degrees is considered the endpoint of cone bending". First, let's assume the normal: Examination of cones on kiln-opening to verify controller operation. Consider the cone on the left: The tip is touching. But it is also beginning to buckle, which means it was touching for a while before the firing ended. Who knows how long! The second one is not touching but has still fallen a little too far. Why do we say that? The third one, positioned on the Orton guide, has reached the recommended 90 degrees. This demonstrates a good reason why self-supporting cones are much better than standard ones: They are not touching when considered done. And standard cones, when sent in a 3/4" plaque, have a less consistent bending behaviour.
Related Pictures
Are you using your expensive kiln like a pop-up toaster?
Tap picture for full size and resolution
Put the pots in, select a cone, press start. It is time to rethink that approach! The Bartlett Genesis kiln controller is standard equipment on hobby and production electric kilns now. It is not meant to be run like a toaster! Good glazes are about much more than recipes, they are about firing schedules. None of the built-in "toaster schedules" have hold times on any segments, drop-and-hold sequences or controlled cools. Or even fire-to-cone accuracy. Yet such are a must for defect-free glazes, enhancing the effects of reactive glazes that must develop crystallization or variegation or firing accurately. It is easy to program: Tap the blue edit button to edit a program, tap a column of any segment to edit its value. Tap a segment number to delete or duplicate it. Search "bartlett genesis controller" on YouTube for videos on creating and editing a schedule.
What temperature do Orton cones actually indicate in our kilns?
Tap picture for full size and resolution
The blue line on this graph is from the Orton cone chart for 108F/hr. But those are not the target temperatures for our cone firings. We use the red line to program our controllers to produce accurate firings for each cone. Where is that red from? We made it. The self supporting cones we put in every firing verify that red line, time after time, for thousands of firings (we routinely fire at every cone shown, manually maintaining programs for them all our kiln controllers). One caveat: As pyrometers degrade and are replaced there is need to adjust the final temperature a few degrees. Should you use that red line? No. Use self supporting cones to establish your target temperatures.
Program your firings manually, calibrate the final temperature using cones
Tap picture for full size and resolution
Here is an example of our lab firing schedule for cone 10 oxidation (which the cone-fire mode does not do correctly). To actually go to cone 10 we need to manually create a program that fires higher than the built in cone-fire one. Determining how high to go is a matter repeated firings verified using a self-supporting cone (regular cones are not accurate). In our lab we keep notes in the schedule record in our account at insight-live.com. And we have a chart on the wall showing the latest temperature for each of the cones we fire to. What about cone 6? Controllers fire it to 2235, we put down a cone at 2200!
The bending of an Orton standard cone 10
Tap picture for full size and resolution
People refer to the extent of cone-fall as numbers-on-the-clock or degrees. This cone is at 5 oclock or 80 degrees. Notice that from start-to-finish is 35 degrees C (not all cones have this same 35 degree fall). As you can read on the temperature scale, 25+ degrees happen before it reaches 2 o'clock! From 5 to 6 o'clock is only 1 degree! This is a standard cone that requires a plaque, notice that the down-touching position is when it hits the top of the plaque. It follows from this that one can convert cone-bend to equivalent temperature. That being said, remember that cones measure heat-work, so the conversion is only valid for a 60C/hr rate-of-rise.
Cones bending theoretically, cones bending actually
Tap picture for full size and resolution
Orton cones have become much less relevant in recent years. That being said they are still commonly used to calibrate electronic controllers. Most people just use one cone now (rather than the guard, firing and guide cones of the past). The problem illustrated in this diagram is our reason for doing that. At our typical firing rates, we found that bending the middle cone to 5 o'clock pretty well always started the guard cone. Orton said when that happens "you have exceeded the best time-temperature relationship". Thus, over time, we got into the habit of bending the firing cone to 3 o'clock (as shown in #1). Notice the situation in #2, that is not supposed to happen but often did. The first guide cone should be slumping, not just touching. And the guard cone should not be starting. It was difficult to rationalize these outcomes so we did what everyone else did and just use one cone bent to 5 o'clock to verify our electronic controllers.
Cones bending badly
Tap picture for full size and resolution
We sometimes see customers doing this with cones: Putting them in the plaque backwards! Of course, they are not going to be accurate. Actually, self supporting cones are much better, they are idiot-proof because they enforce the 8 degree angle and bending direction.
Manually programming a Bartlett V6-CF hobby kiln controller
Tap picture for full size and resolution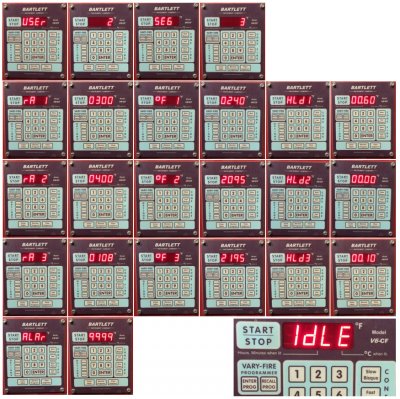 I document programs in my account at insight-live.com, then print them out and enter them into the controller. This controller can hold six, it calls them Users. The one I last edited is the one that runs when I press "Start". When I press the "Enter Program" button it asks which User: I key in "2" (for my cone 6 lab tests). It asks how many segments: I press Enter to accept the 3 (remember, I am editing the program). After that it asks questions about each step (rows 2, 3, 4): the Ramp "rA" (degrees F/hr), the Temperature to go to (°F) to and the Hold time in minutes (HLdx). In this program I am heating at 300F/hr to 240F and holding 60 minutes, then 400/hr to 2095 and holding zero minutes, then at 108/hr to 2195 and holding 10 minutes. The last step is to set a temperature where an alarm should start sounding (I set 9999 so it will never sound). When complete it reads "Idle". Then I press the "Start" button to begin. If I want to change it I press the "Stop" button. Those ten other buttons? Don't use them, automatic firing is not accurate. One more thing: If it is not responding to "Enter Program" press the Stop button first.
Links