The same glaze on a buff-burning stoneware and a white porcelain
Both of the bodies are made from materials processed to minus 200 mesh. They were fired side-by-side to cone 6. Both bodies are vitreous, in fact, the buff burning one, Plainsman 3D 325, is more vitreous (the white one is Plainsman Polar Ice). The glaze is G2926B with 10% Mason 6304 stain and 2% Zircopax added. Clearly, iron content in the body heavily affects the development of the color in this glaze. But it is more. Because the 3D is highly vitreous the glaze melt is better able to leach iron from it.
Related Pictures
Why is this cone 6 glaze so different on these two different porcelains?
Tap picture for full size and resolution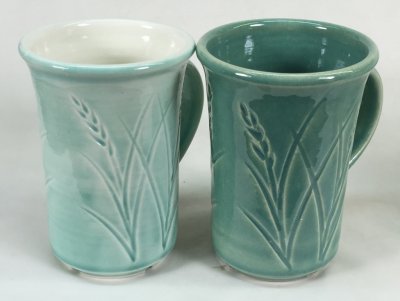 Why the difference? The one on the right (Plainsman M370) is made from commodity American kaolins, ball clays, feldspars and bentonite. It looks pretty white-firing until you put it beside the Polar Ice on the left (made from NZ kaolin, VeeGum plasticizer and Nepheline Syenite as the flux). These are extremely low iron content materials. M370 contains low iron compared to a stoneware (less than 0.5%) that iron interacts with this glaze to really bring out the color (although it is a little thicker application that comes nowhere near explaining this huge difference). Many glazes do not look good on super-white porcelains for this reason.
Got a Question?
Buy me a coffee and we can talk
---

https://digitalfire.com
, All Rights Reserved
Privacy Policy