Crazing after a year of use. What is the problem?
A cone 10R grey stoneware mug that has begun to craze on the inside. The greyer coloration around the craze lines indicates that water is soaking into the slightly porous body. This mug has lost the ring it had when it was new (it is only about a year old). It could be refired to be as good as new but would soon return to this condition. The only real solution is to reformulate this glaze to reduce its thermal expansion.
Related Pictures
ChatGPT is completely wrong about the cause of glaze crazing!
Tap picture for full size and resolution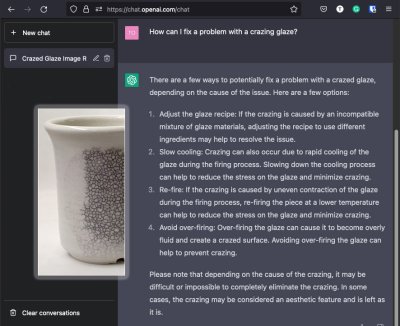 Today, ChatGPT is parroting common wrong suggestions about the cause and solution of the serious issue of crazing. Yet it trained on thousands of internet pages about the subject! Crazed functional ware is defective, and customers will return it. So fixing the problem is serious business, we need correct answers. Consider ChatGPT's suggestions: #1 is wrong. There is no such thing as an "incompatible mix" of ceramic materials. Crazing is an incompatibility in thermal expansions of glaze and body, almost always a result of excessive levels of high-expansion K2O and Na2O in the chemistry of the glaze. The solution is reducing them in favor of other fluxes (the amount in accordance with the degree of COE mismatch). #2 is wrong, firing changes don't fix the incompatibility of thermal expansions. #3 is wrong, refiring makes the crazing go away but not the stress of the mismatch, it will for sure return. #4 is completely wrong. Firing higher takes more quartz grains into solution in the melt and should reduce the COE and thus improve the fit. And melt fluidity has nothing to do with crazing. Furthermore, if a glaze does not run off the ware, it is not overfired.
Links