Crawling glaze on slip cast ware is common
This cone 6 white glaze is crawling on the inside and outside of a thin-walled cast piece. This happened because the thick glaze application took a long time to dry, this extended period, coupled with the ability of the thicker glaze layer to assert its shrinkage, compromised the fragile bond between dried glaze and fairly smooth body. There are several measures that can be taken to solve this problem. The ware could be heated before glazing, the glaze applied thinner, or glazing the inside and outside could be done as separate operations (with a drying period between).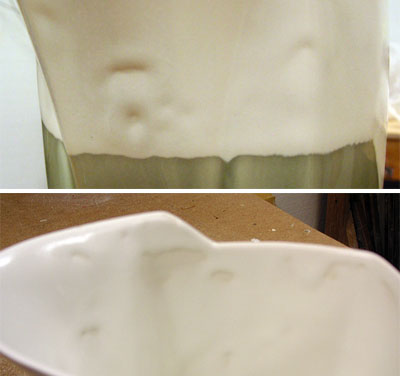 Links
Glossary
Crawling
A ceramic glaze fault that occurs during firing of the ware, islands of glaze form as it crawls, leaving bare patches of body.
Glossary
Slip Casting
A method of forming ceramics where a deflocculated (low water content) slurry is poured into absorbent plaster molds, forming a layer against mold walls, then poured out.
Troubles
Glaze Crawling
Ask yourself the right questions to figure out the real cause of a glaze crawling issue. Deal with the problem, not the symptoms.
---
---


https://digitalfire.com, All Rights Reserved
Privacy Policy