Cuphead for Shimpo jigger wheel
This is machined out of aluminum. We also have drawings of a 3D-printable shell-mold for making molds that drop into this. And methodology for printing the outside contour of pieces to be jiggered.
Related Pictures
3D print this shell and pour plaster into it to make jigger molds for mugs
Tap picture for full size and resolution
Turn this upside down and center it over a precision plaster or 3D printed form of the outside shape of a mug. This creates a mold that drops down in our Shimpo cuphead. This opens slightly along one side for easy release from the plaster after set. It is held together by paper clamps during use. The upper flange can be glued down to a smooth surface with a clay slurry. If you would like this 3D file in Fusion 360 format, it is available in the Files manager in your Insight-live.com account.
Jigger wheel auminum cuphead (for cups)
Tap picture for full size and resolution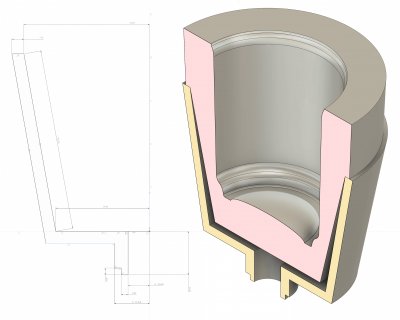 Showing dimensions to fit a Shimpo RK2 wheel, its shaft is 0.983 in diameter. The molds fit down inside as shown, only contacting the cuphead at the shoulder. This is machined from aluminum. We do not sell this of course, but you could take this drawing to a machine shop and have them make you one (the numbers are readable when this is zoomed to full size).
Links