G2916F - Cone 6 Stoneware/Whiteware transparent glaze
Modified: 2023-07-22 15:00:36
Crystal clear industrial dinnerware glaze
Notes
This was an industrial tableware glaze recommended by tech support at Fusion Frits. It fires hard and crystal clear but has outstanding suspension and application properties. However, the frit is not carried by most suppliers so we are recommending the G2926B recipe instead.

The magic for the way this glaze fires and its hardness and durability lie in the variety of fluxes it contains and the very low boron content coupled with high SiO2 and Al2O3. The fluxes most likely to create micro-bubbles at this temperature are sourced in a frit. It has the traditional CaO and KNaO, but the talc adds MgO and the frit adds SrO plus a tiny bit of BaO. This mixed-oxide effect produces a very well-melting glaze having excellent body (considering it has only 18% of a low-boron frit).

Cautions In Mixing

-Screening at 80 mesh is required during preparation if your wollastonite has agglomerated (otherwise your slurry will be full of tiny lumps).

-Fusion Frits recommends 325 mesh silica and A400 nepheline syenite. Among the benefits is the lower CTE it will have.

-The recipe originally used #1 Glaze Ball Clay, but we have switched to the similar more commonly available Old Hickory #5.

-Use the cleanest bentonite you have.

To prepare it for use, target a specific gravity of 1.5 (divide the total weight of powder by 1.08 to derive the amount of water to use). If needed, add a flocculant (epsom salts, vinegar) to make it creamy.
Related Information
Tune your glaze to the degree of matteness you want
Tap picture for full size and resolution
G2934 is a popular matte for cone 6 (far left). The mechanism of the matteness is high MgO content (it produces a more pleasant surface that cutlery marks and stains less than other mechanisms such as crystallization). But what if it is too matte for you? This recipe requires accurate firings, did your kiln really go to cone 6? Proven by a properly set firing cone? If it did, then we need plan B: Add some glossy to shine it up a bit. I fired these ten-gram GBMF test balls of glaze to cone 6 on porcelain tiles, they melted down into nice buttons that display the surface well. Top row proceeding right: 10%, 20%, 30%, 40% G2926B added (100% far right). Bottom: G2916F in the same proportions. The effects are similar but the top one produces a more pebbly surface.
Stains having varying fluxing effects on a host glaze
Tap picture for full size and resolution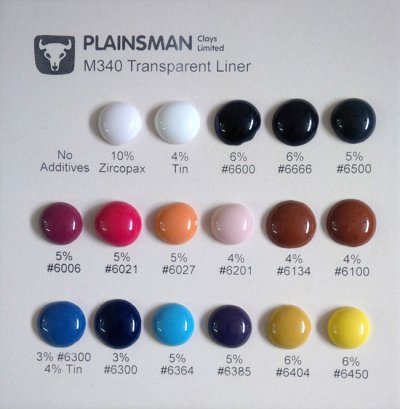 Plainsman M340 Transparent liner with various stains added (cone 6). These bubbles were fired on a bed of alumina powder, so they flattened more freely according to melt flow. You can see which stains flux the glaze more by which bubbles have flattened more. The deep blue and browns have flowed the most, the manganese alumina pink the least. This knowledge could be applied when mixing these glazes, compensating the degree of melt of the host accordingly.
M340 Transparent base glaze with Mason stains
Tap picture for full size and resolution
M340 Transparent Liner glaze fired at slightly lower than cone 6. Using these modest stain amounts the degree of melting of the glaze is not overly affected (these were balls, they flattened during firing). However as a glaze layer on a body, many of these will not be as dark as you see here.
Mason stains in G2916F cone 6 clear base
Tap picture for full size and resolution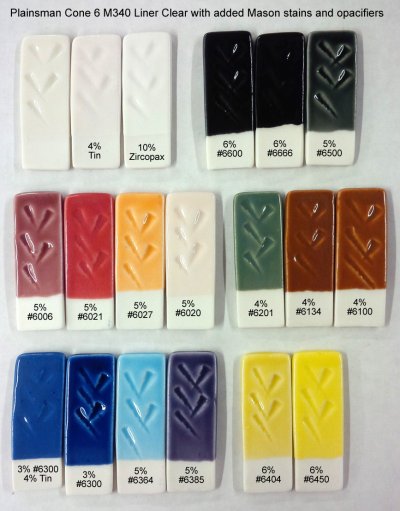 These are Mason stains added to cone 6 G2916F clear liner base glaze. Notice that all of these stains develop the correct colors with this base (except for manganese alumina pink 6020). However caution is required with inclusion stains (like #6021), if they are rated to cone 8 they may already begin bubbling at cone 6 is some host glazes.
Two stains. 4 colors. Will the guilty oxide please step forward.
Tap picture for full size and resolution
We are looking at two pairs of samples, they demonstrate why knowing about glaze chemistry can be so important. Both pairs are the same glazes: G2934 cone 6 matte and G2916F cone 6 glossy. The left pair has 5% maroon stain added, the right pair 5% purple stain. The red and purple develop correctly in the glossy but not the matte. Why? The Mason Colorworks reference guide has the same precaution for both stains: the host glaze must be zincless and have 6.7-8.4% CaO (this is a little unclear, it is actually expressing a minimum, the more the CaO the better). The left-most samples of each pair here have 11% CaO, the right-most have 9%. So there is enough CaO. The problem is MgO (it is the mechanism of the matteness in the left two), it impedes the development of both colors. When you talk to tech support at any stain company they need to know the chemistry of your glaze to help.
This glaze can dry on metal without cracking, even though it is thick!
Tap picture for full size and resolution
This sample of glaze was dried under a heat lamp to measure its water content. If a glaze that is this thick can crack this little during drying and adhere even to stainless steel there is absolutely no reason you need to suffer glazes cracking during drying on bisque ware. This one is very high in frit with about 15% No. 5 ball clay. Drying cracking problems can be fixed using Digitalfire Insight, it enables you to juggle a recipe to reduce and substitute plastic ingredients while maintaining the chemistry.
Cone 6 porcelain marbled and thrown
Tap picture for full size and resolution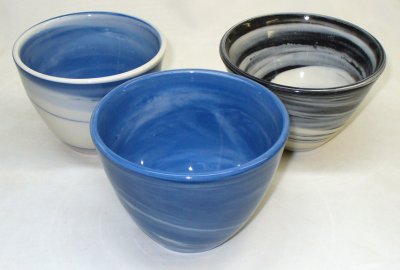 These bowls were made by Tony Hansen using a mixture of white and stained New-Zealand-kaolin-based porcelain (Plainsman Polar Ice) fired at cone 6. The body is not only white, but very translucent.
Cone 6 glazes can seal the surface surprisingly early - melt flow balls reveal it
Tap picture for full size and resolution
These are 10 gram balls of four different common cone 6 clear glazes fired to 1800F (bisque temperature). How dense are they? I measured the porosity (by weighing, soaking, weighing again): G2934 cone 6 matte - 21%. G2926B cone 6 glossy - 0%. G2916F cone 6 glossy - 8%. G1215U cone 6 low expansion glossy - 2%. The implications: G2926B is already sealing the surface at 1800F. If the gases of decomposing organics in the body have not been fully expelled, how are they going to get through it? Pressure will build and as soon as the glaze is fluid enough, they will enter it en masse. Or, they will concentrate at discontinuities and defects in the surface and create pinholes and blisters. Clearly, ware needs to be bisque fired higher than 1800F.
Links
XML to Paste Into Desktop Insight
<recipes>XML not functional: We are working on this problem.</recipes>
By Tony Hansen
Follow me on

Got a Question?
Buy me a coffee and we can talk
---


https://digitalfire.com, All Rights Reserved
Privacy Policy