Mining the Battle Formation in our quarry at Ravenscrag, Saskatchewan - June 2018
This is the top layer. Battle clay is highly bentonitic, it is the "super hero of plasticity" in the quarry, it is unbelievably sticky. We have considered it "over-burden" in the past, but now will be looking for ways to employ Battle clay in our products and seeking special-purpose markets for it. Only 10% of this can turn a silt into a plastic throwing body! It is also high in fluxes (melts by cone 6). That means we can use it to improve the fired maturity of bodies, reducing the need for talc. Removal of this layer has exposed the top of the White-Mud Formation, the "A1" layer. A1 is employed in high fire bodies to impart brown color and fired speckle.
Related Pictures
Core sampling at a Plainsman quarry during summer 2021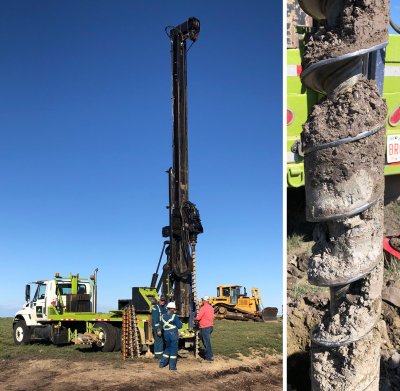 We are drilling test holes down through about 40 feet of overburden into the seven layers of clay to be mined. The rig assembles five-foot auger-sections, drilling down and pulling out two sections at-a-time. We examine the auger, identify the clays and record the results. At the middle of the auger-full shown you can see the division between the A2 ball clay and the A3 white stoneware, it was about 50 feet down. This hole was 80 feet, that spans tens of millions of years of sedimentation! This is the first time we have been able to sample the entire depth of the overburden, a highly plastic red burning low temperature clay, now we can assess whether it is a useful product.
Links