Lead testing a lead bisilicate frit
I have soaked an aluminum lead bisilicate frit in vinegar overnight. To test whether it is leaching I will pour the vinegar leachate into a test tube, soak a Q-Tip in the sensor solution and dip it into the vinegar. If it turns black we have lead in the leachate!

Keep in mind something important here: While it is true that the vastly increased surface area of the frit contributes to its failing the leaching test another important factor is that the frit glass had no opportunity to be annealed - it was crash-cooled by being quenched in water. Annealing and associated toughening of the surface is a by-product of a glaze cooling slowly in a periodic kiln.
Related Pictures
Lead bisilicate frit data sheet claims high resistance to leaching
Tap picture for full size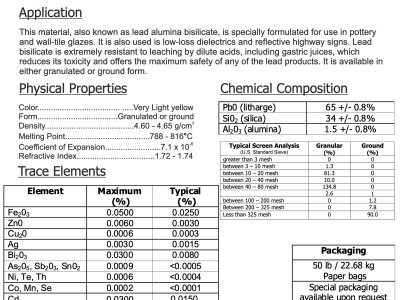 Notice it is specifically "formulated for use in pottery glazes". And that "Lead bisilicate is extremely resistant to leaching by dilute acids, including gastric juices, which reduces its toxicity and offers the maximum safety of any of the lead products." In many countries, the use of lead glazes is still considered normal and safe. There is zero use of lead in pottery glazes in North America. Is it possible that we have tarred all lead products with the same brush? Could we be using it on non-functional surfaces of low-fire stoneware and drastically reduce the energy consumption of kilns?
A way to get crystal clear glaze on terra cotta: Lead bisilicate
Tap picture for full size
The mug on the left is a brush-on version of a boron-based clear glaze for cone 05. Three coats were applied and the often-encountered clouding occurred. The one on the right is an 85:15 lead bisilicate:kaolin mix. Three coats were also applied. It is an absolutely "knock your socks off" crystal-clear hyper-glossy surface that transmits the terra cotta color beautifully. And my lead testing kit passes it with no detectable lead release. Underglaze brushwork here we come! I have sought this effect for decades, this is it! Recent realizations about the slipware tradition in the UK (and their standard use of this same glaze) motivated me to get some of the frit. All I could get was a sample of the frit shards, but these milled down to a powder easily in our ball mill.

Of course, to be safe, I would still glaze the insides of pieces with a boron clear, likely as thin a layer as possible of G1916Q (with 2% added iron as a fining agent for the micro-bubbles). And, I will obviously fire these lead glazed pieces with the kiln exhaust system turned on.
Links