The power of calcined alumina to matte an MgO glaze
This production batch of G2934 cone 6 MgO matte glaze is firing almost glossy (upper left). Matte glaze chemistries are generally sensitive - big variations in surface character can result from small changes in firing or material chemistry/physics. This recipe relies both on high MgO and lots of Al2O3 (from high dolomite and kaolin in the recipe). A change in the frit has crossed a tipping point. But there is an amazing fix: A small addition of super fine calcined alumina (400 mesh). How small? only 1%! A small change in the frit turned it glossy so this small change has fixed it. Another factor is that greater additions of alumina (shown here are 1.5, 2.0, 2.5, and 3.0%) progressively matte it more (the slow-cool C6DHSC firing is the reason for the opacity). If the alumina was not dissolving we would expect cutlery marking and surface staining. But neither is happening, even with additions of up to 8%, achieving stoney matteness.
Related Pictures
What if G2934 fires too glossy, how can you increase matteness?
Tap picture for full size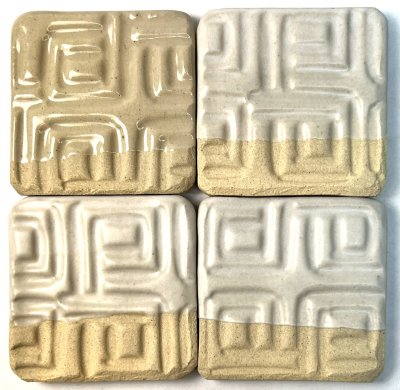 Typically the G2934 cone 6 MgO matte recipe fires with a surface that is too matte for functional ware (with cutlery marking and staining problems). This is intentional - it enables users to blend in a glossy base transparent to tune the degree of matteness. However, we have seen variation in the Ferro Frit 3124, serious enough that a recent production batch of glaze came out glossy (upper left in this picture)! This happened despite a C6DHSC slow cool firing. Shown here is a trial with additions of 4% calcined alumina (upper right) and 6 and 8% (bottom). All of these were too matte (1.5% turned up to be good). Although the slow-cool C6DHSC firing is the likely reason for the opacity here, opacity disruption still turned out to be a factor for stain additions (muting the colors slightly) even in faster cool firings. This is a testament to the critical chemistry balance that produces this matte surface. And the need to have adjustment options when inevitable variation occurs. Of course, it is important to use ultra-fine alumina (e.g. 400 mesh) to assure it will dissolve in the melt.
Links