How and where to have a glaze tested to learn its chemical analysis
Here are some of the papers I had to deal with to have a mystery colourless transparent glaze analyzed (so I can calculate a mix of my own materials to produce this chemistry). Since no one test will find all the 13 common oxides that may be present in low temperature colorless glazes I had to order three different ones (I also asked for bismuth). It ended up costing about $130. I found this lab was the best one to deal with (because ceramic materials are outside their experience, others worried about ruining their platinum crucibles). A couple of things to remember: Emphasize that you want the results in oxide format (not elemental). To avoid sample preparation costs, dry out some of the glaze slurry and crush in into a homogenous powder sample using a mortar and pestle (they only need a few grams, I did 20).
Related Pictures
Reverse-engineer a commercial transparent glaze to get the recipe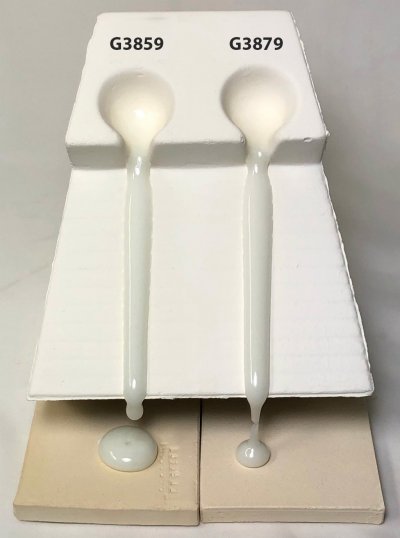 The commercial cone 04 clear brushing glaze on the left works really well on our bodies so I sent it away to be analyzed (about $130). From that information and using my account at insight-live.com I was able to create a recipe, having the same chemistry, employing two Fusion frits (which amazingly supplied all of the fluxing oxides). In this cone 04 melt fluidity comparison they are almost identical (mine, G3879, has a little more surface tension). The Al2O3 and SiO2 levels would make, even a cone 6 glaze, jealous! So it should be very durable. And it has low thermal expansion (no crazing). With the bucket of dipping-slurry I made I can glaze a piece perfectly evenly in seconds rather than the normal 10 minutes of fiddling with a brush and three coats! I have used it on dozens of pieces, it's amazing. One caution: It is possible to duplicate a transparent glaze like this but not a coloured one (a lab could not analyze the complexities of the color, stain colors are about more than chemistry (firing method, particle physics). For colored glaze you have to do trial-and-error testing with stain additions to this base.
Links
Glossary
Chemical Analysis
In ceramics, raw material chemistry is expressed a chemical analyses. This is in contrast to fired glaze chemistries which are expressed as oxide formulas.
Glossary
Glaze Chemistry
Glaze chemistry is the study of how the oxide chemistry of glazes relates to the way they fire. It accounts for color, surface, hardness, texturem, melting temperature, thermal expansion, etc.
---
---


https://digitalfire.com, All Rights Reserved
Privacy Policy