Get a kitchen blender for mixing ceramic slurries
Blender mixing is invaluable in slurry preparation in small scale ceramics and testing. It is quick and so effective that not only are particle surfaces wetted much better but clay particles can actually be reduced in size (literally ground finer). Slurry rheology is also stabilized. For example, thixotropy can often be achieved naturally, without any additives. Materials that are otherwise impossible to mix into a slurry (e.g. bentonite, Veegum, CMC gum) are no problem. Even slurry-processed porcelains benefit, not only being more plastic, but firing to a more homogeneous surface and to greater density. Just visually, it is easy to see how much improved this MNP slurry is (a local clay with porcelaneous properties). It was mixed using our propeller mixer and seemed OK (on the left). But the improvement after only 20 seconds in the blender (right) is amazing.
Related Pictures
Testing your own native clays is easier than you think
Tap picture for full size and resolution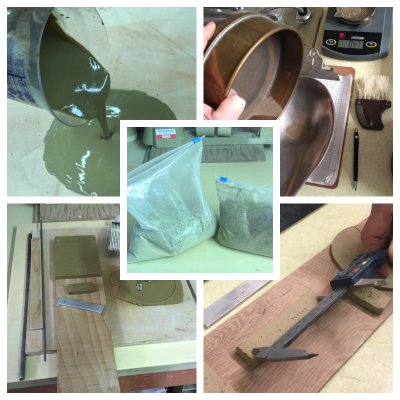 Some simple equipment is all you need. You can do practical tests to characterize a local clay in your own studio or workshop (e.g. our SHAB test, DFAC test, SIEV test, LDW test). You need a gram scale (preferably accurate to 0.01g) and a set of callipers (check Amazon.com). Some metal sieves (search "Tyler Sieves" on Ebay). A stamp to mark samples with code and specimen numbers. A plaster table or slab. A propeller mixer. And, of course, a test kiln. And you need a place to put all the measurement data collected and learn from it (e.g. an account at insight-live.com).
Incredible Mother Nature's porcelain
Tap picture for full size and resolution
This is made from 100% of a natural clay (3B) from the Whitemud formation in Ravenscrag, Saskatchewan. To make this body, which I call MNP, I slake and slurry up the raw clay lumps, sieve it to 200 mesh and then dewater on a plaster table. I rolled the plastic clay into a thin layer, cut it into a cross-shape using a 3D printed cookie-cutter, drape-molded it over a plaster form and then slip-joined the seams. It fires very dense and strong (to zero porosity like glass!). It holds together well and joins well with its own slip. Although not super plastic, it is smooth and fine-grained like a commercial porcelain body. I add 1-2% bentonite to make it more plastic when needed. It has the ability to be rolled extremely thin and yet does not warp in the firing! This mug has a weight-to-volume ratio of 2.08 (the weight of water it will hold compared to its own weight).
Links