SignUp for Monthly Tech-Tip from Tony Hansen
The perfect storm of high surface tension and high LOI: Blisters.
An example of how calcium carbonate can cause blistering as it decomposes during firing. This is a cone 6 Ferro Frit 3249 based transparent (G2867) with 15% CaO added (there is no blistering without the CaO). Calcium carbonate has a very high loss on ignition (LOI) and for this glaze, the gases of its decomposition are coming out at the wrong time. While there likely exists a firing schedule that takes this into account and could mature it to a perfect surface, the glaze is high in MgO, it has a high surface tension. That is likely enabling bubbles to form and hold better.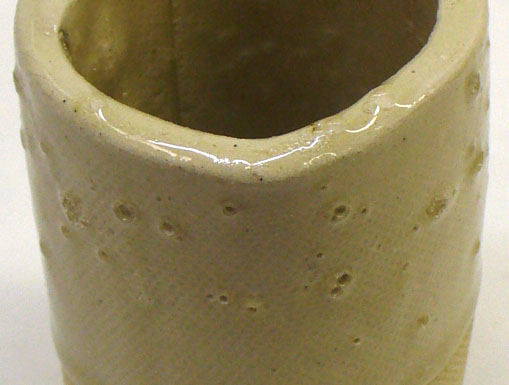 Links
Troubles
Glaze Blisters
Questions and suggestions to help you reason out the real cause of ceramic glaze blistering and bubbling problems and work out a solution
Glossary
Decomposition
In ceramic manufacture, knowing about the how and when materials decompose during firing is important in production troubleshooting and optimization
Glossary
Surface Tension
In ceramics, glazes melt to produce a liquid glass. That glass exhibits surface tension and it is important to understand the consequences of that.
Glossary
Blisters
Blistering is a common surface defect that occurs with ceramic glazes. The problem emerges from the kiln and can occur erratically in production. And be difficult to solve.
Materials
Calcium Carbonate
Articles
Firing: What Happens to Ceramic Ware in a Firing Kiln
Understanding more about changes are taking place in the ware at each stage of a firing and you can tune the curve and atmosphere to produce better ware
---
---


https://digitalfire.com, All Rights Reserved
Privacy Policy