Glaze recipes trafficked online waiting for a victim to try them!
You found some recipes. Their photos looked great, you bought $500 of materials to try them, but none worked! Why? Consider these recipes. Many have 50+% feldspar/Cornwall/nepheline (with little dolomite or talc to counteract their high thermal expansion, they will craze). Many are high in Gerstley Borate (it will turn the slurry into a bucket of jelly, cause crawling). Others waste high percentages of expensive tin, lithium and cobalt in crappy base recipes. Metal carbonates in some encourage blistering. Some melt too much and run onto the kiln shelf. Some contain almost no clay (they will settle like a rock in the bucket). A better way? Find, or develop, fritted, stable base transparent glossy and matte base recipes that fit your body, have good slurry properties, resist leaching and cutlery marking. Identify the mechanisms (colorants, opacifiers and variegators) in a recipe you want to try and transplant these into your own base (or mix of bases). And use stains for color (instead of metal oxides).
Related Pictures
The first of 15 "Fool-Proof Recipes" wrecked my kiln shelf!
Tap picture for full size
This is recommended in the booklet "15 Tried and True Cone 6 Glaze Recipes". This melt flow tester compares it with a typical cone 6 glossy, G2926B. This recipe is 90% Frit 3110 and 10% kaolin and their booklet recommends adding stains to it. But anyone knowing a little about this frit knows it would run off this flow tester even before bisque temperatures. It is crazy to recommend this. Even as a crackle. For cone 6 it needs to be diluted much more, not just with kaolin but also silica. I knew this would run but I underestimated its melt fluidity. I put a large tile below the tester to catch overrun, yet the melt ran off that and a big blob melted through the kiln wash and so far into the zircon shelf I could not chip it off! I cannot imagine how many people have tried this on vertical surfaces and had the same thing happen. The lesson: Use common sense when looking at recipes, then you don't even need to waste time testing them. Even if their authors did not!
Tried and True recipes. Really?
Tap picture for full size
Books and web pages with flashy pictures are the centrepiece of an addiction-ecosystem to recipes that often just don't work. Maybe these are "tried" by a lot of people. But are they "true"? Most are so-called "reactive glazes", outside normal practice - to produce visual interest they run, variegate, crystallize, pool, break, tint, go metallic, etc. But this happens at a cost. And inside special procedures and firing schedules that need explaining. It is not obvious these are understood by the recipe authors or sharers. And these recipes are dated and contain troublesome and unavailable materials. We use frits now to source boron. Stains are superior to raw colorants, even in glazes like this. Many of these will craze badly. And many will not suspend in the bucket. And will run during firing. Reactive glazes have other common issues: Blistering, leaching, cutlery marking, fuming. Trying colors in differing amounts in different base recipes is a good idea. But the project is most beneficial when it shows color response in terms of quality recipes of contrasting chemistries. The point of all of this: Understand a few glazes and develop them, rather than throwing spaghetti against the wall hoping something sticks. Commercial reactive glazes are an alternative also.
Metal leaching from ceramic glazes: Lab report example
Tap picture for full size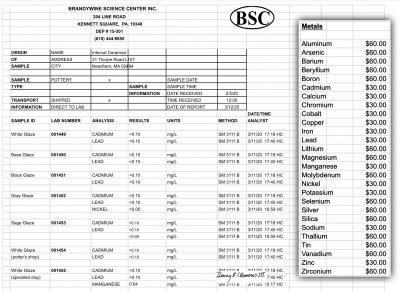 This lab is certified by the US Department of Environmental Protection (DEP) for drinking water and waste water analysis. They also provide pottery glaze leaching analyses (an acid solution is kept in contact with the glaze then analysed for trace levels of specific metals). Each suspected metal to be tested for entails a separate charge ($30-60 in this case, could be less for you). That means that testing one glaze for several metals could cost $200. How to make sense of these numbers? Google the term: "heavy metals drinking water standards", and click "Images" to find charts with lots of data. Searching pages for this term will find books having detailed sections on each of the metals. Typically you are only interested on one metal in a specific glaze (often cobalt or manganese). There are ways to sleep better (about the likelihood your glazes are leaching metals) if you cannot do this: Do a simple GLLE test. And avoid the online trafficking in hazardous recipes. Better to find a quality base glaze (matte and transparent) that works well on your clay body. Then add colorants, opacifiers and variegators; but doing so in a conservative manner.
Links
Glossary
Mechanism
Identifying the mechanism of a ceramic glaze recipe is the key to moving adjusting it, fixing it, reverse engineering it, even avoiding it!
Glossary
Metal Oxides
Metal oxide powders are used in ceramics to produce color. But a life time is not enough to study the complexities of their use and potential in glazes, engobes, bodies and enamels.
Glossary
Glaze Recipes
Stop! Think! Do not get addicted to the trafficking in online glaze recipes. Learn to make your own or adjust/adapt/fix what you find online.
Glossary
Limit Recipe
This term refers to critical thinking ability that potters and technicians can develop to recognize recipes having obvious issues and merit, simply by seeing the materials and percentages.
Glossary
Base Glaze
Understand your a glaze and learn how to adjust and improve it. Build others from that. We have bases for low, medium and high fire.
Glossary
Trafficking
At Digitalfire we use the term "recipe trafficking" to describe the online trade in ceramic and pottery glaze recipes that can waste your time and cost you lots of money. Better to learn to understand glazes.
Articles
Trafficking in Glaze Recipes
The trade is glaze recipes has spawned generations of potters going up blind alleys trying recipes that don't work and living with ones that are much more trouble than they are worth. It is time to leave this behind and take control.
Articles
Glaze Recipes: Formulate and Make Your Own Instead
The only way you will ever get the glaze you really need is to formulate your own. The longer you stay on the glaze recipe treadmill the more time you waste.
Materials
Gerstley Borate
Gerstley Borate was a natural source of boron for ceramic glazes. It was plastic and melted clear at 1750F. Now we need to replace it. How?
Got a Question?
Buy me a coffee and we can talk
---


https://digitalfire.com, All Rights Reserved
Privacy Policy