Polar Ice translucency vs. Chinese porcelain
These are fired at cone 6. The Chinese superwhite porcelain body was so short it was unusable for me, I had to add 3% VeeGum to make it plastic enough to throw thin-walled. However, even with the fluxing action of VeeGum, it is only slightly translucent (even in the bright sunlight). When it comes to whiteness, however, it is somewhat better better.
Related Pictures
The fantastic throwing of Plainsman Polar Ice
Tap picture for full size and resolution
This vase is 14 1/2 inches tall after drying yet was made from only about 5 1/2 lbs of clay. This is really plastic! The walls are only 3/16 thick on average (I did a little trimming on the bottom 3-4 inches). It wants to be thin and tall. It is easy to get it too thin at the bottom and too thick at the top!
Translucency of Polar Ice compared to another porcelain at cone 6
Tap picture for full size and resolution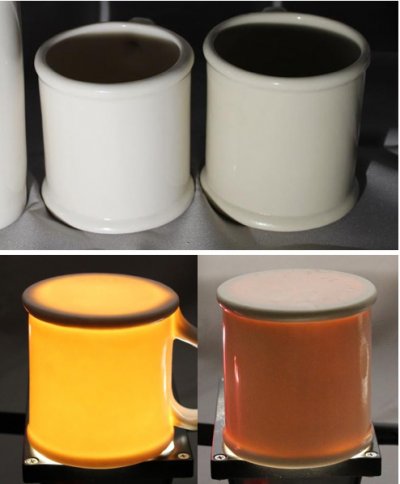 On the top you can see the color difference. The other porcelain is made from a low TiO2 mix of typical North American kaolins, feldspars and bentonites. Bottom with a light inside: Polar ice on the left is far more translucent. Yet it is not overly mature, it resists fired warping remarkably well. And it is also more plastic (which seems impossible). There is a secret to the translucency that goes beyond the fact that it employs New Zealand kaolin and the percentage of feldspar it has. But I cannot tell you. But if you read this site carefully you will discover it in the most unlikely place!
Got a Question?
Buy me a coffee and we can talk
---

https://digitalfire.com
, All Rights Reserved
Privacy Policy