Every studio, lab, classroom needs a good label printer
This is an Epson LP-600. It generates durable water-proof labels that are perfect for identifying buckets and jars of materials and glazes. Apps are available for iOS, Android, Windows and Mac. You can insert a QRCode (perfect for taking someone to an SDS or information page). Insight-live emphasizes assigning unique code numbers to all recipes you create and maintain, this is the perfect way to prominently display it. Label containers like this and there will never be confusion about what things are.
Related Pictures
This is a key to organizing your studio, lab or teaching facility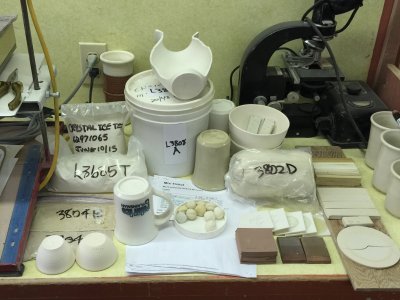 The new ceramics is about data! Everything here has a code number (in the form x1234) that members of our team can search in our group account at insight-live.com. We write the numbers on the bottoms of pots, plastic bags of powders/liquids/pugged, buckets, glaze balls, mix tickets, test bars, tiles, glaze samples, drying tests, flow tests, sieve analyses, LOI/water content tests, etc. Many pots have two numbers, the body and the glaze. If something is lacking a number it goes in the garbage because it teaches nothing and is therefore taking up pointless space.
Links
Glossary
Code Numbering
In a ceramics lab, studio or classroom specimens of hundreds of glazes and bodies may be present. A code numbering system that links these to written or computer records is essential.
---
---


https://digitalfire.com, All Rights Reserved
Privacy Policy