Surface tension differences between two glazes
Both are low fire transparents. In a melt fluidity test they flow in a similar fashion. But here, where a 10 gram ball has melted down onto the tile, differences in surface tension are clearly evident by the angle at which the edge of the glaze meets the tile.
Related Pictures
Two transparents having opposite melt fluidity/surface tension balances
Tap picture for full size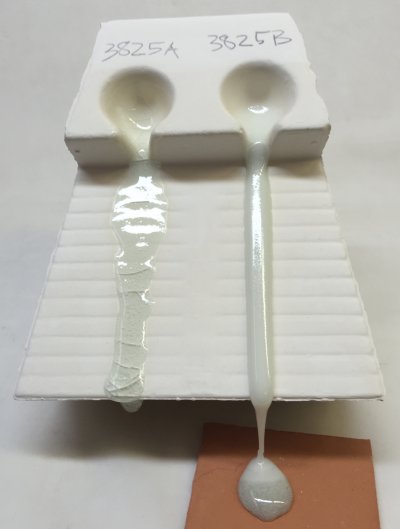 Low-fire glazes must be able to pass the bubbles they and the underlying bodies generate (or clouds of micro-bubbles will turn them white). This cone 04 flow tester makes it evident that 3825B has a higher melt fluidity (A has not even dripped onto the tile). And its higher surface tension is demonstrated by how the flow meets the runway at a perpendicular angle (it is also full of entrained micro-bubbles). Notice that A, by contrast, meanders down the runway, a broad, flat and relatively clear river. Low-fire glazes must pass many more bubbles than their high-temperature counterparts, the low surface tension of A aids that. A is Amaco LG-10. B is Crysanthos SG213 (Spectrum 700 behaves similarly, although flowing less). These two represent very different chemistry approaches to making a clear glaze. Which is better? Both have advantages and disadvantages.
Links