Timeline to make a cone 6 red porcealin test
This is L4588 red burning porcelain. It is an idea with a strong possibility of working. I got the idea after coffee break and was rolling and pressing specimens right after lunch. Here is the timeline.
10.30 am: I got the idea to make this, created a record in my Insight-live account, code-numbered it and printed the recipe.
10.35 am: I started weighing it out.
10.40 am: I blender mixed it really well to remove all agglomerates.
10.45 am: I poured it onto my plaster bat.
12.30 pm: It had stiffened to the perfect consistency to roll a couple of SHAB test bars and press and stamp some porcelain theme rocks.
Next day: In the kiln. Next day: Incredible red porcelain at cone 6.
Much of the reason not to be intimidated by mixing tests like this is having all the tools and materials close at hand and a good record-keeping system. And making sure to enter results, notes and pictures as tests are completed. And linking this to related tests (I am also working on a pink and a blue).
Related Pictures
Cone 6 Grolleg porcelain with 10% manganese alumina pink stain
Tap picture for full size
The stain is Mason 6020. The porcelain body, L3778D1. Manganese alumina stains are highly refractory, so much so that they severely affect degree-of-melting when added to glazes. They simply do not work in glazes. But in vitreous bodies, like this one, the stain has no effect on the degree of vitrification! And produces a color that is difficult to achieve in glazes.
Polar Ice Porcelain with Body Stains - by Robert Barritz
Tap picture for full size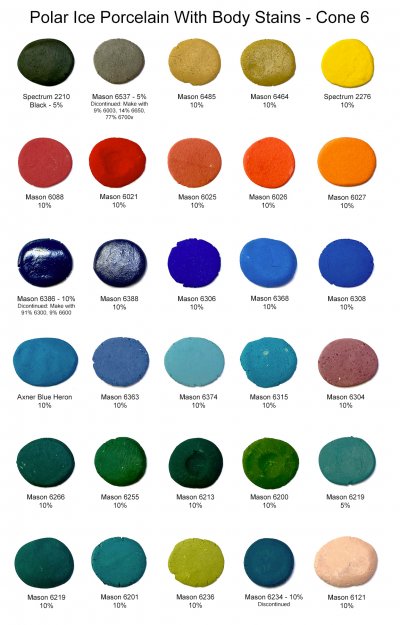 Robert has done really valuable work in this research, what an amazing range of color! Surfaces are unpolished and unglazed. All are fired to cone 6. Browns are missing, they can be made using iron oxide. For blacks, Mason 6600 is also effective. The blues can be intense using lower percentages than shown here, as low as 2% can be effective. There is an optimal amount for each stain, beyond that, big increases in percentage bring less increase in color intensity. There is another reason to keep stain percentages to a minimum: To reduce the impact on body maturity (and firing shrinkage). Blues, for example, can significantly heighten the degree of vitrification, even melting the porcelain. If you plan to marble different colors, keeping stain percentage as low as possible is even more important, unless you can do fired shrinkage compatibility testing, for example, the EBCT test. Need to develop your own white porcelain? See the link below.
Links