Low Temperature Glaze
In ceramics, glazes are loosely classified as low, medium and high temperature. Low temperature is in the cone 06-2 range (about 1800F-2000F).
Key phrases linking here: low-temperature glazes, low temperature glaze, low-temperature glaze, cone 04, cone 06 - Learn more
Details
This term generally refers to glazes that mature from cone 06-04. They are as less functional than stoneware and porcelain (less durable, more leachable) and are generally targeted at decorative ware. Cones in the 04-02 range span much wider temperature-regions that those at higher stoneware and porcelain ranges, so the low fire range is actually quite wide.

Historically, lead compounds were used to melt glazes at low temperatures, but they have fallen out of use due to toxicity issues. Now the melter is boron, it is almost universally supplied by frits (historically, Gerstley Borate and Colemanite were used by potters to source boron). The entire prepared-glaze industry is built on hundreds of general purpose and specialized boron frits. The existence of these, and ceramic stains and opacifiers, enables companies (and individuals) to create amazing glazes.

While low fire glazes are not as hard as well formulated medium temperature glazes, they have the advantage of supporting bright colors and very high gloss. For end-users, generally, the major challenges are to find a body that fits the glazes they want to use (without crazing or shivering), achieve even coverage and be able to fire ware with a minimum of surface defects. White bodies that fire porous and relatively low strength are tolerated because they provide a base that brings out the color. Terra cotta bodies provide extra fired strength and can be employed if an underglaze or engobe are employed between body and glaze.

Colorless glazes do not need to contain toxic materials so they can be used on functional surfaces without issue (although the surface gloss can degrade over time). Manufacturers claim that their brightly colored glazes are food safe if used according to directions. That being said, there is need for caution, especially among hobbyists. There is no getting around it, bright red glazes contain cadmium stains.

At stoneware temperatures, the fired properties of glazes can usually be predicted from their chemistries. But at low temperature this is much less the case. The oxides commonly regarded as fluxes at middle and high fire are often simply fillers (and even matting agents) at low temperatures, thus understanding the relationship between chemistry and fired physical properties is more challenging.

The hobbyist paint-your-ware market is mostly outside of the scope of this website, people generally do not want to know about technical issues or anything that goes beyond the brochures that come with the glazes they use. We only delve into low temperature ware if there are technical reasons to use it.
Related Information
Non-vitreous bodies break very differently than vitreous ones
Tap picture for full size
The particles in low temperature bodies are not glass-bonded, they only have sinter bonds. Broken edges will only be sharp if there is a glaze. They tend to break off in pieces rather than shatter.
A non-vitreous body can have a very poor bond with the glaze
Tap picture for full size
This glaze is on very thick. That gives it the power to impose its thermal expansion (which is different that the body) to the point where it literally flakes off. The problem is worsened when the glaze and body lack fluxes, that means they do not interact, no glassy interface is formed.
A secret to an ultra clear at low fire. Magnesia-alkali, low Si:Al ratio, more boron.
Tap picture for full size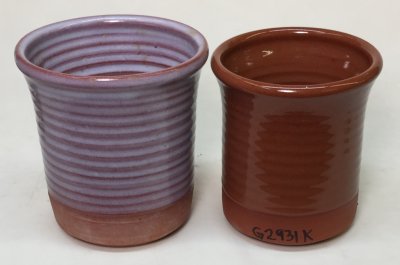 On the left is G2931J, a zinc alkali fluxed and high Si:Al ratio glaze. Those look like micro-bubbles but they are much more likely to be micro-crystals. High-zinc and high-silica is the mechanism for crystalline glazes, so it appears that is what they are. G2931K on the right has much more boron, double the Al2O3, less SiO2 and is magnesia-alkali instead of zinc-alkali. It is the product of dozens of tests to find an ultra-clear having a glassy smooth surface. This particular chemistry, although having only a 6:1 SiO2:Al2O3 ratio is ultra-gloss. In addition is has low expansion, will fast fire and the boron is not high enough to compromise the hardness.
G2931K Zero3 transparent glaze on Zero3 Fritware Porcelain
Tap picture for full size
This is an all-fritted version of G2931F Zero3 transparent glaze. I formulated this glaze by calculating what mix of frits must be employed to supply the same chemistry of the G2931F recipe. The mug is made from the Zero3 porcelain body (fired at cone 03) with this glaze. This glaze fits both the porcelain and the Zero3 terra cotta stoneware. The clarity, gloss, fit and durability of this glaze are outstanding.
Inbound Photo Links

Functional ware at low fire! Don't dismiss it just yet.
Links
By Tony Hansen
Follow me on

Got a Question?
Buy me a coffee and we can talk
---


https://digitalfire.com, All Rights Reserved
Privacy Policy