Really bad crazing! Which is really not good!
These two glazes look the same, they are both cone 6 satin mattes. On the same porcelain. But the matteness "mechanism" of the one on the left is a low Si:Al ratio melted by zinc and sodium. The mechanism of the one on the right, G2934, is high MgO melted by boron (with the same Si:Al ratio). The "baggage" of the mechanism on the left is high thermal expansion and crazing (drastically reducing strength and providing a bacteria opportunity). The glaze is "stretched" on the clay (because it has a higher thermal contraction). When the lines are close together like this it is more serious (they have been highlighted with dye). If the effect is intended, it is called "crackle" (but no one would intend this on functional ware). The glaze on the left calculates to a high thermal expansion so the crazing is not a surprise.
Related Pictures
ChatGPT is completely wrong about the cause of glaze crazing!
Tap picture for full size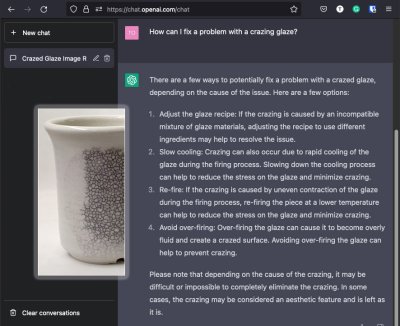 Today, ChatGPT is parroting common wrong suggestions about the cause and solution of the serious issue of crazing (January 13, 2023). Yet it trained on thousands of internet pages about the subject! Crazed functional ware is defective, and customers will return it. So fixing the problem is serious business, we need correct answers. Consider ChatGPT's suggestions: #1 is wrong. There is no such thing as an "incompatible mix" of ceramic materials. Crazing is an incompatibility in thermal expansions of glaze and body, almost always a result of excessive levels of high-expansion K2O and Na2O in the chemistry of the glaze. The solution is reducing them in favor of other fluxes (the amount in accordance with the degree of COE mismatch). #2 is wrong, firing changes don't fix the incompatibility of thermal expansions. #3 is wrong, refiring makes the crazing go away but not the stress of the mismatch, it will for sure return. #4 is completely wrong. Firing higher takes more quartz grains into solution in the melt and should reduce the COE and thus improve the fit. And melt fluidity has nothing to do with crazing. Furthermore, if a glaze does not run off the ware, it is not overfired.
Links