A glaze is showing unwanted streaking. Why?
This is a fluid melt cone 6 glaze with colorant added and partially opacified. It runs into contours during firing, thickening there (notice the darkening around the logo), this is a desired visual effect. However, notice that drips and runs coming down from the rim, they are producing darker streaks. This is an application issue. Glazes that fasten-in-place too slowly will drain unevenly on extraction from the bucket (after dipping). This can be solved by making a thixotropic slurry. If bisque ware is too dense, glazes have a more difficult time fixing-in-place in an even layer, especially if they have no thixotropy. If glazes lack clay (e.g. less than 15% kaolin) they do not gel as easily. Slurries containing too much gum dry slowly and drips are almost unavoidable. If the problem is too much melt fluidity, choose a more stable base glaze can really help. Just because melt fluidity is less does not mean that it will be less glossy.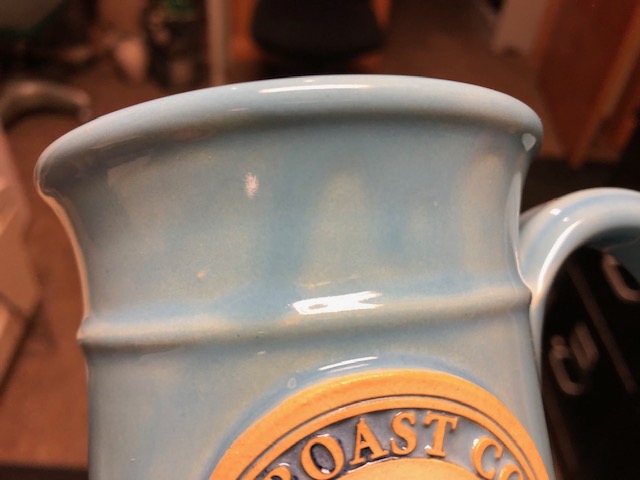 Links
Glossary
Opacity
Opacity of ceramics glazes is normally achieved by adding an opacifier like tin oxide or zircon. However there are chemical profiles that can turn transparent glazes milky and make it cheaper to opacify them.
Glossary
Fluid Melt Glazes
Fluid melt glazes and over-melting, over fired, to the point that they run down off ware. This feature enables the development of super-floss and cyrstallization.
---
---


https://digitalfire.com, All Rights Reserved
Privacy Policy