A modern electric test kiln, a marvel of utility
Notes
This is a ConeArt 119D, 0.57 cu ft, 11"x9" cone 10 test kiln. It only needs 18 amps and runs on 120 volts (although having special plug). We have fired ours hundreds of times, mostly in the cone 4-7 range. The old BX controller is shown here, it is $300 cheaper, but don't even think about getting that! Get the Genesis GX, that puts the cost at $2285.00. It is economical to fire. Big enough for 5 mugs, but I typically fire a dozen clay and glaze test specimens. We make our own super-thin shelves. It holds about 20 schedules, even controllable remotely (it is Wi-Fi connected). We can fire cone 03 up and down in three hours.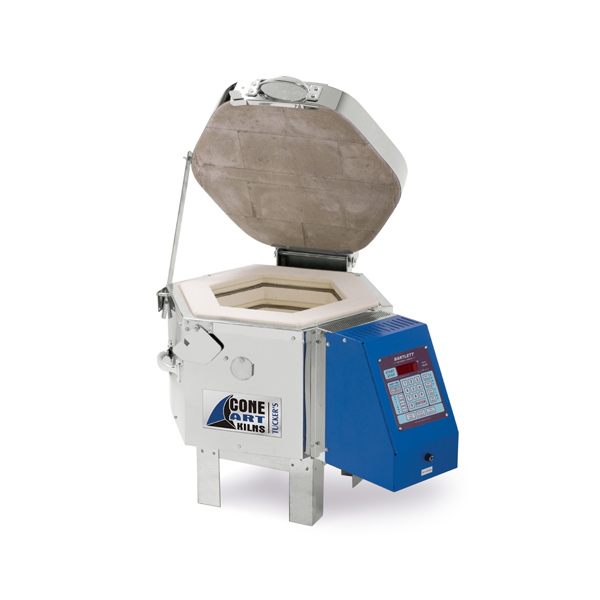 Related Pictures
Making your own hexagonal shelves from alumina
The home-made kiln shelf (left) was fired it at cone 10. It is half the weight (and thickness) of the cordierite one (but remember that it does not have the thermal shock resistance of cordierite). It is made from a body consisting of 96.25% calcined alumina and 3.75% Veegum. It rolls out nicely and dries perfectly flat over about three days. But the Veegum does not give up its water easily. I cut it 1/4" larger than the other and it has fired to the same size; this body has incredibly low shrinkage.
Links