Stained Plainsman Polar Ice Porcelain - With Polishing (no glaze)
Fired to cone 6. These are not glazed. Polar Ice is very vitreous and very white, an ideal host for stains. However there is a caution: If a stain is refractory it can reduce the firing shrinkage of the porcelain considerably. On the other hand, some stains will flux bodies and do the opposite. That means if that if high and low shrinkage stained versions of Polar Ice are laminated or marbled the firing can create a tension-time-bomb that either exits the kiln cracked or cracks down the road. Of course, a polished surface would not be suitable for food or drink surfaces if the porcelain is being stained by an inclusion pigment containing cadmium or other known hazard metal. This work is courtesy of Robert Barritz.
Related Pictures
Polar Ice Porcelain with Body Stains - by Robert Barritz
Tap picture for full size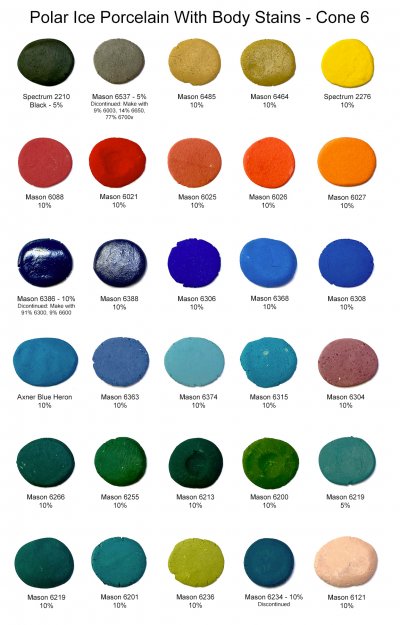 Robert has done really valuable work in this research, what an amazing range of color! Surfaces are unpolished and unglazed. All are fired to cone 6. Browns are missing, they can be made using iron oxide. For blacks, Mason 6600 is also effective. The blues can be intense using lower percentages than shown here, as low as 2% can be effective. There is an optimal amount for each stain, beyond that, big increases in percentage bring less increase in color intensity. There is another reason to keep stain percentages to a minimum: To reduce the impact on body maturity (and firing shrinkage). Blues, for example, can significantly heighten the degree of vitrification, even melting the porcelain. If you plan to marble different colors, keeping stain percentage as low as possible is even more important, unless you can do fired shrinkage compatibility testing, for example, the EBCT test. Need to develop your own white porcelain? See the link below.
Links