ChatGPT is completely wrong about the cause of glaze crazing!
Today, ChatGPT is parroting common wrong suggestions about the cause and solution of the serious issue of crazing (January 13, 2023). Yet it trained on thousands of internet pages about the subject! Crazed functional ware is defective, and customers will return it. So fixing the problem is serious business, we need correct answers. Consider ChatGPT's suggestions: #1 is wrong. There is no such thing as an "incompatible mix" of ceramic materials. Crazing is an incompatibility in thermal expansions of glaze and body, almost always a result of excessive levels of high-expansion K2O and Na2O in the chemistry of the glaze. The solution is reducing them in favor of other fluxes (the amount in accordance with the degree of COE mismatch). #2 is wrong, firing changes don't fix the incompatibility of thermal expansions. #3 is wrong, refiring makes the crazing go away but not the stress of the mismatch, it will for sure return. #4 is completely wrong. Firing higher takes more quartz grains into solution in the melt and should reduce the COE and thus improve the fit. And melt fluidity has nothing to do with crazing. Furthermore, if a glaze does not run off the ware, it is not overfired.
Related Pictures
A down side of high feldspar glazes: Crazing!
Tap picture for full size
This reduction celadon is crazing. Why? High feldspar. Feldspar supplies the oxides K2O and Na2O, they contribute to brilliant gloss and great color (at all temperatures) but the price is very high thermal expansion. Any glaze having 40% or more feldspar should turn on a red light! Thousands of recipes being traded online are high-feldspar, some more than 50%! There are ways to tolerate the high expansion of KNaO, but the vast majority are crazing on all but high quartz bodies. Crazing is a plague for potters. Ware strength suffers dramatically, pieces leak, the glaze harbours bacteria, crazing invites customers to return pieces. The simplest fix is to transplant the color and opacity mechanism into a better transparent, one that fits your ware (in this glaze, for example, the mechanism is simply an iron addition). Fixing the recipe may also be practical. A 2:1 mix of silica:kaolin has the same Si:Al ratio as most glossy glazes, this glaze could likely tolerate a 20% addition of that quite easily. That would reduce running, improve fit and increase durability. If the crazing does not stop the next step is to substitute some of the high-expansion KNaO, the flux, for the low-expansion MgO, that requires doing some chemistry in your insight-live.com account.
Really bad crazing! Which is really not good!
Tap picture for full size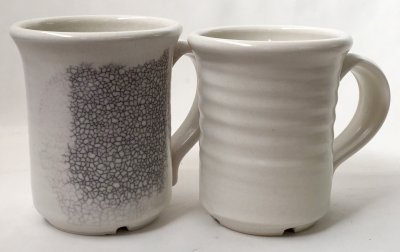 These two glazes look the same, they are both cone 6 satin mattes. On the same porcelain. But the matteness "mechanism" of the one on the left is a low Si:Al ratio melted by zinc and sodium. The mechanism of the one on the right, G2934, is high MgO melted by boron (with the same Si:Al ratio). The "baggage" of the mechanism on the left is high thermal expansion and crazing (drastically reducing strength and providing a bacteria opportunity). The glaze is "stretched" on the clay (because it has a higher thermal contraction). When the lines are close together like this it is more serious (they have been highlighted with dye). If the effect is intended, it is called "crackle" (but no one would intend this on functional ware). The glaze on the left calculates to a high thermal expansion so the crazing is not a surprise.
Adding silica will fix crazing, right? Not here.
Tap picture for full size
G2926B (center and right) is a clear cone 6 glaze created by simply adding 10% silica to Perkins Studio clear (a glaze that had a slight tendency delay-craze on common porcelains we use). Amazingly that glaze tolerated the silica addition very well, continuing to fire to an ultra gloss crystal clear. That change eliminated the crazing issues on most of our bodies. The cup on the right is one of them, that body is vitreous, near-zero-porosity, and fits most glazes. Why? Because it has 24% silica in the recipe. The center porcelain is also dense and vitreous, but it only has 17% silica, that is why it is crazing this glaze. Then I added 5% more silica to the glaze, it continued to produce an ultra smooth glossy, and applied it to the 17% body on the left. Why did not fix the crazing? That silica addition to the glaze only reduces the calculated expansion from 6.0 to 5.9, clearly not enough to fix the problem. So, the obvious solution seems to be use the porcelain on the right. Are you wondering why adding silica to a body raises its thermal expansion, and adding it to a glaze lowers it? Mineralogy is the reason.
You cannot fix this crazing with a process or firing change
Tap picture for full size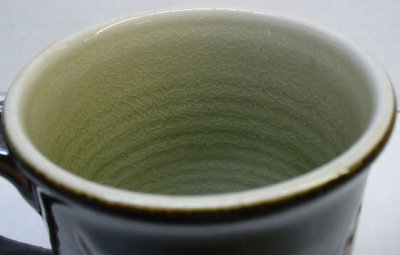 This is severe crazing (at cone 10R). It is happening because of the chemistry of the glaze, not the firing. The first option to check when fixing crazing is: Can the glaze accept an addition of SiO2? This glaze is an excellent candidate for that because the melt is highly fluid, it will surely be able to dissolve extra SiO2. But it could also accept Al2O3 because it is highly glossy (a little extra Al2O3 will not matte it and would also reduce expansion and increase fired hardness and durability). What to do then? I would start with a 10% addition of a mix of two parts silica to one part kaolin (this mix has a 10:1 SiO2:Al2O3 ratio, about the same as most glossy glazes).
Turning delayed crazing into immediate crazing
Tap picture for full size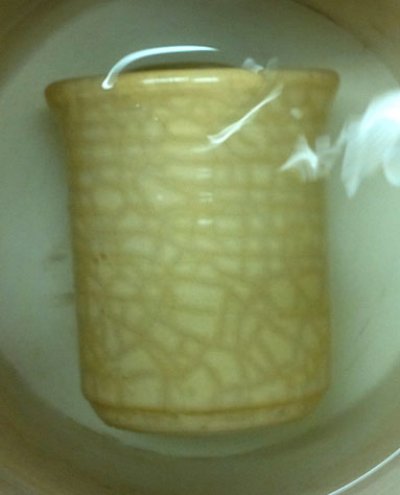 This is a cone 04 clay (Plainsman Buffstone) with a transparent glaze (G1916Q which is 65% Frit 3195, 20% Frit 3110, 15% EPK). On coming out of the kiln, the glaze looked fine, crystal clear, no crazing. However, when heated to 300F and then immersed into ice water this happens. This is the IWCT test. At lower temperatures, where bodies are porous, water immediately penetrates the cracks and begins to waterlog the body below. Fixing the problem was easy: Substitute the low expansion Frit 3249 for high expansion Frit 3110.
Crazing is a RED LIGHT. Pay attention! Even if it is a well known recipe.
Tap picture for full size
Crazing is a disaster for a production potter. Consider what one said: "I have just recently been contacted by a customer due to small lines in her bowl. I am now terrified residual crazing could be happening to lots of functional pieces I have sold! Nightmare! I have a terrible feeling in my stomach. Could anyone tell me if it is the glaze and if there is anything I can do to alter the recipe?" Yet this is easy to fix.
What can you do using glaze chemistry? More than you think!
Tap picture for full size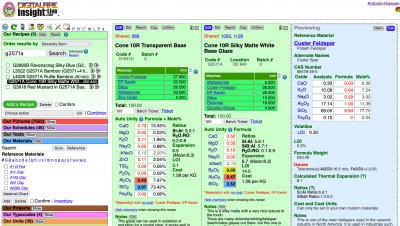 There is a direct relationship between the way ceramic glazes fire and their chemistry. These green panels in my Insight-live account compare two glaze recipes: A glossy and matte. Grasping their simple chemistry mechanisms is a first step to getting control of your glazes. To fixing problems like crazing, blistering, pinholing, settling, gelling, clouding, leaching, crawling, marking, scratching, powdering. To substituting frits or incorporating available, better or cheaper materials while maintaining the same chemistry. To adjusting melting temperature, gloss, surface character, color. And identifying weaknesses in glazes to avoid problems. And to creating and optimizing base glazes to work with difficult colors or stains and for special effects dependent on opacification, crystallization or variegation. And even to creating glazes from scratch and using your own native materials in the highest possible percentage.
Crazing after a year of use. What is the problem?
Tap picture for full size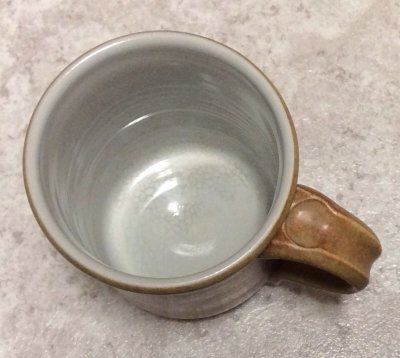 A cone 10R grey stoneware mug that has begun to craze on the inside. The greyer coloration around the craze lines indicates that water is soaking into the slightly porous body. This mug has lost the ring it had when it was new (it is only about a year old). It could be refired to be as good as new but would soon return to this condition. The only real solution is to reformulate this glaze to reduce its thermal expansion.
Links