Add 5% calcium carbonate to a tenmoku. What happens?
In the glaze on the left (90% Ravenscrag Slip and 10% iron oxide) the iron is saturating the melt crystallizing out during cooling. GR10-K1, on the right, is the same glaze but with 5% added calcium carbonate. This addition is enough to keep most of the iron in solution through cooling, so it contributes to the super-gloss deep tenmoku effect instead of precipitating out.
Related Pictures
GR10-B Ravenscrag transparent glaze (with 10 talc)
Tap picture for full size and resolution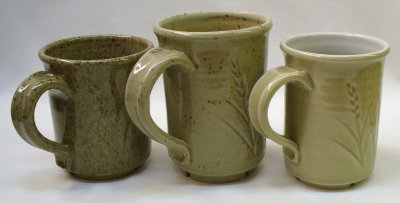 Because this glaze employs 10% dolomite instead of 10% calcium carbonate it has a lower thermal expansion and is less likely to craze. While the dolomite is contributing MgO, which normally mattes glazes, there is not enough to do it here.
Links