The foot ring on the left is plucking, the right one is not. Why?
These are translucent porcelains, they are vitreous. The firing is to cone 10. The one on the left is a cone 6 body, and, while it survives to cone 10 it does warp. But more important, it is much more vitreous (more melted). The plucking problem makes it quite difficult to get a good foot ring. The other, which has only slight plucking, is also quite vitreous (high in feldspar). The plucking problem on both can be solved by simply using a better kiln wash. What is better? More refractory, and therefore having a powdery, non-stick surface. Spend more money on your kiln wash, base it on calcined alumina or zircon.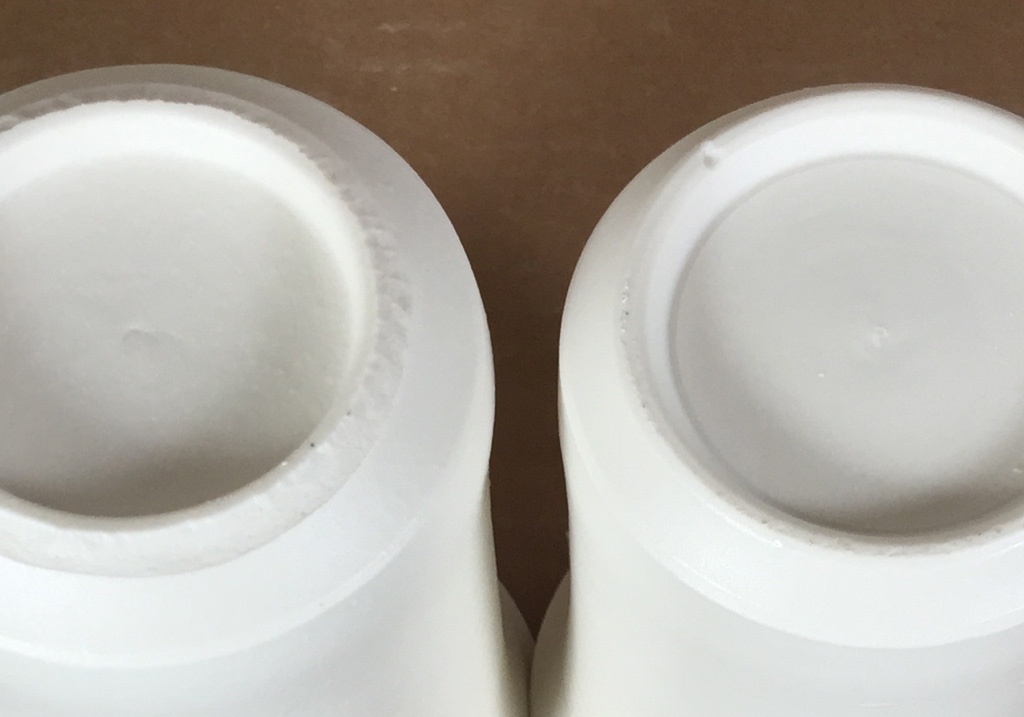 Related Pictures
Plucking on a vitreous porcelain at cone 6
The mug on the left is made from a whiteware body (Plainsman M370), the one on the right is a highly vitreous translucent one (Plainsman Polar Ice). Both have been over-fired slightly. The Polar Ice mug has stuck to the shelf somewhat, taking chips out of the base on the outer perimeter of the bare porcelain (a fault called Plucking). If the shelf had been better dusted with alumina powder (or a kiln wash based on it) rather than a cheap kiln wash made from a kaolin:silica mix there would have been no problem.
Links
Glossary
Kiln Wash
A high-melting powder applied to kiln shelves to prevent ware from sticking to the shelf during firing. It is also used as a parting agent for to keep elements of fired ware from sticking to each other.
Glossary
Porcelain
Standard porcelains used by potters and for the production of sanitary and table ware have surprisingly similar recipes. But their plasticities vary widely.
Glossary
Vitrification
The term vitrified refers to the fired state of a piece of porcelain or stoneware. Vitrified ware has been fired high enough to make it very strong, hard and dense.
Glossary
Plucking
A firing issue in ceramics where the foot rings of vitreous ware stick to the kiln shelf. Removing them leaves sharp fragments glued to the shelf.
---
---


https://digitalfire.com, All Rights Reserved
Privacy Policy