A magnesia speckle matte at cone 6 oxidation is impossible, right? Wrong!
I am getting closer to reduction speckle in oxidation. I make my own speckle by mixing the body and a glossy glaze 50:50 and adding 10% black stain. Then I slurry it, dry it, fire it in a crucible I make from alumina, crush it by hand and screen it. I am using G2934 cone 6 magnesia matte as the glaze on this mug on the left. To it I added 0.5% minus 20 mesh speck. Right is a cone 10R dolomite matte mug. Next I am going to screen out the smallest specks, switch to a matte glaze when making the specks (they are too shiny here), switch to dark brown stain. Later we will see if the specks need to bleed a little more. I am now pretty well certain I am going to be able to duplicate very well the reduction look in my oxidation kiln. I will publish the exactly recipe and technique as soon as I have it.
Related Pictures
Making your own crucibles
Tap picture for full size and resolution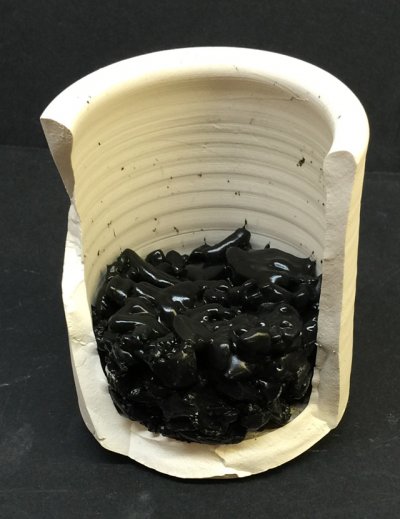 I mixed a cone 6 porcelain body and a cone 6 clear glaze 50:50 and added 10% Mason 6666 black stain. The material was plastic enough to slurry, dewater and wedge like a clay, so I dried a slab and broke it up into small pieces. I then melted them at cone 6 in a zircopax crucible (I make these by mixing alumina or zircopax with veegum and throwing them on the wheel). Because this black material does not completely melt it is easy to break the crucible away from it. As you can see no zircon sticks to the black. I then break this up with a special flat metal crusher we made, size them on sieves and add them to glazes for artificial speckle. As it turned out, this mix produced specks that fused too much, so a lower percentage of glaze is needed. I can thus fine tune the recipe and particle size to theoretically duplicate the appearance of reduction speckle.
Reduction speckle: a product of iron particles in the body
Tap picture for full size and resolution
In reduction firing, where insufficient oxygen is present to oxidize the iron, natural iron pyrite particles in the clay convert to their metallic form and melt. The nature of the decorative speckled effect depends on the size of the particles, the distribution of sizes, their abundance, the color of the clay and the degree to which they melt. The characteristics of the glaze on the ware (e.g. degree of matteness, color, thickness of application, the way it interacts with the iron) also have a big effect on the appearance.
Links