The best firing temperature for this middle range body?
This cone 6 brown functional stoneware has been fired across a range of temperatures. Cone 4 is too porous. From cone 7 it is expanding and density is not improving, it will likely warp or bloat. Cone 7 is losing the red color, there is no room for over-firing (by accident). The porosity at cone 6 is so much better than cone 5 and color is still stable. Therefore, cone 6 is the one we want.
Related Pictures
Should you expect to vitrify terra cotta?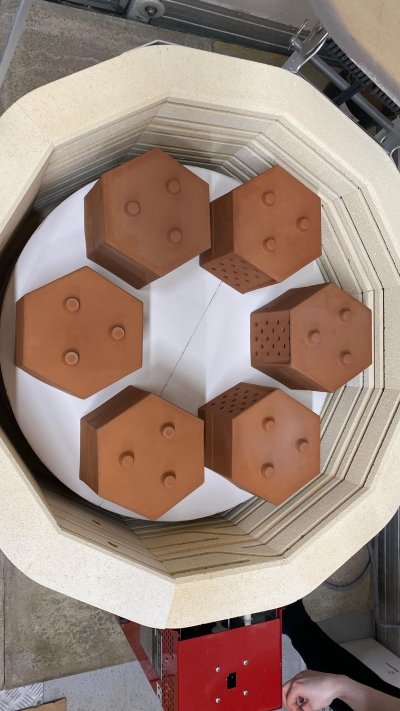 These were cast by Anna Lisovskaya, they are fired at cone 03. They are supposed to fit into hexagonal welded frames, but during firing many of them warp enough to fit poorly. Why? The color differences are most obvious here. With that color associates a firing shrinkage difference, the darker ones shrink significantly more. Something less obvious: the sides against the elements receive direct radiant heat, so they shrink more, turning a perfect hexagon into an imperfect one. Terra cotta clays are volatile, that means their approach to maximum density during heat-up, accompanied by shrinkage, happens across a narrow temperature range. Accurate and even firing are paramount. In a radiant-heat electric kiln this can be very difficult. Two approaches could work here: Fire at a lower temperature, perhaps cone 04. Or, greatly slow rate-of-rise for the last 100F, perhaps over several hours.
Links
Glossary
Vitrification
The term vitrified refers to the fired state of a piece of porcelain or stoneware. Vitrified ware has been fired high enough to make it very strong, hard and dense.
Glossary
Functional
A term used in ceramic to express the degree to which an item is safe and stands up to everyday use. Functionality embodies strength, hardness, resistance to acid attack and thermal shock, etc.
Troubles
Body Bloating
Bloating in clay bodies occurs when the firing goes high enough to seal the surface and prevent the passage of gases releasing inside.
---
---


https://digitalfire.com, All Rights Reserved
Privacy Policy