Plainsman Ravenscrag, Saskatchewan quarry 2018
Situated in the majestic Eastend river valley. The river has cut this valley over millions of years from the flat tableland 100 meters above, revealing all the layers of clay. These sediments were formed by the Western Interior Seaway. Today's river divides into two just west of here, leaving and strip of hills along the valley bottom. The hill being mined has minimal overburden to remove to uncover the layers of the "Whitemug Formation". The reserves here are vast, the company has been mining just this one hill for 40 years, removing about 100,000 tons. Yet these layers stretch across the province and into Alberta. They are hidden from view except where valleys like this expose them.
Related Pictures
Core sampling at a Plainsman quarry during summer 2021
Tap picture for full size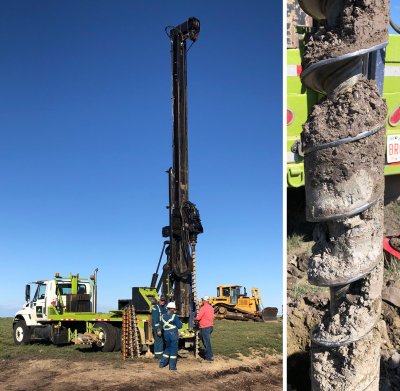 We are drilling test holes down through about 40 feet of overburden into the seven layers of clay to be mined. The rig assembles five-foot auger-sections, drilling down and pulling out two sections at-a-time. We examine the auger, identify the clays and record the results. At the middle of the auger-full shown you can see the division between the A2 ball clay and the A3 white stoneware, it was about 50 feet down. This hole was 80 feet, that spans tens of millions of years of sedimentation! This is the first time we have been able to sample the entire depth of the overburden, a highly plastic red burning low temperature clay, now we can assess whether it is a useful product.
Links