Is VC.71 a true matte?
The top glaze is VC71, a popular matte cone 6 glaze used by potters. Bottom is G2934 matte, a public domain recipe produced by Plainsman Clays. The latter is a high-MgO matte, it melts well and does not cutlery mark or stain easily. As evidence that it is a true matte, notice that it is still matte when fired to cone 7 or 8. VC71, while having a similar pleasant silky matte surface at cone 6, converts to a glossy if fired higher. This suggests that the cone 6 matteness is due to incomplete melting. For the same reason, it is whiter in color (as soon as it begins to melt and have depth the color darkens).
Related Pictures
Why does VC71 not cutlery mark when it is barely melting?
Tap picture for full size and resolution
Left: VC71 cone 6 silky matte glaze. Right: An adjustment that adds boron melter and SiO2/Al2O3 (which preserves their ratio). The dramatic improvement in melting was unexpected. Even though B has the same Si:Al ratio, it is completely glossy. Why? A (left) is simply not melting completely, that is why it is silky matte (not a true matte). Yet it feels like a good silky matte and is resistant to cutlery marking. Why? Touch alone can be misleading. Cutlery marking usually happens with matte glazes or heavily opacified whites, this is neither, it is an under-fired glossy glaze, fired just high enough not to mark.
No crazing out of the kiln. So it is good. Right? Wrong!
Tap picture for full size and resolution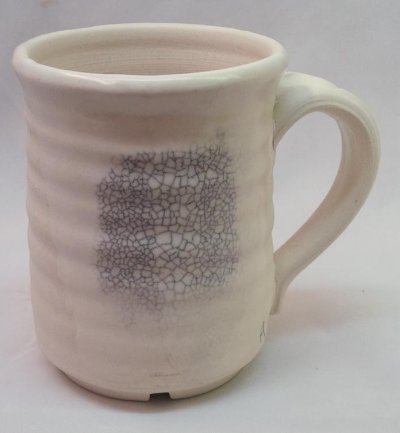 The side of this white porcelain test mug is glazed with varying thicknesses of VC71 (a popular silky matte), then fired to cone 6. Out of the kiln, there was no crazing, and it felt silky and wonderful. But a 300F/icewater IWCT test was done and then it was felt-pen marked and cleaned with acetone. This is what happened! This level of crazing is bad, the dense pattern indicates a very poor fit. Then why was it not crazed coming out of the kiln? The glaze is apparently elastic enough to handle the gradual cooling in the kiln. But what the kiln did not do, time certainly will. This recipe has 40% feldspar (a big high-expansion KNaO contributor), that much in a cone 6 glaze it a red flag to crazing. Coupled with that was low Al2O3 and SiO2, another tip-off.
VC71 is crazing. How can this be fixed?
Tap picture for full size and resolution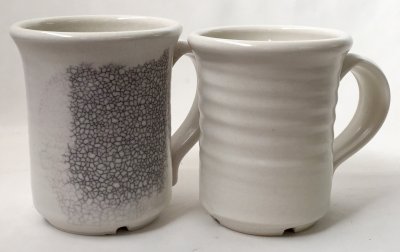 These cone 6 porcelain mugs have glossy liner glazes and matte outers: VC71 (left) crazes, G2934 does not (it is highlighted using a felt marker and solvent). Crazing, while appropriate on non-functional ware, is unsanitary and severely weakens the ware (up to 300%). If your ware develops this your customers will bring it back for replacement. What will you do? The thermal expansion of VC71 is alot higher. It is a product of the chemistry (in this case, high sodium and low alumina). No change in firing will fix this, the body and glaze are not expansion compatible. Period. The fix: Change bodies and start all over. Use another glaze. Or, adjust this recipe to reduce its thermal expansion.
Links