How much gas escapes firing from cone 03 & 04?
These were fired to cone 03 (upper) and 04 (lower). At cone 03 the loss in weight is 4.54%, at 04 it is 4.45%. That is 0.08% difference. If a mug weighs 250 grams, that is only 0.21 grams. Does not sound like much. But wait. Air weighs 0.001225g/cc. While this is not the exact weight of the gases escaping during firing it suggests that around 170cc of gases need to bubble up through the glaze if the piece was bisque fired at cone 04 and glaze fired to cone 03.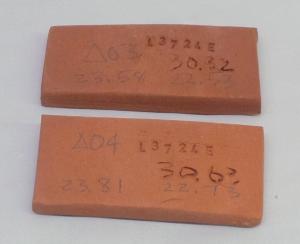 Links
Firing Schedules
Plainsman Electric Bisque Firing Schedule
Three-step to 1832F
Glossary
LOI
Loss on Ignition is a number that appears on the data sheets of ceramic materials. It refers to the amount of weight the material loses as it decomposes to release water vapor and various gases during firing.
---


Copyright 2008, 2015, 2017 https://digitalfire.com, All Rights Reserved