Base-Coat Dipping Glaze
These are ceramic glazes intended for dipping but which contain a gum to enable them to adhere to the body better and tolerate over-layers without danger of flaking or cracking.
Details
In ceramics and pottery dipping glazes can be of two main types: For single layer or as a base for the application of other layers overtop. We call the latter base coat dipping glazes (or fist coat). When other layers of glaze are to be dipped or brushed over a dipping glaze (and no firings are done between layers), then that dipping glaze needs to contain a binder (usually gum) to fix it well to the body and harden it on drying. Without the binder, successive layers pull the first away from the body. Binders are much more effective when the glaze has plenty of super-fine particles for them to bind with (thus bentonite additions are common in gummed dipping glazes). These glazes dry slower, go on thinner and drip a lot during draining (compared to traditional single layer dipping glazes). CMC is a good binder for this, but it will take less than you think. We have found a 5:95 mix of Laguna Gum Solution and water (by weight) produces a glaze that still dries well, this is about one quarter of that needed in a brushing glaze.

Some glaze recipes contain materials that make them hostile to multilayering. Materials that cause bubbling, for example magnesium carbonate or spodumene could be problematic. Materials that are partially soluble can make a slurry gel over time requiring the addition of water, this causes more shrinkage and cracking. High percentages of clays cause excessive shrinkage also. Glazes have too little clay and thus dry powdery are also troublesome.

In recent years potters have become increasingly interested in layering glazes for visual affects. The commercial bottled products they use contain gum, so they can layer over each other without danger of flaking or cracking off. So obviously the base coat over which these are applied needs to be able to stay adhered well to survive being rewetted with each new overglaze. Turning a regular dipping glaze into one intended for over-laying will mean some sacrifice of fast-drying and even coverage possible (depending on the amount of binder you add).
Related Information
Commercial brushing glaze on a non-gummed dipping glaze: Crawling
Non-gummed dipping glazes go on evenly and dry quickly on bisque ware (if properly gelled). But they only work well as a single layer. If you try to paint commercial gummed brushing glazes over them the latter will compromise their bond with the body, cracks will develop during drying and bare patches like this will result during firing. For multi-layering the base dipping glaze must be gummed (e.g. 1% CMC gum). It will go on thinner, drip longer and dry much slower, but that is the price to pay if you want to layer over it.
Crawling can happen when paint-on glazes are layered over dipping glazes
This bowl was dipped in a non-gummed clear dipping glaze. Such glazes are optimized for fast drying and even coverage. However their bond with the bisque is fragile. The blue over-glaze was applied thickly on the rim (so it would run downward during firing). But during drying, it shrunk and pulled the base coat away at the rim (likely forming many tiny cracks at the interface between the clear and the bisque. That initiated the cascade of crawling. When gummed dipping glazes are going to be painted over, a base-coat dipping glaze should be used. What is that? It is simply a regular fast-dry dipping glaze with some CMC gum added (perhaps half the amount as what would be used for painting). There is a cost to this: Longer drying times after dipping and less even coverage. And gum destroys the ability to gel the glaze and make the slurry thixotropic.
Multi-Layering on a large bowl has produced crawling
Glaze layering is tricky. We recommend a gummed base coat dipping glaze where layering will be done over it. This alone could have solved this issue.
How much CMC gum powder is in the gum solution you buy?
As it turns out, Laguna gum solution has 6.7%. We dried out 100 ml of the solution and were left with this residue on the bottom of the container.
Think the idea of mixing your own glazes is dead? Nope!
These are two pallets (of three) that went on a semi-trailer load to a Plainsman Clays store in Edmonton this week. They are packed with hundreds of bags of powders used to mix glazes. More and more orders for raw ceramic materials are coming in all the time. Maybe you are using lots of bottled glazes but for a cover or a liner glaze it is better to mix your own. And cheaper! And there are lots of recipes and premixed powders here to do it. One of the big advantages is that when you dip ware into a properly mixed slurry it goes on perfectly even, does not run and dries on the bisque in seconds. No bottled glaze can do that.
For even coverage white majolica glazes must be applied by dipping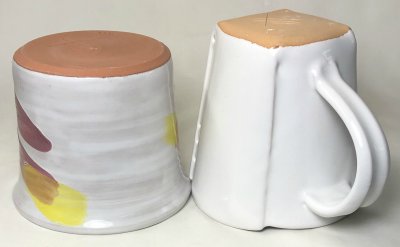 The mug on the left has three coats of Spectrum Majolica base, painted on by brush. Drying was required after doing the inside coats, so the total glazing time was several hours. The glaze layer is way too thin and it is not even at all! The one on the right was dipped in a 5 gallon bucket-full of G3890 Arbuckle white (that was weighed out according to a recipe and slurried at 1.62 specific gravity). It took seconds to dip-apply, the thickness coverage is good. As is obvious, it makes sense to make your own base white. Then decorate using the overglaze colors (e.g. the Spectrum Majolica series). Another advantage of making your own white is that you can splurge on the amount of opacifier (in this case 9% zircon and 4% tin oxide), to achieve maximum whiteness and opacity. And, you can proportion a mix of two frits (having higher and lower thermal expansion) to fine-tune the fit with the body (a big issue at low fire).
Six layers, 85% Alberta Slip in the glaze, yet no cracking. How?
Six layers of any normal dipping glaze would be impossible, flaking usually starts with the second layer. Yet this slurry is 85% plastic clay, it shrinks so much that it would be like a "dried up lake bed" on the first layer. By the second layer it would all just fall off! How was it possible to dip six layers here? A 1% CMC gum addition (via a gum solution). Gums are often added to low-clay-content glazes to dry-harden them. But with all the clay in this one, no help is needed for hardening. This is an incredible demonstration of the power of a gum as an adhesive and hardener: It has sufficient power to actually counteract drying shrinkage! Of course, there is a down side: A drying period is needed between each layer, the length depends on the porosity and wall thickness of the ware and the amount of gum. This also demonstrates the difference between the function of Veegum (and similar materials) with CMC. The former, if added to this recipe, would would gel the slurry, require more water and drastically increase the shrinkage, making the cracking even worse. Of course, one could simply use a mix of calcine:raw Alberta Slip to control drying shrinkage and gum would not be needed.
You may know Veegum T but do you know VeeGum CER?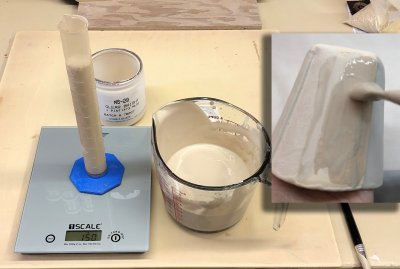 The glaze in this jar was 'goop', impossible to paint on because it was too viscous. And it dried way too fast. Laguna mentions adding water so I measured the specific gravity (SG): 1.7. That is super-high, it took a 125cc addition to bring it down to 1.5, but it was still thick, dried even faster and brushing it on evenly was even harder. It was not obvious what to do next. It needed a lot more water (1.3-1.35 SG is normal to support multi-layer application), adding CMC gum and enough water to do that would produce an unusable watery and sticky slurry. Veegum CER to the rescue! It is a 50:50 mix of CMC gum and Veegum T. The former slows drying and hardens, the latter gels. So it can simply be added until the painting properties are right. And, a Veegum CER solution is easier to handle than one of CMC gum. This really worked! The brushing properties are just right and it gels nicely on standing. CER is also good for highly fritted dipping glazes or others lacking in clay content (otherwise CMC might still be better).
Links
Glossary
Dipping Glaze
In traditional ceramics and pottery dipping glazes can be of two main types: For single layer and for application of other layers overtop. Understanding the difference is important.
Glossary
Thixotropy
Thixotropy is a property of ceramic slurries. Thixotropic suspensions flow when you want them to and then gel after sitting for a few moments. This phenomenon is helpful in getting even, drip free coverage.
Glossary
Glaze Layering
In hobby ceramics and pottery it is common to layer glazes for visual effects. Using brush-on glazes it is easy. But how to do it with dipping glazes? Or apply brush-ons on to dipped base coats?
Glossary
Brushing Glaze
Hobbyists and increasing numbers of potters use commercial paint-on glazes. It's convenient, there are lots of visual effects. There are issues compared to dipping glaze. You can make your own.
Materials
CMC Gum
By Tony Hansen

---
---


https://digitalfire.com, All Rights Reserved
Privacy Policy