Dilatometer curve of vitreous porcelain (red) vs. stoneware body
The 500-600C zone is the alpha-beta inversion of quartz. Notice the vitreous body experiences a bigger expansion change there. But in the 100-270C cristobalite inversion region the stoneware undergoes a much more rapid change (especially in the 100-200C zone). This information affects how ware would be refired in production to avoid cracking (slowing down in these two zones). In addition, that stoneware would not be a good choice for an ovenware body. Photo courtesy of AF


Related Pictures
Simple dilatometric curve produced by a dilatometer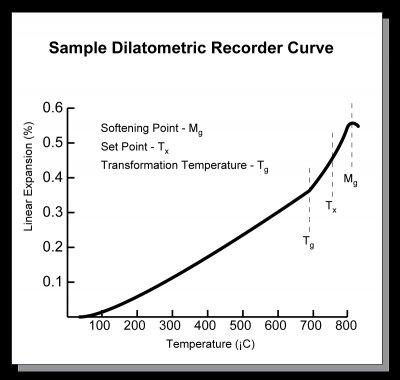 Dialometric chart produced by a dilatometer. The curve represents the increase in thermal expansion that occurs as a glass is heated. Changes in the direction of the curve are interpreted as the transformation (or transition) temperature, set point and softening point (often quoted on frit data sheets). When the thermal expansion of a material is quoted as one number (on a data sheet), it is derived from this chart. Since the chart is almost never a straight line one can appreciate that the number is only an approximation of the thermal expansion profile of the material.
Links
Glossary
Cristobalite Inversion
In ceramics, cristobalite is a form (polymorph) of silica. During firing quartz particles in porcelain can convert to cristobalite. This has implications on the thermal expansion of the fired matrix.
Glossary
Quartz Inversion
In ceramics, this refers to the sudden volume change in crystalline quartz particles experience as they pass up and down through 573C. Fired cracks are often related to this.
Glossary
Co-efficient of Thermal Expansion
Ceramics are brittle and many types will crack if subjected to sudden heating or cooling. Some do not. Why? Differences in their co-efficients of thermal expansion.
Glossary
Thermal shock
When sudden changes in temperature cause dimensional changes ceramics often fail because of their brittle nature. Yet some ceramics are highly resistant.
---
---


https://digitalfire.com, All Rights Reserved
Privacy Policy