Dipping Glaze
In traditional ceramics and pottery dipping glazes can be of two main types: For single layer and for application of other layers overtop. Understanding the difference is important.
Details
In ceramics and pottery dipping glazes can be of two main types: For single layer or as a base-coat for the application of other layers overtop.

Dipping is the preferred method of application for single layer inside functional surfaces. Drying is quick and coverage is even if the slurry has the right thixotropic behaviour. Where large outside areas need to be covered with one glaze this method is even better. Glazes that can be gelled to be thixotropic and dry quickly must be free of binders and gums, they suspend and harden solely because of clay in the recipe. This type of glaze is easy to make, recipes and the materials they call for are common.

When other layers of glaze are to be dipped or brushed over a dipping glaze (and no firings are done between layers), then that dipping glaze needs to contain a binder (usually gum) to fix it well to the body and harden it on drying. Binders are effective only if the glaze has plenty of super-fine particles for them to bind with (thus bentonite additions are common in gummed dipping glazes). These glazes dry slower, go on thinner and drip a lot during draining.

On this website most of the articles and reference material assume the making of single layer type glazes not having gum (unless otherwise mentioned). We are dedicated to the understanding of relationships between a glazes material recipe and oxide chemistry with how it behaves in use, how it fires in a kiln and how it interplays with the body it is on. People most interested in this topic are making this type of glaze. Weekend warrior type potters are more interested in buying commercial bottled and gummed products and exploring all the colors and interactions of multilayering with them.
Related Information
Think the idea of mixing your own glazes is dead? Nope!
These are two pallets (of three) that went on a semi-trailer load to a Plainsman Clays store in Edmonton this week. They are packed with hundreds of bags of powders used to mix glazes. More and more orders for raw ceramic materials are coming in all the time. Maybe you are using lots of bottled glazes but for a cover or a liner glaze it is better to mix your own. And cheaper! And there are lots of recipes and premixed powders here to do it. One of the big advantages is that when you dip ware into a properly mixed slurry it goes on perfectly even, does not run and dries on the bisque in seconds. No bottled glaze can do that.
Commercial glazes on decorative surfaces, your own on food surfaces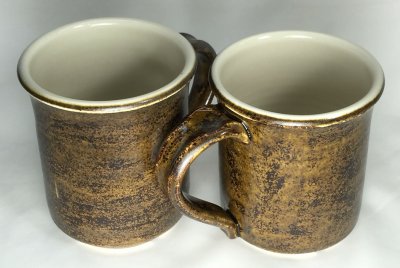 These cone 6 porcelain mugs are hybrid. Three coats of a commercial glaze painted on outside (Amaco PC-30) and my own liner glaze poured in and out on the inside (G2926B). When commercial glazes (made by one company) fit a stoneware or porcelain (made by another company), without crazing or shivering, it is purely an accident! So use them on the outside. But for inside food surfaces make or mix your own. When you know the recipe you can tune the thermal expansion. And the degree of melt. And the application properties. And you can use quality materials to source a balanced chemistry. The place to start understanding your glazes, organize testing and development and document everything is an account at Insight-live.com.
A matte and a glossy liner glaze
Left: Ravenscrag G2928C matte liner glaze on inside of mug. Right: A clear glossy. The matte needs to be soaked in the kiln long enough to make sure it develops a functional surface, especially on the bottom. Mattes are not always the best choice for food surfaces, but you can do it if you blend in enough glossy glaze to make it smooth enough not to cutlery mark.
Mason stains in G2916F cone 6 clear base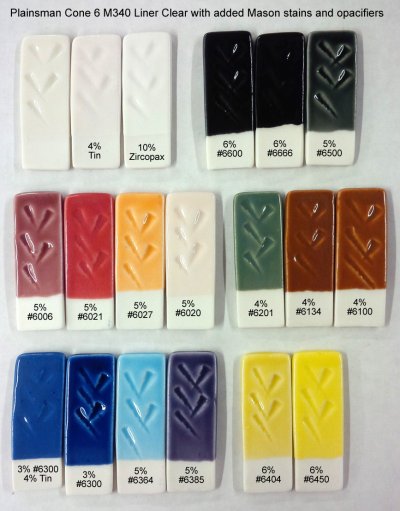 These are Mason stains added to cone 6 G2916F clear liner base glaze. Notice that all of these stains develop the correct colors with this base (except for manganese alumina pink 6020). However caution is required with inclusion stains (like #6021), if they are rated to cone 8 they may already begin bubbling at cone 6 is some host glazes.
Mason stains in the G2934 matte base glaze at cone 6
Stains can work surprisingly well in matte base glazes like G2934. But they perform differently in a matte host glaze. The glass is less transparent and so varying thicknesses do not produce as much variation in tint. Notice how low many of the stain percentages are here, yet most of the colors are still bright. A good reason to minimize stain concentration is to avoid leaching. We tested 6600, 6350, 6300, 6021 and 6404 overnight in lemon juice, they passed without any visible changes. It is known that MgO mattes, like this one, are less prone to acid attack that CaO mattes. A down-side to the MgO-matte-mechanism is that chrome-tin stains do not work (e.g. 6006), high CaO content is needed in the host glaze to develop the color. The inclusion stains 6021 and 6027 work very well in this base. As do the 6450 yellow and 6364 blue. And the 6600 produces an incredible gunmetal black. The 6385 is an error, it should be purple (that being said, do not use it, it is ugly in this base). The degree-of-matteness can be tuned by blending in some G2926B glossy base.
Can you brush a dipping glaze on to leather hard ware? No.
The body needs to shrink as it dries. Typical glazes have low clay content and shrink very little. So as the body shrinks underneath the glaze just flakes off. Brushing glazes contain significant amounts of gum, that gum bonds them securely to bisque ware, but not to unfired ware. As you can see here. the glaze bond with the body could not withstand the differential during drying.
Better to mix your own cover glazes for production?
Yes. In this case the entire outside and inside of the mug need an evenly applied coat of glaze. In production, it would not make sense to attempt this by painting. For these reasons: Cost, quality, convenience. The right pail has 2 gallons of G2934Y base with 10% Cerdec yellow stain: $135. Cost of jars with the same amount: Almost $300! And you have to paint them on in three coats with drying in between. The one in the pail is a true dipping glaze (unlike dipping glazes sold by glaze manufacturers that dry slowly and drip-drip-drip just like brushing ones). This one dries immediately after dipping in a perfectly even layer (if mixed according to our instructions). And a bonus: This pail can be converted to brushing or base-layering versions using CMC gum.
CMC Gum is magic for multi-layering, even for raw Alberta Slip

The glaze on the left is 85% of a calcine:raw Alberta Slip mix (40:60). It was on too thick so it cracked on drying (even if not too thick, if others are layered over everything will flake off). The solution? The centre piece has the same recipe but uses 85% pure raw Alberta Slip, yet it sports no cracks. How is this possible? 1% added CMC Gum (via a gum solution)! This is magic, but there is more. It is double-layered! Plus very thick strokes of a commercial brushing glaze have been applied. No cracks. CMC is the secret of dipping-glazes for multi-layering. The down side: More patience during dipping, they drip a lot and take much longer to dry.
Commercial brushing glaze on a non-gummed dipping glaze: Crawling
Non-gummed dipping glazes go on evenly and dry quickly on bisque ware (if properly gelled). But they only work well as a single layer. If you try to paint commercial gummed brushing glazes over them the latter will compromise their bond with the body, cracks will develop during drying and bare patches like this will result during firing. For multi-layering the base dipping glaze must be gummed (e.g. 1% CMC gum). It will go on thinner, drip longer and dry much slower, but that is the price to pay if you want to layer over it.
Links
Glossary
Brushing Glaze
Hobbyists and increasing numbers of potters use commercial paint-on glazes. It's convenient, there are lots of visual effects. There are issues compared to dipping glaze. You can make your own.
Glossary
Limit Recipe
This term refers to critical thinking ability that potters and technicians can develop to recognize recipes having obvious issues and merit, simply by seeing the materials and percentages.
Glossary
Base-Coat Dipping Glaze
These are ceramic glazes intended for dipping but which contain a gum to enable them to adhere to the body better and tolerate over-layers without danger of flaking or cracking.
Glossary
Thixotropy
Thixotropy is a property of ceramic slurries. Thixotropic suspensions flow when you want them to and then gel after sitting for a few moments. This phenomenon is helpful in getting even, drip free coverage.
By Tony Hansen

---
---


https://digitalfire.com, All Rights Reserved
Privacy Policy