A titanium/colorant addition to a cone 6 magnesia matte glaze
This is the G3939A recipe (a 90:10 mix of G2934 and G2926B), it normally produces a silky matte if not cooled too quickly. Shown on the left is our original addition of 8% Mason 6021 red stain and 4.5% titanium dioxide. This not only did not produce the desired marbled effect, it actually made it more glossy! A 1.5% titanium addition completely transforms it to what you see on the right. Rutile, as a source of TiO2, is often used for this, but it is high in iron and would completely muddy the red color. Pure titanium dioxide, by contrast, is iron free.
Related Pictures
A titanium/colorant addition to a cone 10 magnesia matte glaze
Tap picture for full size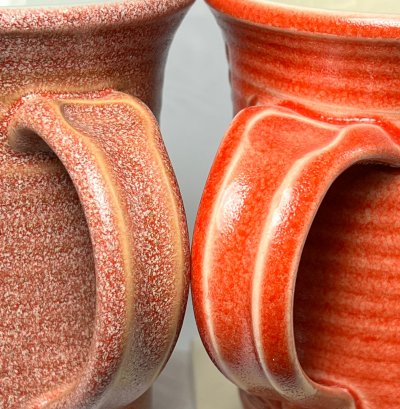 These porcelain mugs have the same glaze, the one on the left was fired at cone 10R (gas), the other at cone 10 oxidation (electric). This is our standard cone 10R magnesia matte, G2571B. We have added a 5% Mason 6021 encapsulated red stain and 4% titanium dioxide (producing recipe code number G2571D). While the reduction version looked good the oxidation one turned out much more vibrant. And it feels much better, being very pleasant to touch. The marbling is a bit excessive so in G2571D1 we reduced the titanium by 1% (and increased the stain by 1%). MgO matte base recipes are very receptive to this type of adjustment and they work across a wide range (from low to high temperatures). Titanium is much better for variegating bright colored glazes than rutile, because the latter contains lots of iron that muddies the color.
Links