Jigger wheel aluminum cuphead (for plates)
The head is lathed from aluminum. It fits on a potter's wheel (adjust the inside diameter to fit the shaft). The plaster mold drops into it this cuphead and stays in place by friction. The only point of contact between the mold and aluminum should be at the top inside corner of the cuphead.
Related Pictures
Jigger wheel auminum cuphead (for cups)
Tap picture for full size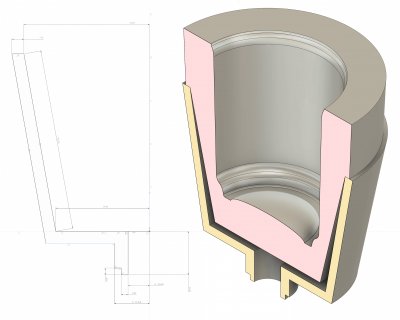 Showing dimensions to fit a Shimpo RK2 wheel, its shaft is 0.983 in diameter. The molds fit down inside as shown, only contacting the cuphead at the shoulder. This is machined from aluminum. We do not sell this of course, but you could take this drawing to a machine shop and have them make you one (the numbers are readable when this is zoomed to full size).
Links